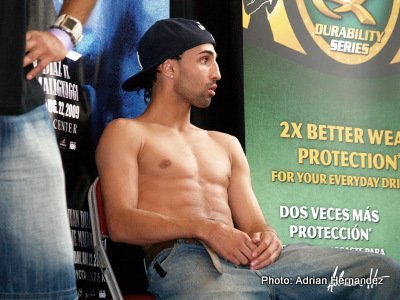 By Joseph Herron – On Saturday, October 20th, "The Magic Man" Paulie Malignaggi (32-4, 7 KOs) defeated Pablo Cesar Cano (25-2-1, 19 KOs) by way of controversial split decision as part of a quadruple header, which was broadcast on Showtime Championship Boxing.
Although many have cited folly with the official fight verdict, the reigning WBA Welterweight Champion visited "The Pugilist KOrner" to share his insight into the twelve round contest and answer the fight critics who believe his opponent deserved the hard fought victory.
"First of all, Cano came to fight. I think Pablo Cano is a very good fighter and he has a bright future ahead of him," stated Paulie Malignaggi. "I definitely think I won the fight, but I had to work hard for it."
"Just by watching some of his fights before I stepped in the ring with him, I knew Cano wasn't going to lay down for me. He has heavy hands and good technique, and he's advanced for a 23 year old fighter."
"But no matter how much he came at me, I always kept the fight in the middle of the ring. Trust me, that wasn't his doing. If Pablo had his way, he would have fought me with my back against the ropes. Ringside judges score for effective aggression, not just aggression. But sometimes in boxing, in America especially, boxers don't get as much credit as punchers in the eyes of the judges."
"Sometimes I felt like Cano was just following me around in circles and wasn't effective in cutting off the ring or shortening the distance, which is why my back was never touching the ropes. Cano landed the occasional right hand and he is very heavy handed, but a lot of his punches didn't land cleanly. I rolled away from a lot of his shots and they hit me in the neck or on the shoulder."
"He didn't land too many of them cleanly, but he did land some of them; and the ones he did land cleanly, believe me, I felt them. Like I said he is a very heavy handed fighter. But you can't win rounds landing the occasional right hand while just following your opponent around for most of the round."
Although Paulie did successfully maneuver around the majority of Cano's attempted punches, the Mexican fighter successfully landed 165/378 power shots and 262/757 in total according to the CompBox ShoStats report.
The well versed "Magic Man" doesn't place much credence in the "misleading" statistics.
"If you're going to judge a fight by looking at CompuBox, then you have to have a competent person pushing the buttons. You need someone who's qualified and knows what they're looking at. Because if I got hit by 44% of his power shots, like CompuBox reported, I wouldn't have made it to the end of the fight and I would have been sleeping very early in the bout because Cano punches very hard."
"44% of his power shots did not land. Like I said, the occasional right hand landing doesn't win you the round. Cano never landed in combination and I can't see how CompuBox got a 44% connect percentage."
After watching the fight replay this past Monday night, Malignaggi is truly convinced that two of the judges at ringside saw the fight a lot more accurately than the Showtime commentators.
"I saw the Showtime replay last night, and aside from the occasional right hand, I had Cano catching flies all night. He was swatting at air throughout the entire fight. How does CompuBox have Cano landing 44% of his power punches when I'm watching him miss throughout the entire fight?"
"I'm not mad at Al Bernstein and Steve Farhood for scoring the fight the way they did. Do I respect their boxing IQ a little bit less? Yes, absolutely because Cano's aggression wasn't effective and judges score for effective aggression. But I don't knock anyone for scoring a fight one way or the other because scoring a fight is very subjective."
Although the current WBA Champ has issued pardon for his Showtime colleagues, he doesn't show the same leniency for official ringside scorer Glenn Feldman who scored the bout 118-109, or ten rounds to two with an extra point for a knock down in the eleventh, in favor of Pablo Cesar Cano.
"I did get offended by Glenn Feldman's scorecard. When a guy isn't qualified to the point of scoring a fight that badly, he's now affecting my money. This is my job. This is the way I make my living. To have guys that unqualified working championship level fights, it really irks me. There's a lot on the line when you're judging a fight of this level. The judges' verdict greatly affects a fighter's income. You have to have judges who are qualified."
"I know Glenn, and I know he's not a corrupt guy like Gale Van Hoy. Glenn was positioned right in front of Pablo Cano's family and they were very vocal, so that may have influenced him. But for a professional boxing judge to be influenced by the crowd to that extent, then he shouldn't be judging at this level because there is ultimately too much at stake."
"For me, it could have cost me dearly because I know I won that fight. Luckily there were two judges at ringside who were competent enough to see what was really going on in the fight. Because what makes a guy a good defensive fighter is making his opponent miss by a very small margin, so he's still in position to land an effective counter. A lot of Cano's punches would get very close but actually weren't touching me. I was rolling away from most of them and any competent judge should be able to see that. You have to be very close to see that and the judges have the best seats in the house."
"Maybe Glenn Feldman needs a thicker pair of bifocals, I don't know. Because I guess he genuinely thought those punches were actually landing. But there's too much at stake not to see it correctly. That's why his scorecard was so offensive to me, because it's affecting my money at that point."
"I knew I wasn't getting hit a lot cleanly and I knew I was winning the fight. I have no problem admitting when I get hit cleanly, like when I fought Miguel Cotto or Herman Ngoudjo. I obviously knew I was getting hit cleanly and often in those fights, but I wasn't this past Saturday night."
While Paulie Malignaggi understands that scoring a prizefight is a very subjective art, he gives a very insightful explanation as to why many fight fans watching at home might have believed that Cano won the fight.
"I think many viewers take the CompuBox statistics too seriously. There's no way that those numbers are accurate, and I think too many fight fans and even the commentators put too much credibility in those flawed statistics. Fight fans should think about how those statics are generated and question the validity of their numbers."
"If you looked at my face after the fight, there's no way that 44% of his power shots landed. That should be an obvious sign that those numbers were off. With my complexion, the damage would have easily shown up on my skin."
"Also, the ringside commentators aren't always seeing the fight accurately. I urge every fight fan who feels I lost the fight to watch the replay with the sound turned down and pay attention to how I'm rolling away from the majority of his punches thrown all night long."
"Although it was a competitive fight, you'll see that I deserved to get the win."