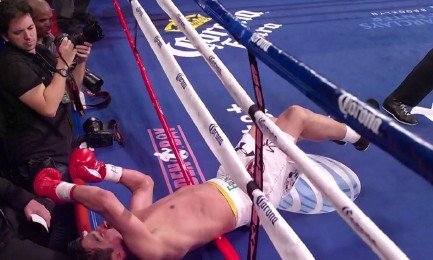 By Marc Livitz – isiting hours are just about done, yet the one of the curators of the sweet science has allowed us to look back in retrospect on perhaps one of the most memorable careers in recent boxing history.
An individual who has on numerous occasions defied the odds, silenced the critics, and most pleasingly kept the heart and soul of the sport, the fans, in a perpetual state of amazement. Praise indeed is due to one Erik "El Terrible" Morales.
The four division champion from Zona Norte, Tijuana, BC, Mexico has provided many years of great memories within the ring for nearly two decades. He never backed down from a challenge and he often fought the best. Perhaps he may be best remembered for not only his exciting trilogy with fellow Mexican rival, Marco Antonio Barrera but also the absolute vitriol and near biblically proportionate hatred between the two warriors.
Some feel his February 2000 victory over Barrera was a heist, yet for whatever reason this particular fight is not the talk around many a water cooler. Even though he lost the next two fights to his Mexico City antagonist, Erik Morales did more than simply let the boxing public know that he meant business and would never run from a battle.
Along came the evening of March 19, 2005. Let's face the glaringly obvious. Morales is still the last person to defeat Manny Pacquiao. Their rematch in January 2006 only helped catapult Pacquiao into the pugilistic stratosphere by way of a tenth round TKO victory over Erik.
Later that year, a vast array of boxing writers, analysts and announcers alike were near a universal state of concurrence as their shared opinions echoed that retirement was the best course of action for Morales. He suffered a brutal, one sided beatdown at the hands (or gloves) of the "Pac Man" in the third and final installment of their trilogy in November of that year.
Jim Lampley nearly caused our televisions to blow a tube when he shouted, "Erik Morales shakes his head as if to say, "I want no more"" once the legendary Mexican fighter was sent to the canvas for the second time towards the end of the third round. As the timekeeper struck the table to indicate that ten seconds remained in round three, Morales decided that he could not best the Filipino fighter. After his attempt to claim a title at 135 pounds fell short against David Diaz in August 2007, "El Terrible" made the seemingly wise decision to ride off into the sunset.
A consequence of his all or nothing fighting style was that boxing fans had perhaps become strangely accustomed to seeing him lose. He wisely stayed in a calm state of "Pugilistica Emeritus".
Who are we to tell anyone, especially a world class athlete that their time has come and they should walk away for good?
After a two and a half year hiatus from the ring, Morales fought three times in 2010 in separate fights all staged in his native Mexico. In April of 2011, he was matched up against Argentine meanie Marcos Maidana in a bout that many were predicting would require the assistance of Amnesty International once the contest was a memory. Without having to go into a thorough description of how the evening went, let's just say that Erik's stock skyrocketed faster than any bull market could ever imagine.
He fought for almost the full twelve rounds with one eye closed.
His dream of capturing a fourth world title in as many weight classes was finally brought to fruition with his victory over Pablo Cesar Cano for the then vacant WBC light welterweight crown. Of course, it's anyone's tossup for argument whether or not Morales would have been able to walk down and ultimately walk over the opponent he was originally scheduled to face (Lucas Matthysse) in the same fashion he did against Cano.
It didn't matter in the end.
Age, wear and tear and the mere yet sad fact that time treats us all differently would prove to be the death knell to indicate the brilliant career of Erik Morales was to come to a close. Although he fought gamely in the ring in Houston, Texas in March of this year versus Danny Garcia, the signs were beginning to emerge.
Perhaps the first flag may have been the fact that Erik's newly gained and previously vacated title was just that once again. He failed to make the 140 pound weight limit. It didn't seem to bother him to any great end, at least not to observing eyes. He fought hard but came up short.
A rematch between the two just took place this past Saturday evening in Brooklyn. The weight issues arose again, as did a failed drug test. Nonetheless, Garcia agreed to fight Morales for a second time. What transpired in the ring was a boxing tragedy for those of us who have followed "El Terrible" throughout his illustrious career.
As previously mentioned, the Tijuana boxer was the last to legitimately defeat Manny Pacquiao. How did he do it? The same way Juan Manuel Marquez takes the fight to Manny. He outboxed him. Boxing, as in using the ring. Morales didn't have it in him to even move in a semi circle this past weekend. Not even a back….and to the left. Just straight forward and dangerously stationary as if his head was on a stick.
The end came in the fourth round when Danny Garcia caught Morales with a perfectly timed left hook to the head which sent Erik literally into a tailspin. He almost looked like the one who gets unknowingly recorded while playing drunken Twister. Morales spun to the left and then to the right and couldn't pull off a left foot green and right foot red. He crashed to the canvas and his corner rightfully saved him.
This isn't the way we'd like to see him call it a career, but consider the alternatives. Should he stick to his ultimate desire to end his career with a swan song bout in Tijuana, then all the luck and gratitude should be sent his way. Time gets the best of all of us and the clock ran out on Erik.
Hopefully, he won't lose sight of his contributions to the sport to this point. Any way you slice or dice it, he's allowed to go out his way, whether it's for the sport of boxing or simply for his fans in Mexico, or even just for himself.
We won't see the likes of him again.