By Joseph Herron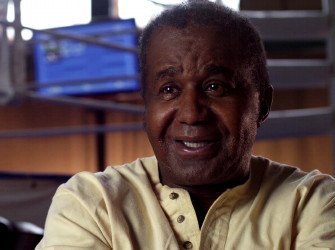 – Ladies and gentlemen, it's with very heavy heart that I report one of the greatest proponents of boxing has passed away.
It's been confirmed that Hall of Fame trainer Emanuel Steward passed away on Thursday, October 25th, at a Chicago area hospital
The Hall of Fame trainer was responsible for the cultivation of so many great fight careers, including Tommy Hearns, Hilmer Kenty, Mickey Goodwin, Milton McCrory, Jimmy Paul, Duane Thomas, Steve McCrory, and Gerald McLellan.
There weren't many trainers who could nurture a young fighter's career from the amateur level and make him a world champion…but Emanuel was very special.
Under the legendary trainer's tutelage, "The Hitman" Thomas Hearns became a five division world champion. The all-time great fighter was inducted into the International Boxing Hall of Fame earlier this year and heralded Emanuel Steward as the greatest trainer, mentor, and friend a fighter could ever hope to have.
Emanuel did so much for not only his fighters at the world renowned Kronk Gym, but for the entire community of Detroit that he loved so dearly.
Just months before he passed away, the great man shared his primary secret to success:
"What makes an effective trainer and mentor, is your ability to listen and really get to know your students on a personal level. Being a disciplinarian isn't enough…not in the gym, not in life. Everyone is unique and very special. It takes a lot of time and patience to learn what motivates them. I take great pride in getting to know all of my fighters and also having a genuine interest in helping them grow…not only as fighters, but as people."
"Most people think that I have a lot of money after all of the success that I've had professionally, but I don't. Every dime that I've ever made in this business has been invested in the future of these fighters, on the professional and amateur level. I feel so blessed to be emotionally and financially invested in these young men."
"Everything that I've ever been privileged enough to teach these fighters pales in comparison to what each and every young person has taught me about life." – Emanuel Steward, 68 (1944-2012).
I feel very blessed that I got to know Mr. Emanuel Steward, and deeply honored that I could call him my friend.
As I'm writing this, I can't believe that he is no longer with us.
The world has lost a truly exceptional soul. There will never be another Emanuel Steward.
God Bless your soul, my friend…Rest in Peace.