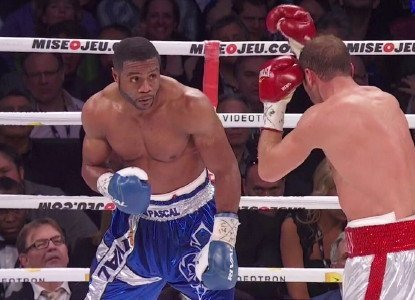 For boxing fans hoping to see WBC light heavyweight champion Adonis Stevenson and Jean Pascal face each other in the near future, it's not likely to happen, says Dan Rafael of ESPN. He sees both guys as having too many options for fights right now to where they don't need to face each other. The Pascal-Stevenson fight will happen sooner or later, but probably not anytime soon.
Pascal showed last night after his 12 round unanimous decision victory over Lucian Bute that he wasn't all that excited about fighting Stevenson when he said to Max Kellerman "I'm very proud of him [Stevenson]. He's black like me; he's from the Haitian community. Big shout out to 'Superman' Stevenson."
Now does that sound like someone that wants to fight Stevenson? Pascal acts like they're good friends and beyond fighting. You can only hope that Pascal doesn't have the same warm feelings towards Sergey Kovalev as well, because if so, then it'll be hard to take Pascal serious as an actual contender in the 175 lb. division.
Last night was Pascal's 4th fight since 2010. He fought only once in 2012 and 2013. If he continues fighting at this pace, we'll likely not see him back in the ring until 2015 and probably against another Canadian based fighter.
For his part, Stevenson isn't sounding so eager to fight Pascal as well, saying last night "he can become an opponent in the future."
That's it. Stevenson doesn't seem like he wants the fight. However, Stevenson may need Pascal at some point in the future in a comeback fight if Stevenson takes on Kovalev and gets knocked out by him. HBO is pushing hard to try and get Stevenson to say yes to fighting Kovalev, because they realize what a big match-up it would be. Kovalev is ready and willing to take Stevenson on at any time, but trying to get Stevenson to agree to taking the fight is the whole problem. He obviously recognizes the danger in fighting Kovalev, because this is someone that can actually fight. It's not Tony Bellew, Tavoris Cloud and Chad Dawson. Kovalev will be a big problem for Stevenson if he ever agrees to fighting him.