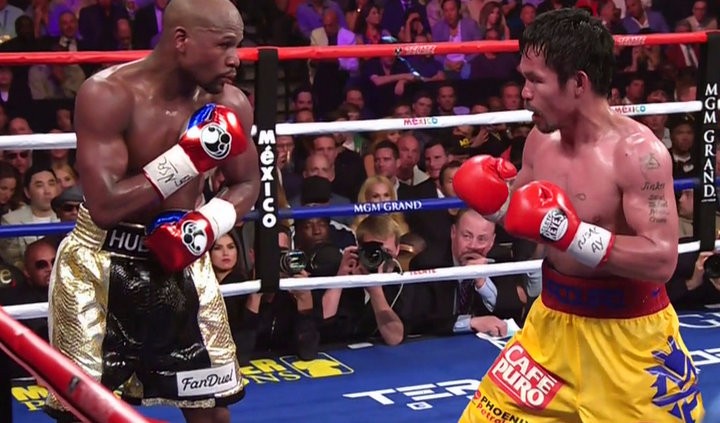 Superstar Manny Pacquiao was a guest of honour at Oxford university yesterday evening, this of course being a great honour indeed for a boxer, and the subject of Floyd Mayweather came up. Or, to be more accurate, the subject of a return fight between the two greatest fighters of their era came up. Pacquiao still craves a second go at Mayweather, who of course won a pretty wide (and dull) decision over him back in May of 2015.
Even today, Pac-Man insists the first fight was so close we never truly saw who the better man was. Also, Pacquiao talks about how he was injured, with his right shoulder affecting him badly during the fight. Pacquiao feels he will get his chance at revenge next year some time.
"There's a big possibility because Floyd is coming back into boxing," Pacquiao said on the subject of a rematch. "He is fighting in December and I am fighting in January. So [there's] a big possibility after that next year, that we will discuss a rematch. My thinking is to have a rematch and to make clear a decision on who will win the fight because in the last fight that we had it wasn't clear who won the fight because he didn't throw a lot of punches and he won the fight. I had a shoulder injury – but this time, if this rematch happens, there are no excuses, no alibis."
But if Mayweather didn't throw a lot of punches during the so-called "Fight Of The Century," neither did Pacquiao. Maybe the shoulder injury – one that Manny kept hidden going into the fight – was a big, big factor. Still, you will find it hard getting hold of too many fans who strongly feel Pacquiao will beat Mayweather if and when they do fight again (and it is likely the return will happen; Floyd always wanting, if not flat-out needing, cash).
First comes Adrien Broner, who Pacquiao will face in Las Vegas in January. There are no guarantees that Pacquiao wins that fight. Some good judges say this fight is all wrong for Pacquiao, who will turn 40 next month.