By Paul "Paparazzi" Jones & Justin Jones |Photo © Showtime
July 30, 2016 marks the return of former two-division world champion Mikey Garcia(34-0, 28 KOs) after a 2 ½ year layoff due, in large part, to a contractual dispute with his former promoter, Top Rank.
Garcia puts his undefeated record on the line against former Featherweight titlist Elio "The Kid" Rojas(24-2, 14 KOs) in a 10-round Super Lightweight bout televised on SHOWTIME CHAMPIONSHIP BOXING® from the Barclays Center in Brooklyn,  New York.
Garcia vs. Rojasis the co-feature of the much anticipated showdown between WBA World (Super) Featherweight title holder Léo Santa Cruz (32-0-1, 18 KOs) and former IBF/WBA World Super Bantamweight titlist Carl "The Jackal" Frampton(22-0, 14 KOs). It is also a tryout of sorts for Garcia, who isa promotional free agent after his fight with Rojas, though he has expressed interest in fighting other Haymon-advised fighters.
With only a few weeks remaining before Garcia's scrap with Rojas, East Side Boxing's Paul "Paparazzi" Jones and Justin Jonesheld an exclusive telephone interview with Mikey Garcia on Friday afternoon. Here is what Mikey had to sayabout his upcoming opponent, his plans to take the Lightweight Division by storm, his take on Gennady Golovkin vs.Kell Brook,and more:
Eastsideboxing.com (ESB):What was the hardest part about being away from the ring for over 2 years (stemming from a contract dispute with Top Rank)?
Mikey Garcia (MG):  Not having a clear date [as] to when this would all be over, which was definitely the hardest part.  I was confident, though, that if the judge heard my story and read my contract, that he would rule in my favor.  Throughout the whole time I've been in good shape and in the gym.  I've seen fights on TV that I wish I was a part of, but it comes with time and everything happens for a reason.  I'll make sure I get my fight time now.
ESB:  Was there a silver lining or positives that you took away from this ordeal with Top Rank?
MG:  I definitely learned a lot more about boxing; how it's ran [Garcia chuckles] and how Top Rank works.  I believe it will help me be a better and smarter fighter with the business side of the sport moving forward.
ESB:  We've seen the NBA's recent free agency frenzy with teams going to great lengths to sign top-level players (e.g., Kevin Durant joining the Golden State Warriors).  How does it feel to be boxing's biggest free agent with so many promotors seeking your services?
MG:  It was a great result and I knew I already owned my boxing freedom. But, it took me a while to prove it and get my release.  When I was told by the former promoter that nobody wanted to work with me, people forgot about me, and nobody pays attention to me, as soon as I get my release, I hear all of these people calling me and my brother (trainer Robert Garcia) and shooting out proposals and offers.  That makes me believe that everybody has not forgotten about me and they see a bright future for me as a fighter.
ESB:  You are now with Al Haymon and Lou DiBella for this one-fight deal at the Barclays Center on July 30.  How exciting is this new opportunity and potential partnership?
MG:  It feels great and shows a lot of support on their part – Haymon, DiBella, and Stephen Espinoza (SHOWTIME®). They obviously believe in me and are willing to put a show together and allow me to be a part of [it] to showcase my talent and get me a return fight without any long-term commitment.  It gives them an opportunity to see me before signing me long-term as well. But I believe that once they do see me, and how good I am, they will be even more excited than they are right now.
ESB:  Most boxing analysts and fans had you in their top 10 pound-for-pound list or right outside of it before the layoff?  How motivated are you to get back in the pound-for-pound discussion and be recognized as one of boxing's best once again?
MG:  I'm hungrier now, that's for sure.  I was getting tired and bored with being in training camps and not having a fight.  The time off helped me get hungrier and more motivated.  I see guys that are on [the pound-for-pound list] now and holding titles, and I believe that I can beat every single one of them.  I'm just ready for the opportunity to get those fights.
ESB: Though he's a former champion, some fans may not be familiar with Elio Rojas. How would you describe his fighting style and what are your keys to victory against him?
MG:  Like you said, he's a former champion and [he] has a lot of experience.  He's a tough fighter, and I know he will be hungry and trying his best to beat me for future opportunities.  But I'll be ready for anything he brings. I'll make adjustments and bring my best.  I'm expecting a great fight.
ESB: Sometimes having a family member in your corner can be a good thing and sometimes it can be difficult (e.g., when family pushes you too much). Has there ever been a problem with you and Robert (Garcia)?
MG:No there's never been a problem with having my brother Robert [Garcia] and my dad Eduardo [Garcia] in my corner.I think that they're the best that I could possibly ask for.  They know me better than anyone else and they understand the kind of fighter I am. They know all my abilities, all my skills, and my strong points. Any weaknesses they [also] know. I couldn't ask for anything better.
ESB: Most people don't know that you have a Liberal Arts and Science degree and that you were a good student inside the classroom.  Can you talk a little about how you were able to balance boxing and academics, particularly early on in your boxing career?
MG:I always went to school and my dad always asked that I continue in school. I finished a 2-year college degree and I also finished the Ventura County [Police and Sheriff's Reserve] Academy. It's always good to have something to fall back on.After that, I put all my effort into the sport.
GARCIAVS. ROJAS

Tale of the Tape

 
Mikey Garcia
Elio Rojas
Age:
28
33
Height:
5′7″
5′7″
Reach:
68″
70″
Record (KOs):
34-0 (28)
24-2 (14)
Fights out of:
Moreno, CA by way of Oxnard, CA
San Francisco de Macoris, Dominican Republic
Where:
Barclays Center

Brooklyn, NY

When:
Saturday,
July 30, 2016
TV:
SHOWTIME CHAMPIONSHIP BOXING®|9 PM ET/PT
ESB: You've noted elsewhere that there are a lot of Al Haymon fighters that you wouldn't mind getting a shot at.  We know that you beat reigning WBC World Welterweight Champion Danny "Swift" García (32-0, 18 KOs) in a National Golden Gloves Tournament. Including Danny García, who are the fighters on Haymon's roster that interest you the most?
MG:As a fighter, I'm ready and willing to fight anybody.  If it's a fight that makes sense for the fans, and the Network, myself, and my opponent, then I got no problems. All in good time.
[Fighters] like Danny García are at welterweight. And I'm thinking of maybe fighting at lightweight, so the weight might be some issue that might not allow the fight to happen so soon. But maybe in the future, in a year or two [and] if I move up in weight class and he's still there, then why not? Let's do it.
ESB: In other sports, we've seen athletes that are friendly and come up together in the ranks (e.g., basketball players who play in the Amateur Athletic Union [AAU] or boxers who become friends in the amateurs). Some of them refuse to fight each other because of their friendship.  Is there any fighter that you just won't fight?
MG: I won't fight Wladimir Klitschko or Tyson Fury. [We all laugh].
As long as it's in the weight classes that you're around, you're willing to fight anybody.  Sometimes the fights don't happen because there's other reasons — whether it be financial, contractual, or promoter reasons — whatever it may be. But the fighter himself is willing to fight anybody.
A few years ago, right before I stopped fighting, there were talks with Yuriorkis Gamboa (25-1, 17 KOs) and he kept saying that I was scared. No, I wasn't scared. If you really want to find out, just come to the gym and we'll take care of it ourselves.
If that's what you want to find out, then just come down to the gym and we'll take care of that.  That's the attitude of a fighter and that's my attitude towards it.
As a fighter, if he's willing to get in the ring, and it's a similar weight class that makes sense for both [of us], then that's why we do this.  That's the whole point. To prove to everybody who the better fighter is.
ESB: Also, how high in weight could you see yourself going given what you're looking to do in the sport?  Jr. Welterweight? Welterweight?
MG:You know what, originally I thought lightweight would be my max and maybe one or two fights at 140 [pounds] for the right name and the right opponent. But seeing how I feel now, how I see the business of boxing and how I see the sport evolving, you could be fighting for the Welterweight Title but only weighing in at 142 pounds. The way it is, I could be fighting for the Middleweight Title and only be weighing in at 150 [pounds].
ESB: Speaking of the Middleweight Title, I know you've heard the news about Gennady "GGG" Golovkin) fighting Kell Brook.  What are your thoughts on that fight?
MG: They criticized "Canelo" [Álvarez] for doing it and GGG is doing it.  Now with the sport, you can pretty much do whatever you want.  They allow all these fights.
The only thing that I give [credit to] is Brook for taking on this challenge in front of him.  He's a Welterweight World Champion moving up to the Middleweight Division. That's a huge statement for [Brook] and I give him all the props.  Just like I gave [Amir] Khan [for taking on Canelo].
But, as a champion in those divisions, it doesn't look so good when you're taking on the smaller opponents so that you can make a title defense.  It's not always the best choice, but it's a test for the challenger.  If it goes well for the challenger, then the Champion might be looked down on a bit.
But, it's a business and I understand that. All the fights like that happen for the business side, not for anything else.
ESB: In terms of the Mikey Garcia brand, what is your focus over the next few years and what should your fans look for from you?
MG: Honestly, I thank every single one of my supporters throughout this time.  I was out, but I wasn't gone.  I was just unable to get a fight. But now that we are back, I promise everyone that they will not be disappointed with my performance.
You guys will remember me most from what I accomplish from this point forward.  There are many more titles to win, victories, and divisions to conquer.  And I think [the fans] are really going to be happy with this stage of my career.
I thank everybody and appreciate all the love and support that I've gotten. And I promise, you guys won't be disappointed.
ESB: With boxing now on free TV and the sport looking to expand to new markets, what is your take on the current state of boxing? 
MG: I think [boxing] is becoming more mainstream and that's definitely going to help the fighters.  They need that exposure.
As you've seen, a lot of times the smaller weight classes aren't showcased that much, but some of the best fights – Fights of the Year and Fighters of the Year – sometimes happen in these weight classes.
And with boxing growing throughout all these countries, that can only help the entire world of boxing and the fighters. And the smaller weight classes will now get more opportunities.
That means more success for the fighters and bigger purses, because they're the ones putting their life on the line every single time they get in the ring.  Not the promoter, not the manager, and not the trainer.  It's the fighter. So the fighter needs to finally get that recognition that he deserves.
ESB:  Is there anything that a journalist or reporter has ever asked you that surprised you?
MG:I was asked a question once, by a UK reporter, about whether I had any tattoos.  I don't know how that came about, but I don't have any.  If I ever did, it would have to be some meaningful artwork or a nice piece, not just a little stamp or something like that. [We all chuckle].
ESB: Thanks for your time Mikey and best of luck in your return on July 30th!
MG:Thank you guys, I appreciate it. ■
Contact "Paparazzi" Jones: prjones1@hotmail.com│Twitter@boxingepicenter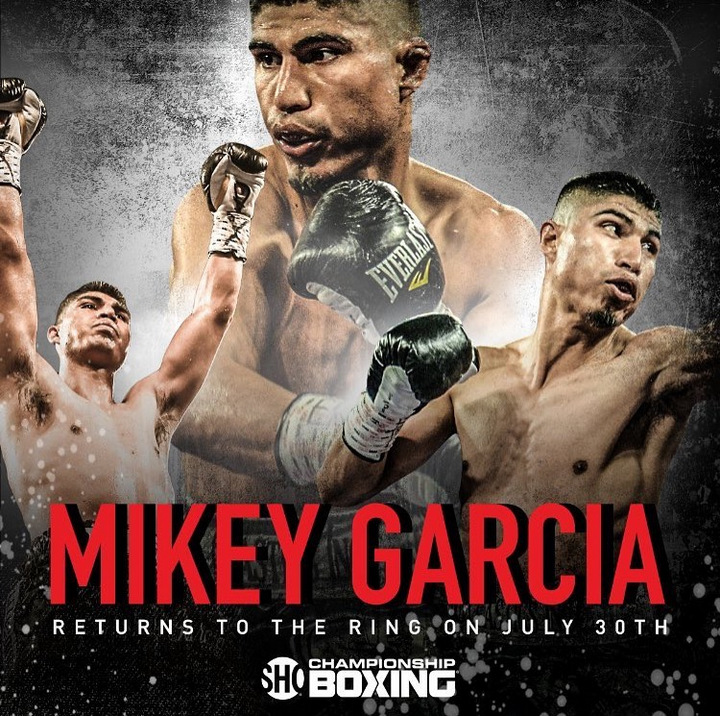 More from "Paparazzi" Jones:
Peterson Eyes Big Fights Against Khan, Crawford, or Postol with a Win Over Díaz Jr.
Boxing Notes: Mayweather–Berto Undercard Addition, Eddie Chambers Update, More!
The People's Court (of Public Opinion): Mayweather v. Pacquiao
Contact Justin Jones: justinjones@2112@gmail.com | @jusjones29
More from Justin Jones:
Adrien Broner 140.4 vs. Ashley Theophane 140 – Official Weigh-in Results
Lamont Peterson "Anxious for April 11" — Open Media Workout Photos, More!
Boxer Briefs:  Catching Up with Boxing's Heavy Hitters & Rising Stars – Bryant "By-By" Jennings