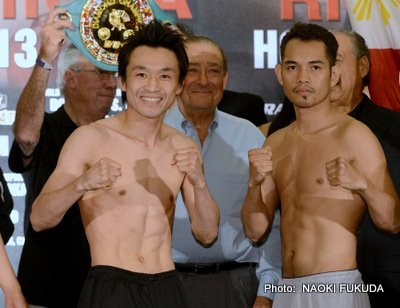 By Joseph Herron– On Tuesday, October 30 th , Top Rank plans to announce their next big event for the remaining 2012 boxing calendar.
At the Toyota Center in Houston, Texas, four division world champion and current WBO/Ring Super Bantamweight Champion Nonito Donaire will defend his titles against one of the Lone Star State's favorite fighters, "El Travieso" Jorge Arce on December 15 th .
Although most fight fans and boxing scribes would prefer to see the Filipino fighter enter the ring pitted against current 122 pound WBA title holder Guillermo Rigondeaux, they should expect to see the two time Olympic Gold Medalist make an appearance on the fight card, if not in the co-main event of the evening.
But why would the boxing world be treated to Arce vs. Donaire before the critically acclaimed unification bout between Nonito and Rigo?
The relentless aggression of "El Travieso" paired with the athletic counter punching style of "The Filipino Flash" will more than likely be a very entertaining style match up and an overall more enticing event to the casual fight fan.
While Rigondeaux is definitely more than a worthy opponent on paper, his fan base pales in comparison to that of the Mexican favorite. Arce is beloved in Texas and has a fight style that puts fans in seats. Despite being one of the most highly regarded technical pugilists in boxing, the same can't be said for the Cuban exile.
Also, Nonito's career could use another jolt of adrenalin after participating in a very cerebral and tactical chess match with former WBC Super Bantamweight Champion Toshiaki Nishioka two weeks ago. While most intelligent fight fans were able to appreciate the masterful performance displayed by Donaire in Carson, California, it left much to be desired to the casual sports fan… especially after witnessing 2012's leading candidate for "Fight of the Year", Rios vs. Alvarado, in the co-main event.
But look for Bob Arum and company to start nurturing the probable showdown between the two Super Bantamweight Champs. Every matchmaker and promoter who is worth their respective weight in the sport today insists that every great match-up must be cultivated to yield the greatest level of public demand.
In the immortal words of Hall of Fame matchmaker and promoter Don Chargin: "A great match-up is like a cake that takes time to bake. But in order for it to rise, you have to put it in the oven."
Expect the Bobinator to set the timer on December 15 th .
Obviously Top Rank has big plans that include the Cuban master, or the promotional group wouldn't have re-signed the current WBA Champ. Logically, their plans include an eventual showdown with the pound for pound fighter.
But the Las Vegas based promoter doesn't want to spoil the pairing by pitting either man in the ring with a legitimate beast in their respective weight division, as they did with the highly anticipated "Gamboa/Lopez" super fight.
Top Rank was highly scrutinized after the heavily demanded match-up between Yuriorkis Gamboa and Juan Manuel Lopez fell apart, following the Puerto Rican star's two untimely beat-downs at the hands of current WBO Featherweight Champion Orlando Salido.
But is there another possible Top Rank union brewing within the promotional stable that includes "The Filipino Flash"?
Many boxing pundits have mentioned the possibility of Donaire facing former Super Flyweight Champion Cristian Mijares in 2013.
Although Mijares was successful this past weekend in defeating Mexican fight legend Rafael Marquez, a coupling with the Mexican reality television star would be tough one to make for Top Rank, Inc, due the uncertainty of Mijares' ability to compete at 122 pounds any longer.
Is "Donaire vs. Arce" the most impactful match-up that can be made for the Filipino Flash at this time?
Who cares. Any time Nonito and Jorge step in the ring, it's always a reason for fight fans to celebrate. They are two of the most entertaining fighters in boxing today. Their personalities should make for an intriguing pre-fight promotion, and the fruits of Top Rank's labor should yield something very sweet for the casual boxing fan.
So don't fight it, sports fans…embrace "Nonito Donaire vs. Jorge Arce" on December 15 th . If these two exciting fighters live up to their billing, it should be an early Christmas gift for every fight fan across the globe.