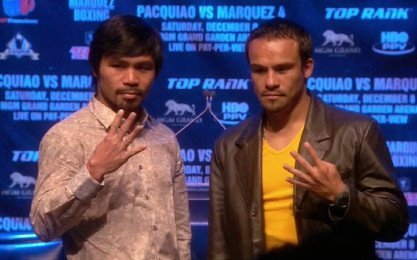 By Joseph Herron: "Insanity is doing the same thing, over and over again, but expecting different results." – Albert Einstein (1879-1955)
On December 8th, at the MGM Grand in Las Vegas, Nevada, eight division world champion Manny Pacquiao will take on Mexican legend Juan Manuel Marquez for a fourth time in what could prove to be another great war of wills.
Although neither fighter has ever dominated their respective nemesis, both men have publicly stated that they feel a sense of urgency to end the ongoing rivalry with a sensational and resounding knock-out.
But will the fourth installment materialize into another strategic but action filled tug-of-war, or will the boxing universe finally witness a decisive victory for the eventual winner?
Despite getting the decision in two of his three epic battles with JMM, the Filipino Congressman is coming off a disappointing loss to Timothy Bradley and is convinced he has much to prove to his fans as well as his critics.
Will we see the Pac-Man become the first fighter to stop the all-time great Mexican warrior?
In 61 professional bouts, no one has ever stopped "Dinamita" within the distance. The most lopsided defeat of JMM's career occurred in September of 2009, when he lost every round of a twelve round contest to pound for pound champ Floyd Mayweather Jr.
Can Pacquiao do anything differently on December 8th to create a more resolute verdict?
Juan Manuel Marquez is more than just a defensive counterpuncher and retreating boxer/puncher. The future Hall of Famer is one of the toughest fighters of this era, both physically and mentally.
His biggest asset is his ring intelligence and mental resolve. Not only does JMM desire to best his opponents from a technical perspective, he also wants to prove that he is the tougher man in the ring. Unlike most counterpunchers, Marquez is willing to sit in the pocket and trade with his opponents until he forces them to retreat.
If Manny expects to win by a considerable margin of victory during the fourth installment, he'll have to make several changes in his fight tactic.
During the early rounds of his fight with Floyd Mayweather Jr. in 2009, the pound for pound king did a masterful job of baiting JMM into acting as the aggressor and taking the lead. Marquez has never been an effective aggressor and was kept at a safe distance throughout the entire bout as a result.
Pacquiao will have to adopt a similar strategy to win decisively.
Marquez always does a great job of moving away from Pacquiao's power hand and making him fall out of position when he attempts to launch an offensive attack. To be successful on December 8th, Manny must show his improved footwork and cut off the ring more proficiently.
Any fighter who merely follows around a smart fighter like Marquez, will be countered with a wide arsenal of punches from many different angles. Pacquiao must use feints as well as sporadic lateral movement to disrupt the timing and rhythm of Juan Manuel Marquez.
Due to the Pacquiao's hand speed advantage, Marquez has no choice but to let his hands go when Pacquiao begins to open up. Manny has to adopt a much more efficient economy of punches like Floyd Mayweather Jr. and not offer a large opening in which the Mexican technician can counter.
If Pacquiao fights with the same passive aggressive style that he implemented brilliantly against Oscar De La Hoya and Ricky Hatton, he should be able to achieve greater success against the counterpunching prowess of JMM.
But can Pacquiao show the same amount of discipline and patience against his nemesis, or is Marquez already too far into the psyche of the Filipino rock star?
If Manny wants the knock-out against a very smart veteran fighter like JMM, he'll have to exercise a greater sense of self control and not fall into the same technical traps displayed in his previous three outings with Marquez.
Throughout the pre-fight promotional tour, Marquez has repeatedly mentioned the idea of being more aggressive in part IV and not leaving his fate in the hands of the judges at ringside.
Will a more unconventional and aggressive JMM open the door for a Manny Pacquiao knock-out?
We will find out on December 8th!!