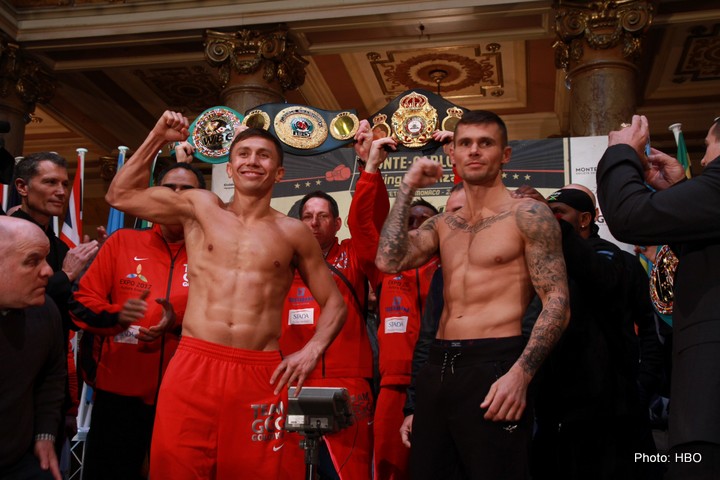 World middleweight title challenger Martin Murray has heard all about the reputation of Gennady Golovkin, his next opponent, and respects the fact he's widely considered the hardest puncher in all of boxing right now. But that doesn't mean the Briton is overawed or fearful of the imposing Kazakh.
In fact, rather than hide from the reality of the situation, Murray has instead confronted it head on and says he's looking forward to sampling Golovkin's power when the pair clash on Saturday (February 21) in Monte Carlo.
"I've been watching all his best bits," said Murray, 29-1-1 (12 KOs). "I've not been looking at all the things he does wrong. Let's be honest, he doesn't do a lot wrong. What I've been focusing on are all the things he does well. I've been watching him at his absolute best. That then makes me more prepared, more nervous and more on my guard.
"His power is obviously something you have to look out for. He clearly hits hard. His general ring craft is very good as well. He's very good at putting you in places he wants to put you.
"I think he does all things very well. He's not just a big puncher – he seems to have the lot. But we've seen a couple of chinks in his armour and we feel there's some stuff for us to work on during the fight. We're confident it's going to work. I'm looking forward to going in there on Saturday and trying them out.
"It doesn't bother me that Golovkin hits hard. Don't get me wrong, I'd prefer it if he hit a bit softer, but it doesn't faze me knowing that I'm going to go in there with someone who knocks everybody out. I know he hits hard, I know it's going to be a tough fight and I know I might get hurt. I'm ready and prepared for it, though."
Murray is renowned for his ability to raise his game when necessary. A perennial underdog, the St. Helens man was desperately unlucky in his previous two world title fights, drawing with Felix Sturm in 2011 and then losing a controversial decision to Sergio Martinez in 2013. This time, however, he's determined to make it third time lucky.
"This feels like the biggest fight of my career," said the 32-year-old. "I've kind of been detached lately due to being based in South Africa, but now I'm in Monte Carlo and I can sense how big the fight is. This is it for me. There's more riding on this fight than any other I've had, and I'm more determined and confident of winning this one than I was before the others.
"In fact, of all my world title fights, this is the one I'm most looking forward to. It feels like my biggest challenge, and it will be my toughest fight, but I've got confidence in my ability and know that in these situations I rise to the occasion and put on my best performances.
"I'm expecting a long, hard fight and I'm expecting to have to go through a lot of pain. But, no matter what it takes, and no matter what I have to go through, my hand is going to get raised at the end of that fight. I know this is a proper battle and I know it will have to be a war. I'm ready for it. I honestly can't wait."
*** Boxing superstar Gennady 'GGG' Golovkin defends his WBA Super world middleweight title against Britain's Martin Murray on Saturday, February 21 in Monte Carlo, LIVE on Channel 5 (10PM) ***
Murray is sick of the sight of Golovkin – can't wait for Saturday
Two-time world title challenger Martin Murray has been away from his family for the last five weeks in the hope that such sacrifices will help land him the WBA Super world middleweight title on Saturday night (February 21) in Monte Carlo, LIVE on Channel 5.
The proud St. Helens warrior faces fearsome champion Gennady 'GGG' Golovkin in a matter of days and knows he's left no stone unturned in training camp.
"Being away from my family has absolutely killed me," said Murray, father to Archie, Amelia and Aisla. "I've been away from them now for over five weeks and it's been really hard.
"I can look back now and think, well, at least it's nearly done, but, at the time, it was hell. I was lonely, I was down. But it needed to be done. I've got no regrets whatsoever. If I had to go back and do it all again, I would. It's been tough but worthwhile.
"I'm heavily involved in my kids' lives and I know I've been missing a lot of things. I'm a very hands-on dad, so every day I spend away from them eats me up inside. But I can make up for it on Monday when I see them and bring home the world title."
Though days from fight night, Murray, 29-1-1 (12 KOs), feels no ill will towards Golovkin, nor does he expect to experience any animosity at today's fight week press conference. But that doesn't meant he won't be doing everything in his power to dethrone the champion on Saturday.
"When we have our press conference, I'll be professional and courteous," he said. "But, come fight night, that's not going to stop me wanting to rip his head off. He'll be the same way. We'll shake hands and be perfectly nice to each other, but that goes out of the window on Saturday. He wants to take something from me and I want to hurt him.
"Some of Golovkin's opponents might give him too much respect, and they might be all smiles and handshakes at the press conference, but that's just stupid. They obviously didn't grow up where I grew up. I respect his ability as a fighter, and I'm sure he's a nice guy, but this is a fight and I can be just as nasty as anybody when I have to be."
Murray has done the bulk of his training in South Africa, running at altitude and pushing his body to its limit, and the experience, he believes, has sufficiently prepared his mind for the sternest test of his seven-year professional career.
"I went over with a great bunch of lads and that made it easier for me," he said. "I spent quite a lot of time in my room on my own, though. I wouldn't say I was moody or horrible to be around, but I was focused and serious a lot of the time.
"Being away just made me focus that bit more and gave me more of a drive. I was away from home, away from my family and it was all for the right reasons."
Such was the level of Murray's focus, he even attached a picture of Golovkin, Saturday's opponent, to a heavy bag in his gymnasium. It acted as a daily reminder.
"That picture was put on the heavy bag on day one and it was still there when I left on Friday," said the 32-year-old. "It wasn't done for publicity. It's something we've always done. No matter who I've fought, there has always been a picture of them on a bag or on the wall. It's just good to have their face in the gym. It makes you constantly aware of what is to come. To be honest, I'm sick of the sight of Golovkin now. I've seen him every single day.
"Saying that, though, it's been extremely easy to switch off when I've needed to. In fact, I've never slept better during a training camp. I don't know whether that's because I've trained harder than ever or what, but sleep has been really easy this camp.
"I've thought about Golovkin, but only when I've needed to think about him. For example, I'd think about him on my way to training and while in the gym. Aside from that, though, I've put him to the back of my mind. I pick and choose when I need to focus on him.
"On Saturday night he'll be the only thing on my mind."