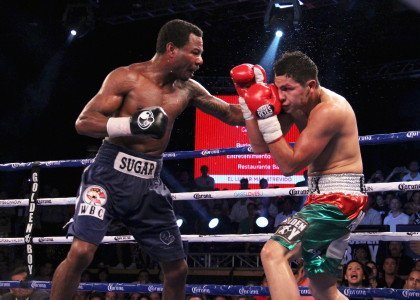 A deal has been agreed in principle for new WBO 154 lb champion Liam Smith, to face past-best veteran Shane Mosley on the December 19 Andy Lee/Billy Joe Saunders card in Manchester, England, numerous sources are reporting.
Smith won his title in style against American 'Boxcino' winner, John Thompson earlier this month, and immediately found himself embroiled in a war of words with Mosley on social media after the 44 year old former great took exception to Smith saying 'Sugar Shane' should be calling him out now he – and not former IBF champ, 'K-9' Bundrage – had a 154 lb world title.
Smith's promoter Frank Warren is evidently seeking to capitalise on the "name" of Shane Mosley, a name which will still undoubtedly be a big draw in England – even at his age and on current form – given he would be fighting in the UK for the first time in his long and illustrious career.
An opportunity also exists to indirectly boost Smith's United States profile with the fight, although it's possible that a rematch clause requested by the champion may prevent it actually happening in any event, according to Mosley.
"Sugar Shane" is claiming that should he win quickly and decisively, then he will not agree to the rematch as it would be difficult in his eyes to convince fans to buy into the clash a 2nd time.
If the fight, and his victory, is close however, then he is agreeable to a rematch within 8 weeks, which while to some may be an exceptionally quick turnaround, is down to the fact he claims he has a fight scheduled for early 2016.
Outside of that, he says he can do a rematch AFTER October 2016, although does not elaborate further than that, saying if Smith's camp agree to those terms, the fight will definitely be a goer.
It seems UK fans may indeed be getting some "Sugar" with their "X-mas Cracker" on December 19th….
Watch this space…..
Twitter @Undilutedpoison