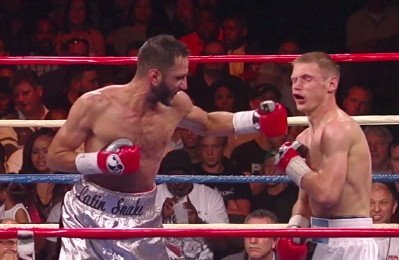 Sergio Mora (24-3-2, 7 KO's) defeated Grzegorz Proksa (29-3, 21 KO's) tonight by a 10 round unanimous decision in a pot shot fight at the Veteran's Coliseum, in Jacksonville, Florida. The judges scored it 96-94, 96-94, and 98-92. The 96-94 scores seemed fair. The 98-92 score was out of touch with the reality of the fight.
Mora won, but it was close and it was very ugly because both of these guys were throwing mostly single shots all night. It was a lot of defense, and lot of head movement without a lot of power. Proksa came into the fight with a reputation for being a hard puncher, but he didn't look very power tonight, and of course neither did Mora.
Proksa was the much busier fighter in rounds 2 through 4, as Mora was frequently standing on the outside looking to land single counter punches and jabs. The counter punches would have been okay if Mora had any power behind his shots, but he didn't. There wasn't much power and he wasn't throwing a lot. It was classic Mora with him focusing mostly on defense, staying on the outside, and not making it exciting.
Mora took command of the fight in the 5th round, as Proksa kept backing up and letting Mora take control of the action. Proksa would land and instead of letting his hands go with additional shots, he'd back away and waste a lot of energy moving his head for no reason. Mora wasn't throwing half the time, and Proksa just looked silly going through all these gyrations in head movements.
In rounds 8 and 9, Mora began to nail Proksa with hard right hands to the head and body, causing Proksa to back up. Proksa then could forward and throw some really wild shots that occasionally caused him to wind up off balance.
Mora did a good job in landing body shots in the second half of the fight, and Proksa was clearly bothered by those punches.
All in all, a decent performance from Mora, but not nearly good enough to suggest that he's going to do anything in the middleweight division. If he becomes a little more active, and that's a big if, he can eventually get a world title shot, but it's going to take him a long, long time because none of the champions are going to likely pick him out because he's a pure defensive fighter and it's not interesting.
Mora's best bet to get a title shot is to start fighting 6 times a year against good opposition. Mora has fought only 6 times in the past 5 years, so it's not likely he's going to be busy enough to ever get another title shot at this point in his career.