Daniel Jacobs 159.6 vs. Sergio Mora 159.3
Robert Easter Jr 134.5 vs. Richard Commey 135
Travis Kauffman 239 vs. Josh Gormley 240
Jorge Sebastian Heiland 161.3 vs. Angel Hernandez 165
Kermit Cintron 146.6 vs. Manny Woods 150.6
Frank De Alba 128.5 vs. Kiun Evans 125.9
Middleweight world champion Daniel "The Miracle Man" Jacobs and former champion Sergio "The Latin Snake" Mora went face-to-face at the final press conference Wednesday before their world championship rematch that headlines Premier Boxing Champions on Spike Friday, September 9 from Santander Arena in Reading, Pa.
Also in attendance at Wednesday's event were undefeated lightweights Robert Easter and Richard Commey, who fight for a vacant world title Friday night on Spike. Televised coverage begins at 9 p.m. ET/8 p.m. CT and features local contender Travis "My Time" Kauffman in a 10-round heavyweight bout.
Tickets for the live event, which is promoted by King's Promotions, start at $20 and are on sale now via Ticketmaster.
Here is what the fighters had to say Wednesday:
DANIEL JACOBS
"It's an honor to be up here as the main event with these young fighters and future champions. I'm excited to be back in the ring. It's been too long but I've been training hard and I feel great.
"I'm going to do what I do best. People talk about my power, but I get my skills from the amateur system and from proving that I have the goods. I have the power in addition to the skill set. I'm planning on proving that Friday night.
"I'll be ready every round to give it my best and he better come in ready to fight. I'm excited to be here and display my skills in a new place.
"The fans are looking forward to a good fight so I hope Sergio is ready to make this an exciting battle. I'm going to show everybody my full arsenal."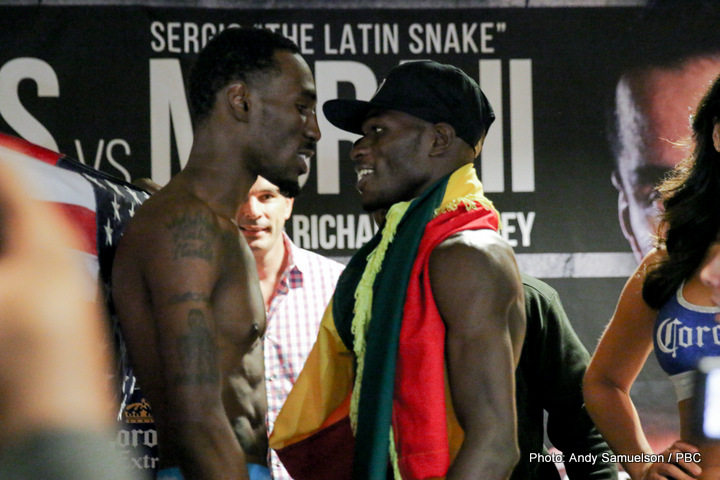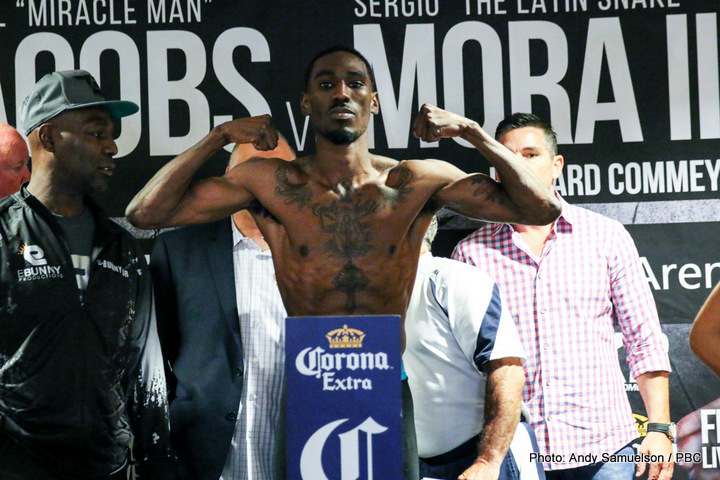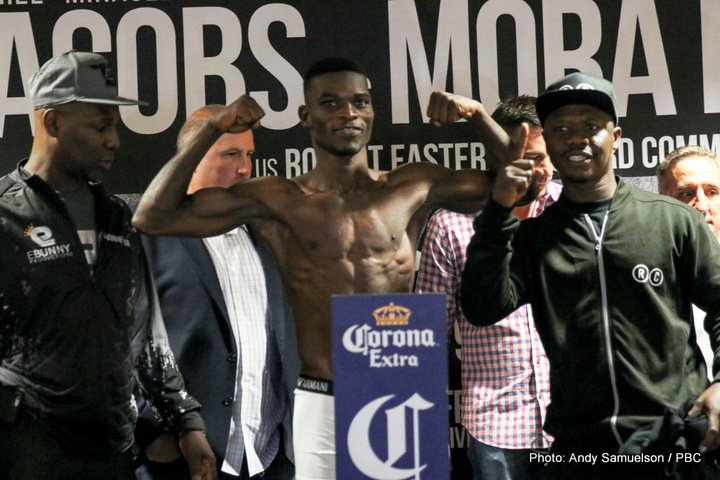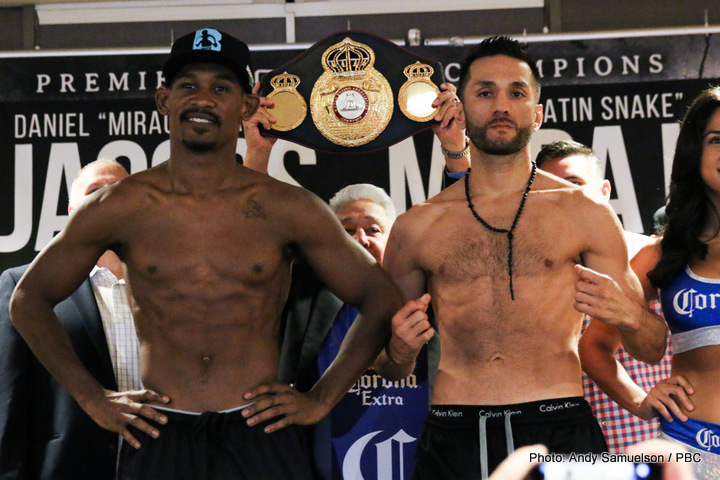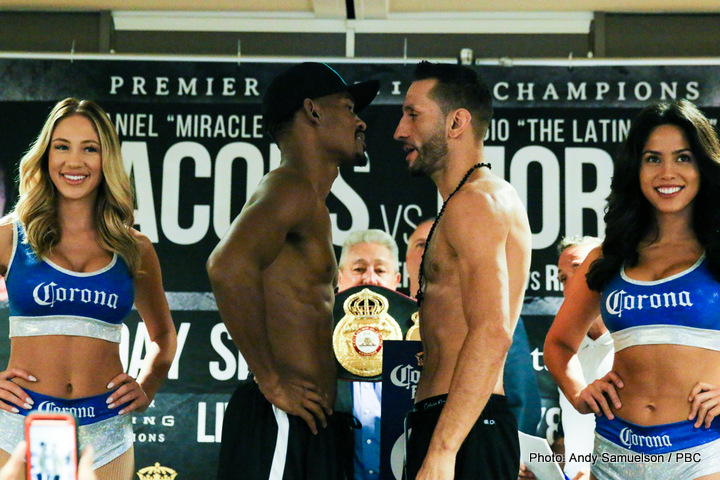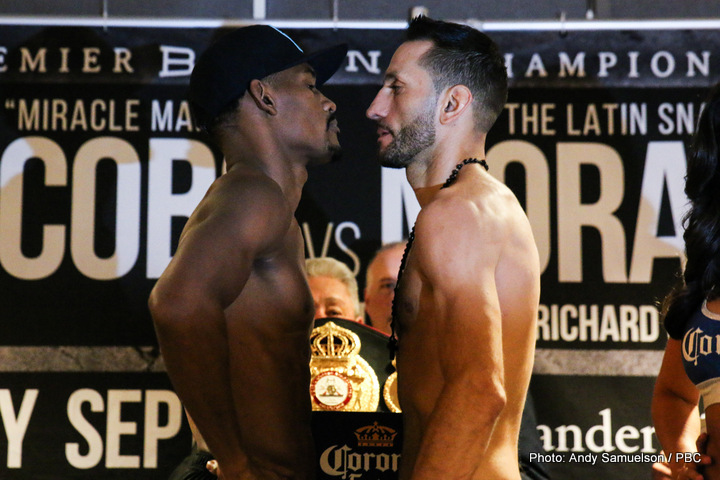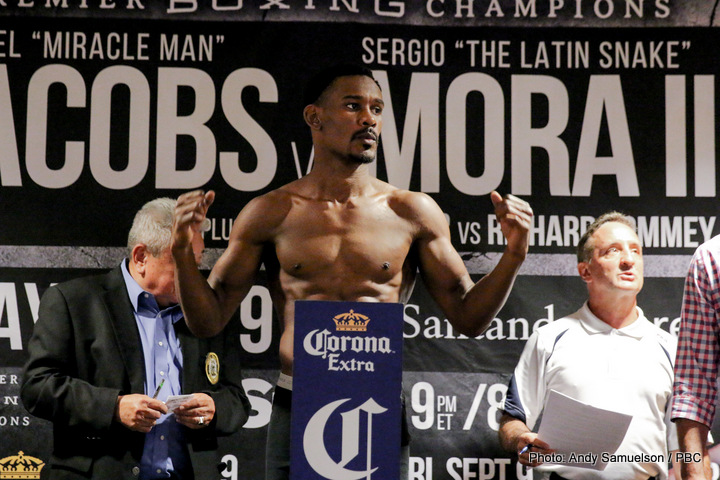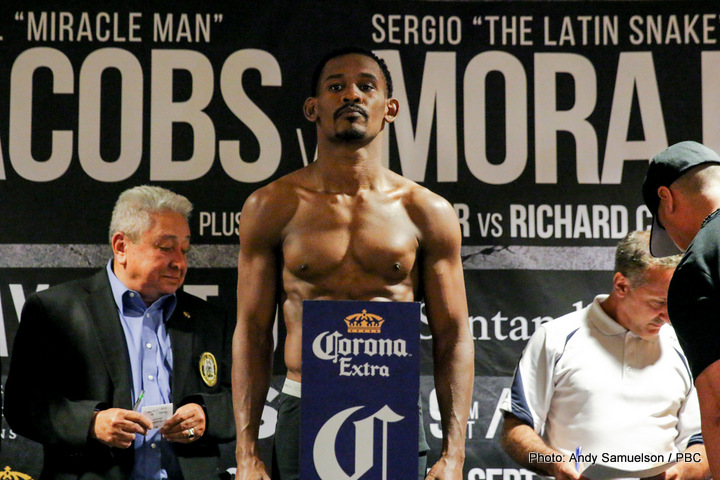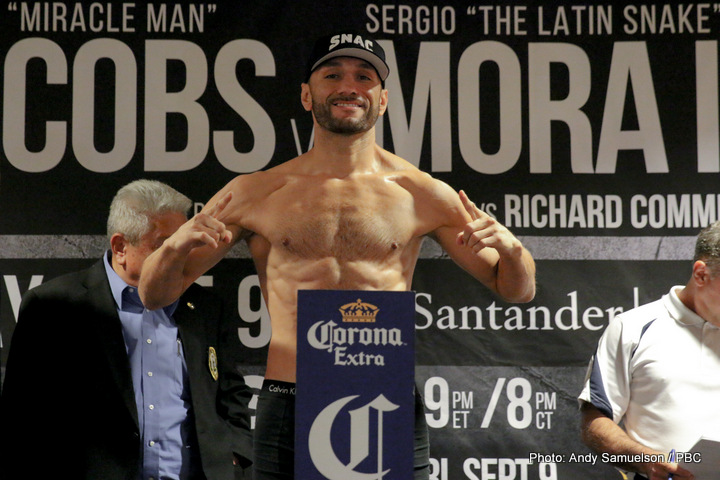 SERGIO MORA
"Our last fight was on the way to being a 'Fight of the Year,' but I busted my ankle in the second round and I couldn't continue. I've been waiting 13 months for this opportunity and I'm completely ready. This has been a fantastic training camp.
"It's time for business. People don't know what's going to happen. He has big power and I have a lot of experience and tricks up my sleeve. The later the fight goes, the better off for me.
"I'm ready for any way this fight can go. I'm excited about this fight and the fans should be excited about this fight. We're proud fighters and I can't wait to get in there."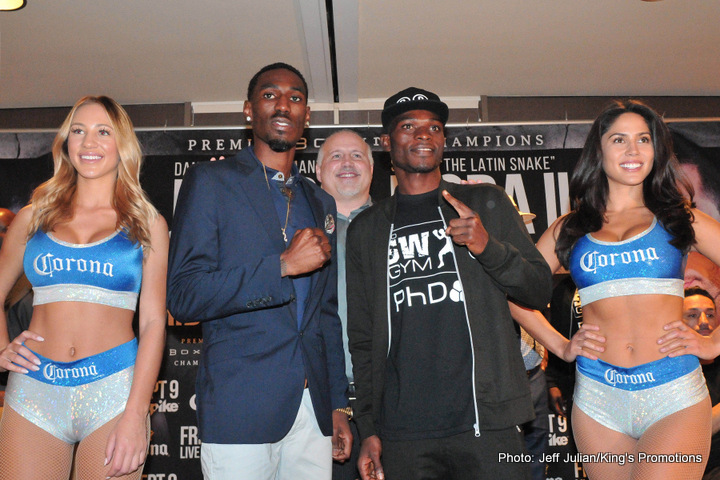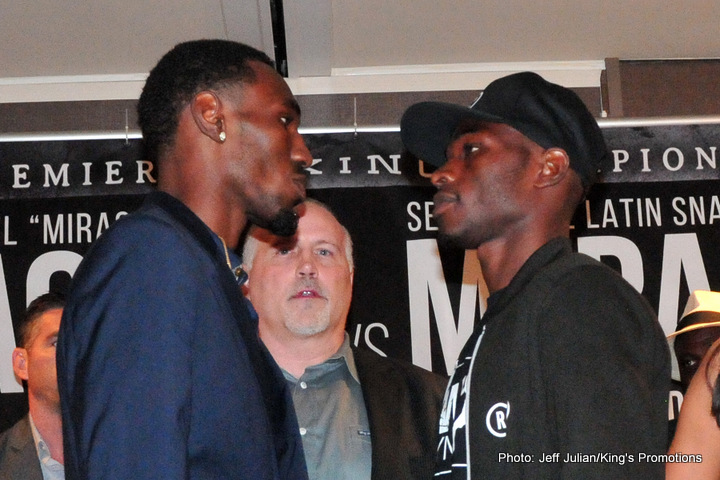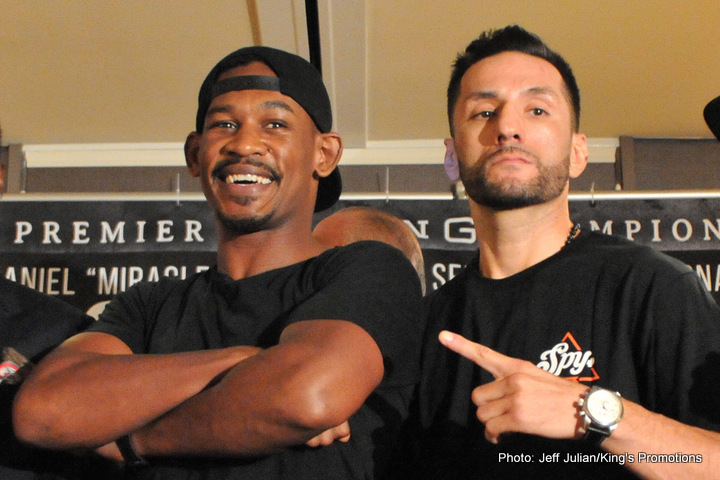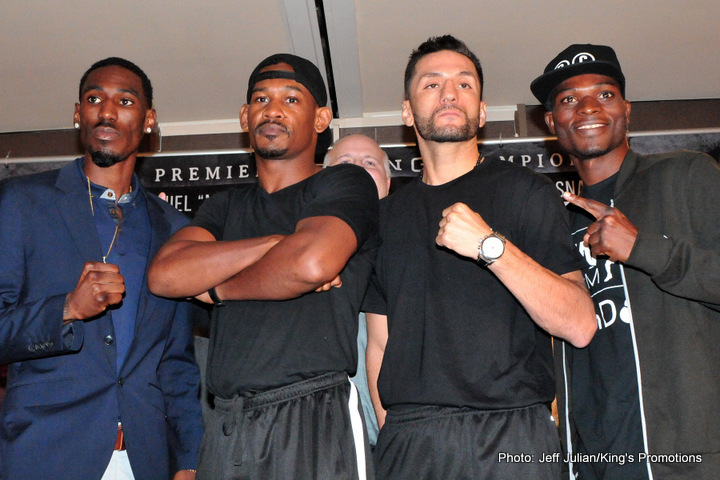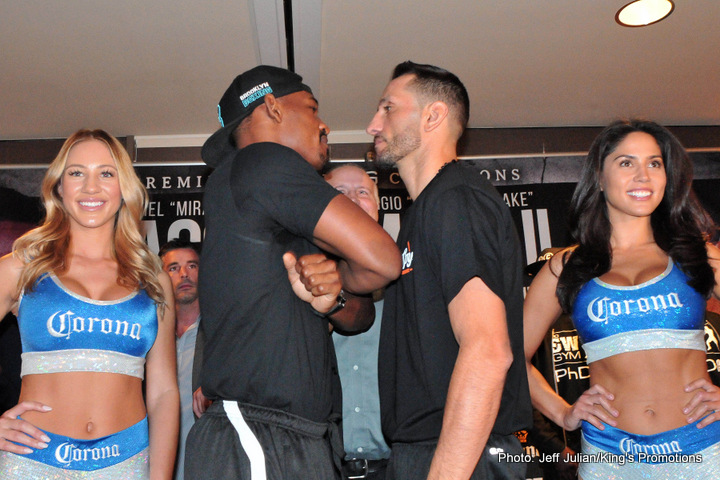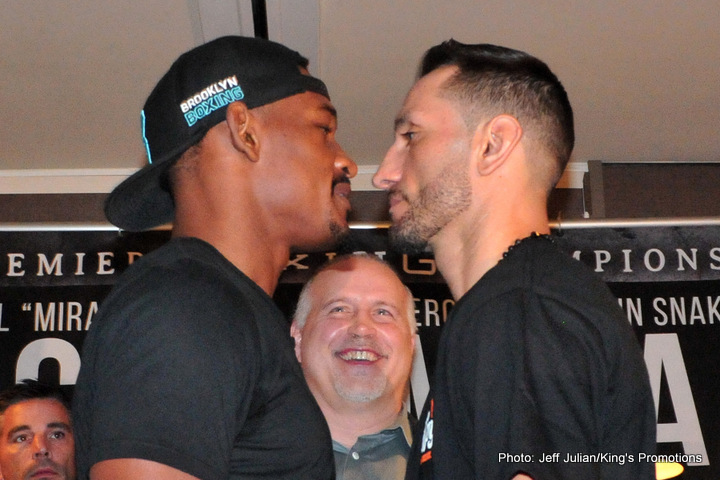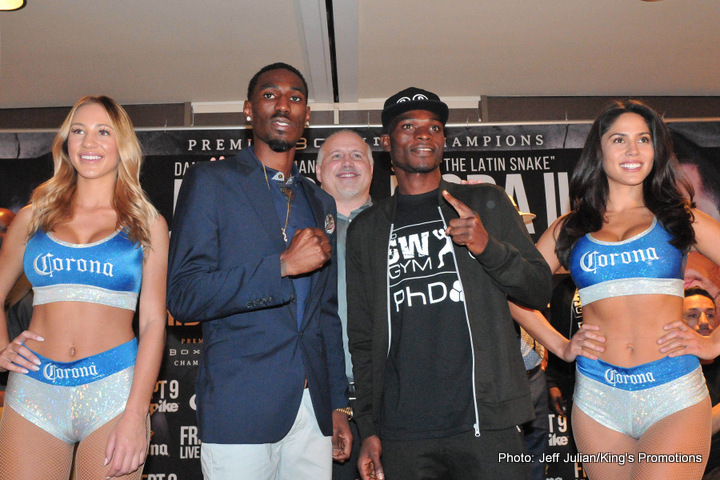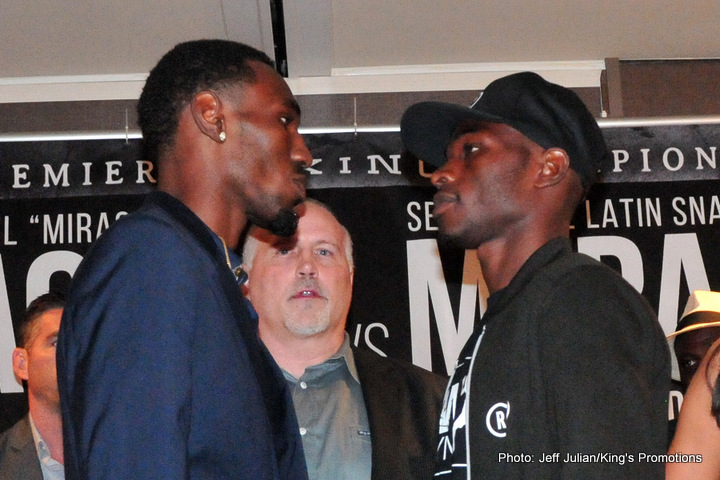 ROBERT EASTER
"This is a big opportunity and something I've wanted for my whole life. Ever since I was nine-years-old. All the hard work I've put in since I was a kid, everyone will see. I will put on a great performance
"We already were working hard before we knew we had this title shot. Someone has to pay for the work I've been putting in for 16 years in this business. On Friday night it will be another victory and another man down."
RICHARD COMMEY
"I'm very happy to be here and I'm thankful for this opportunity. When I first started boxing this is what I hoped for.
"This is all that I have had on my mind. This is what has motivated me for many years.
"Come Friday night I'm going to be ready to fight and I'm going to be a world champion."
Daniel Jacobs faces Sergio Mora on September 9
Middleweight world champion Daniel "The Miracle Man" Jacobs (31-1, 28 KOs) will defend his title in a rematch against former world champion Sergio "The Latin Snake" Mora (28-4-2, 9 KOs) that headlines Premier Boxing Champions on Spike, Friday, September 9 from Santander Arena, in Reading, Pa.
Televised coverage begins at 9 p.m. ET/8 p.m. CT and features undefeated lightweights colliding for a vacant world title as Robert Easter Jr. (17-0, 14 KOs) takes on Richard Commey (24-0, 22 KOs). Also on the card, heavyweight contender Travis "My Time" Kauffman (30-1, 22 KOs) will be featured in a 10-round fight.
Jacobs and Mora met in an August 2015 firefight that saw both men hit the canvas in round one. Mora was floored by a Jacobs right hand but the tricky veteran recovered and caught Jacobs with a clean left that put Jacobs on the ground. The action was halted in round two after Jacobs knocked Mora down again, rendering him unable to continue after fracturing his ankle on his way to the mat.
"This is business for me, but it is also more personal than any fight I have ever had," said Jacobs. "Sergio has been using these antics online to get this rematch and he has gotten under my skin. There has been a lot of back and forth as far as people's opinions as to who would have won the fight had he not gotten hurt. I am looking at this as an opportunity to clarify that I am the real champion. I want to shut his trap in primetime."
"I don't think Jacobs wanted this rematch, but it was destined to happen and now he has to deal with it," said Mora. "I thought the first fight was going my way. I knocked him down in the first round and was out boxing him in the second round. He knows that I have enough power to hurt him. He has more to worry about going into this fight than in the first fight. Look at my resume, I have fought solid opposition. Jacobs doesn't have that type of resume."
Tickets for the live event, which is promoted by King's Promotions, start at $20 and are on sale now via Ticketmaster.
"This is going to be one of the best cards of the year," said Marshall Kauffman of King's Promotions. "There are two great world title fights with Jacobs and Mora plus Easter and Commey. The first Jacobs – Mora fight was headed to be a shootout before Mora got injured. Easter and Commey has all the makings of a war. Add that to Travis Kauffman continuing his road to the heavyweight title plus the best fighters from Reading on the card, The Santander Arena will be electric both inside the ring and in the building on September 9."
The 29-year-old Jacobs followed up his victory over Mora with a sensational first round knockout of previously unbeaten former champion Peter Quillin in their highly anticipated December showdown. An inspirational figure representing Brooklyn, New York, Jacobs completed his road from cancer survivor to champion when he defeated Jarrod Fletcher for the middleweight title in 2014.
The winner of NBC's "The Contender" series, the 35-year-old Mora is a former world champion at super welterweight and looking to add a middleweight crown to his name as he returns to the ring for the first time since the injury suffered in the first Jacobs fight. The Los Angeles native owns victories over Ishe Smith, Peter Manfredo Jr. and Vernon Forrest.
An accomplished amateur who was a 2012 U.S. Olympic alternate, the 25-year-old Easter Jr. picked up four victories in 2015 including knockouts over Osumanu Akaba, Miguel Mendoza, Alejandro Rodriguez and Juan Ramon Solis. Unbeaten since turning pro in 2012, the Toledo, Ohio-born prospect faced the toughest challenge of his career in April when he impressively stopped former world champion Algenis Mendez also on Spike.
Representing Accra, Ghana, Commey has climbed the ranks since turning pro in 2011 and has yet to be defeated. The 29-year-old won his first 11 bouts fighting out of Ghana before going to London, Denmark, South Africa and Germany to improve his record to 24-0. Commey fought in the U.S. as well, stopping Bahodir Mamadjonov in the eighth round last May.
A local attraction fighting out of Reading, Kauffman is the son of longtime trainer and promoter Marshall Kauffman. Kauffman won his first 18 pro fights and entered his last bout on a 12-fight winning streak. The 30-year-old dropped Chris Arreola in his last outing before losing a majority decision that was later changed to a no decision. Now, Kauffman looks to impress in his hometown as he returns to the ring.