Middleweight world champion Daniel "The Miracle Man" Jacobs (32-1, 29 KOs) retained his title and knocked down former world champion Sergio "The Latin Snake" Mora (28-5-2, 9 KOs) five times on his way to a seventh-round TKO in the main event of Premier Boxing Champions on Spike Friday night from Santander Arena in Reading, Pa.
The bout was a rematch of their championship fight last August that saw Jacobs win by TKO despite being dropped in the first round. Mora suffered an ankle injury on the punch that ended the last fight but he was not able to capitalize on his second chance.
Jacobs was in control early and often, attacking the body of Mora and switching between orthodox and southpaw styles to stay in control throughout. Mora was evasive and used good head movement to frustrate Jacobs early but could never get his own offense going.
The champion from Brooklyn stayed the course and in round four he broke through with a left hook to the head that sent Mora crumpling to the mat. Mora recovered but again had a knockdown scored against him in round five.
Sensing his moment, Jacobs came out aggressive in the seventh round as he clearly sought an end to the fight. A left right combo dropped Mora in the corner early in the round before he was dropped from a body shot moments after getting back on his feet.
Referee Gary Rosato let the fight continue but Jacobs put a quick end to the night by smothering Mora and dropping him for the fifth and final time, forcing the referee to stop the bout at 2:08 into the round.
In front of a raucous and supportive crowd, undefeated rising star Robert Easter (18-0, 14 KOs) earned a narrow split-decision victory over previously unbeaten Richard Commey (24-1, 22 KOs) in a thrilling contest that saw both men grab momentum at different points throughout the 12-round bout.
Easter used his jab and length advantage in round one and appeared to have more success throughout the night when he fought from a distance. The fight vacillated between a tactical battle and a toe-to-toe war by the round and even by the minute.
The Ghanaian Commey was aggressive throughout the fight and had success pushing Easter to the ropes and catching him with big right hands. In round eight, Commey scored a knockdown on one of those right hands, as referee Benjy Esteves ruled that Easter's glove hit the canvas as a result of the punch.
Easter and Commey both came out firing in round nine, engaging in one of the many exchanges that put the lively crowd on its feet. Easter had great success throughout the night with his right uppercut that consistently caught Commey coming in, but never deterred him completely.
Both men reached the 12-round limit for the first time in their careers but it was Easter who took advantage of the final stanza by rocking and wobbling Commey with a big overhand right just seconds into the round.
Commey was able to survive on the ropes and by consistently wrapping up his opponent. Both men were lifted to the air in triumph by their trainers after the final bell rang as the crowd cheered the two combatants. In the end the judges scored the fight 114-113 for Commey and 115-112 and 114-113 for Easter.
Here is what the fighters had to say Friday night: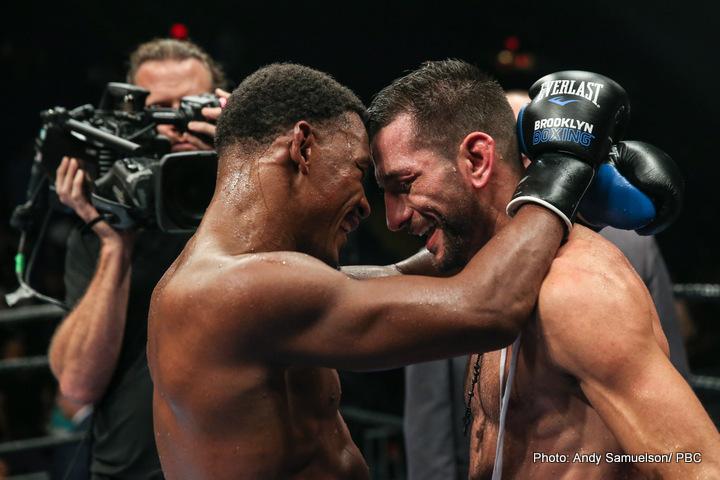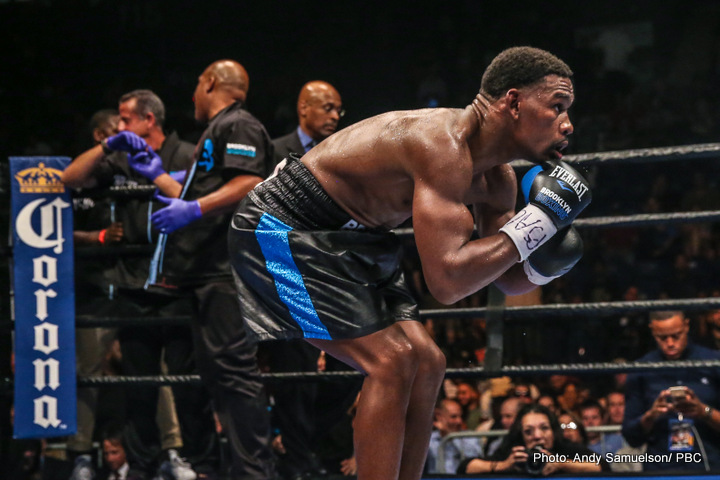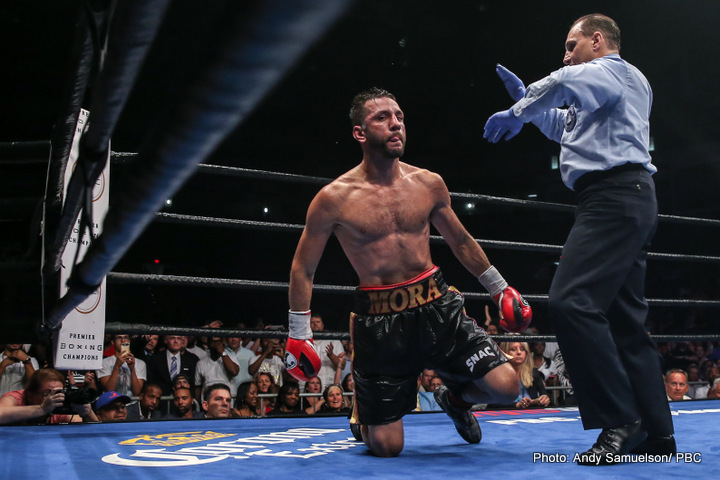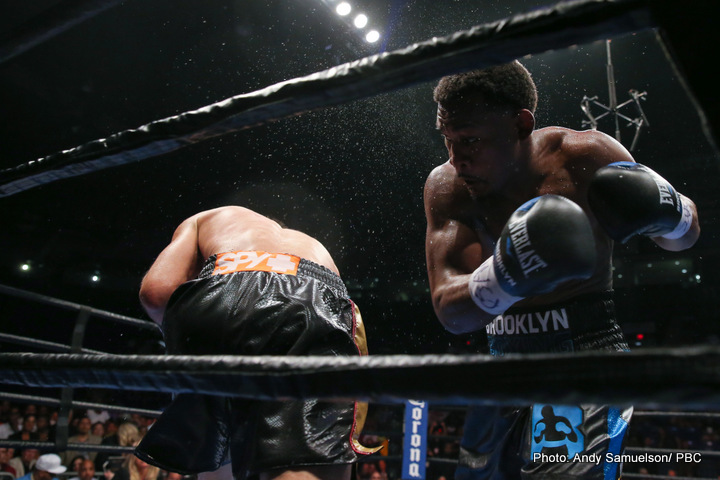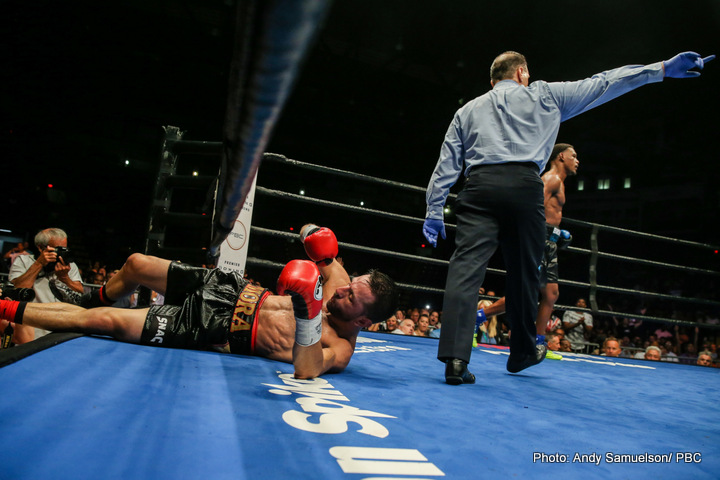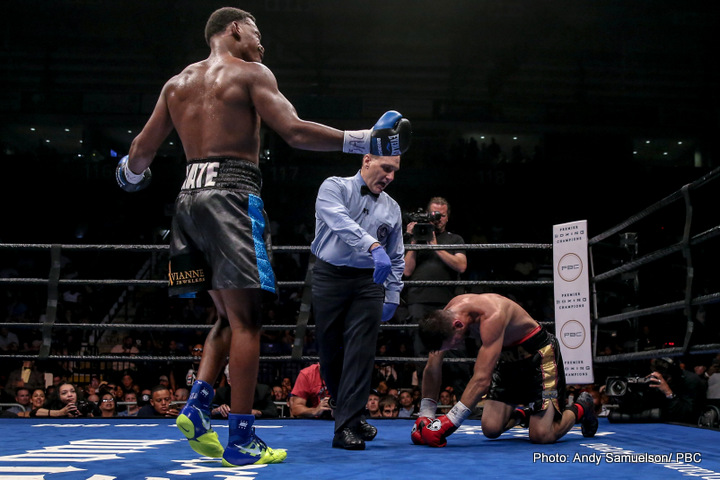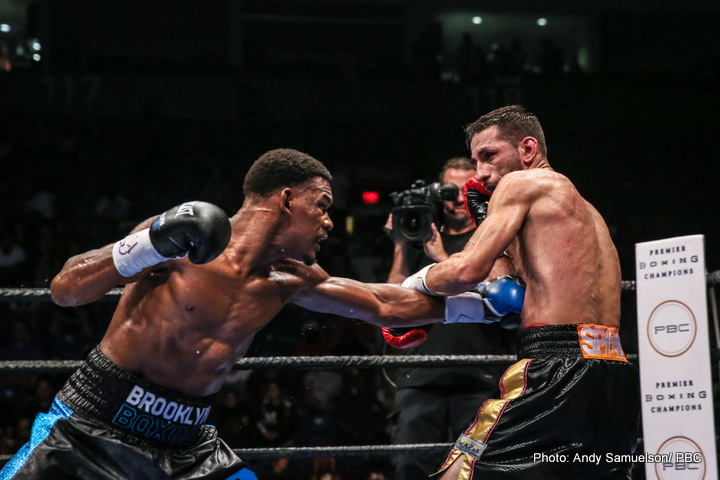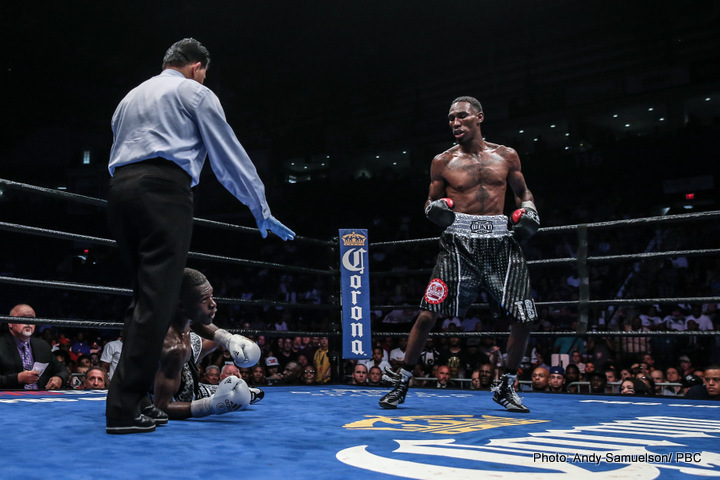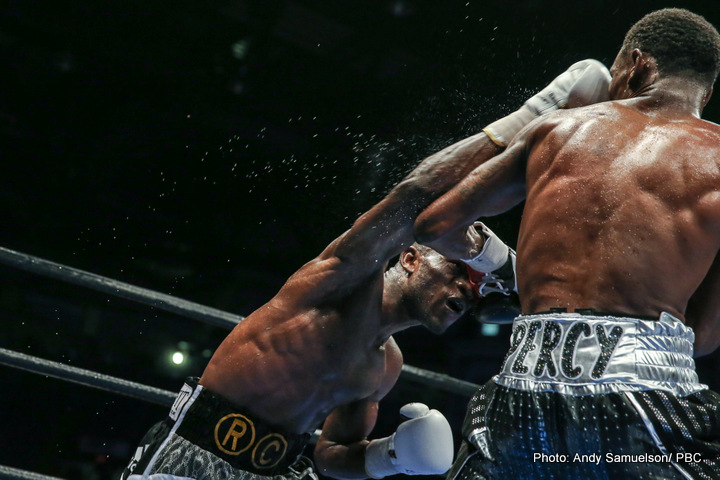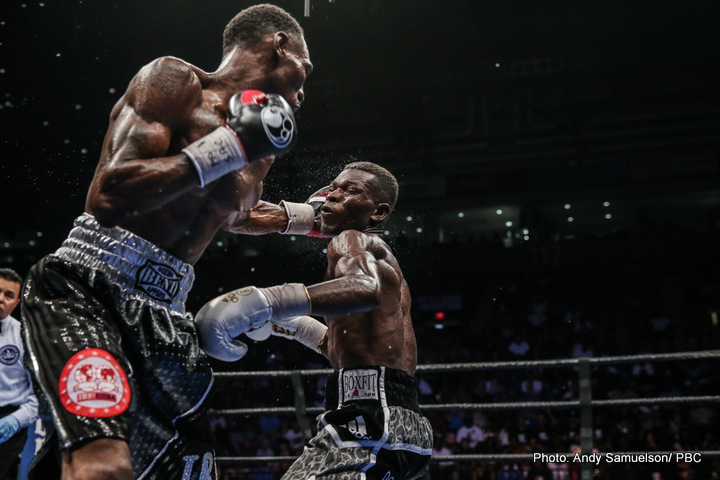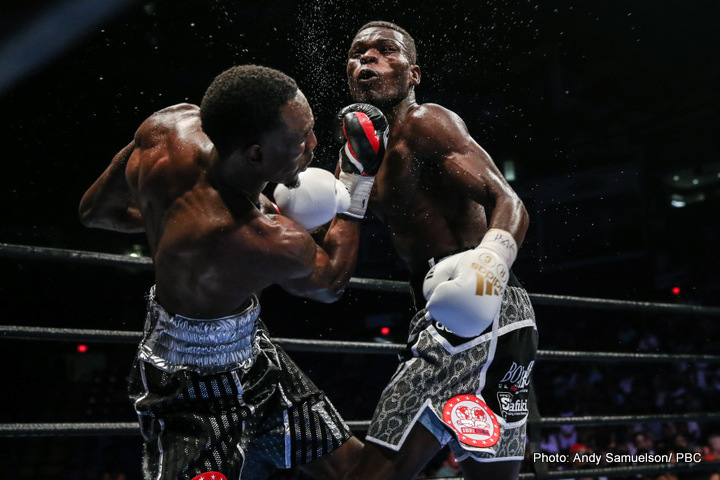 DANIEL JACOBS
"I have to take my hat off to Sergio Mora. There was a lot of talking before this fight, but this is boxing. I respect any man who gets inside of this ring.
"I want to prove to the world that I'm the best middleweight. If GGG gets the victory tomorrow, that's who we want.
"I wanted to go in there to hurt him and keep my knockout streak alive. I did what I said I would.
"I didn't expect to knock him down as much, but I did see the fight ending in a knockout. It took a while because he's so tricky. I wasn't able to jab the way I wanted to. That's what happens when you fight guys who have been in the game for a long time.
"The support of my city means a lot. There are guys here that I've known since kindergarten. People showed me love across the board and it was tremendous. For them to be on this journey with me, it means everything. I'm living my dream.
"This one's for Brooklyn. We have to spread the love around but I'll be back home in December headlining at Barclays Center."
SERGIO MORA
"The guy punches really hard. I was trying to catch him like I did in the first fight but I couldn't do it today.
"We expected him to fight the way he did. He's big and powerful. I knew I would have to catch him with a few shots and take him into the later rounds. I think I was doing that until my legs couldn't recover.
"I'm not going to take anything away from his victory, but I never recovered from a shot to the back of the head. They counted it as a knockdown so I'll have to take a look at the video, but it felt like the back of the head.
"This guy is a big overwhelming figure. When he got on top of me I could feel his weight. You really need those legs to wake up when you get buzzed.
"The fight was close in my heart. Daniel finally gave me credit. I didn't feel like I got beat up, he just caught me with good shots. I have a lot left in me. I'm going to look at the tape and see where I'm at."
ROBERT EASTER
"It's been a long training camp. We had an amazing training camp. This fight wasn't easy at all. We knew it wasn't going to be easy. Richard Commey is a tough, tough competitor. He made me fight each and every round, but we did it.
"The game plan was to go out there and box him and use my length and reach. I made a few mistakes tonight. One of them was not fighting him early enough. It wouldn't have been close. In the last round, when I needed the round, I went out and got it.
"I took everything that I had, all 16 years in the sport, and I used it to go get that belt.
"You always have to stay composed as a professional. I wasn't hurt at all on the knockdown. I know what happened in there. He threw a shorter right hand and I stumbled. I finished the round tough.
"Early in the fight I thought I hurt him with a hook and right hand combo. In the last round I caught him right on the chin. That wobbled him. He held on for dear life.
"I knew it was going to come down to a split decision. I felt in my heart that I did enough. He missed a lot of shots.
"I want more straps. I want belts. This is huge for my city. It means a lot. It's bigger than me. I wanted to give them something to believe in.
"All this hard work we had to put in for this fight, we had to dig in deep. I did this for my city and Toledo came out for me tonight."
RICHARD COMMEY
"I feel like I won this fight. I did everything that I could. I landed the more accurate shots. I come from very far and it's hard to win here versus an American. I deserve a rematch.
"I was very devastated when I heard the scores. I knew it was a close fight. He went down and I didn't.
"I want to be a world champion. Even if he doesn't want to fight me, I want another opportunity. I can fight at the highest level in the world. We worked so hard to get to this stage. I want to stay at this level. I'll keep improving."