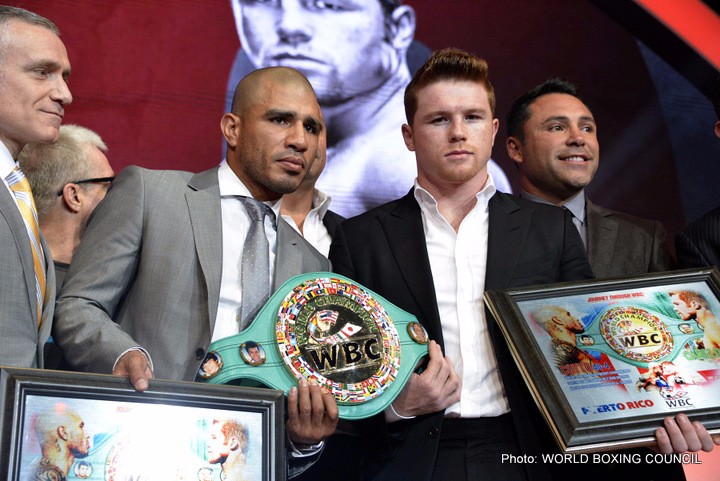 On November 21, 2015, Mandalay Bay in Las Vegas, Nevada, will be jam-packed with thousands of boxing fans. Pugilists, media, celebrities, and of course an avalanche of boxing enthusiasts will arrive at the arena to witness one of the more intriguing fights of the year thus far.
Many wouldn't buy the possibility of Canelo facing Cotto this year, and when the news of ongoing negotiations surfaced, they were mostly dismissed as yet another misunderstood, overstated, optimistic myth.
Yet here is it, just under one month away. This fight is intriguing for many reasons, but one that strikes most curiosity, is will Cotto's ring experience allow him to overcome the bigger, younger, and very hungry Alvarez. Cotto's record of 40-4-0 is spoiled only by losses to top notch fighters. His heart and dedication has never been in question, and his career is written in boxing history. His trek in facing the best with no excuses has made Miguel Cotto one of the most respected boxers in history.
Canelo, at 25 years of age, is one of the most impressive and popular fighters in the world right now. His stock has skyrocketed since his victory over Shane Mosley, and he has not stopped since. In 2013 Canelo entered the ring against Floyd Mayweather Jr., and his unblemished record was tarnished. Other than his loss to Mayweather Jr., Alvarez has proven himself as an elite fighter among the best.
The most demanding part of being a respected world class fighter, is understanding the path you might have to take. In the case of Canelo and Cotto, all roads lead to GGG. This may seem like an obvious statement, but every single fighter is protected by their promoters, in hopes of accumulating wins, thus maximizing profits.
Due to politics in any sport, boxing included, it is hard to say who may end up being across the ring from Golovkin, the winner or the loser of the Cotto vs. Canelo bout. Maybe neither. No matter who it ends up being, they are in for a very different fight, necessitating a completely different approach.
Many boxing fans did not see David Lemieux as a test for the unbeaten Kazakh. Thus the Canelo vs. Cotto fight becomes even more significant as it might flow into a blockbuster event featuring Gennady Golovkin vs. a whole new level champion.
But with all the hype of the possibility of GGG facing either Cotto or Canelo, the question of weight has not yet been cleared. Based on Able Sanchez, Golovkin's trainer, GGG is not looking to fight at anything below 160lbs, hoping to add a middleweight belt to his collection.
"Gennady is after the middleweight belt and he wants all four of them, the major ones," said Sanchez in a recent interview. If the middleweight belt is what team Golovkin is aiming at, why all the talk about Canelo?
"If he can't fight at 160 pounds then he can vacate the belt and we can fight somebody else," continued Sanchez.
It looks as though the idea of GGG bout against either Cotto or Canelo might run into too many roadblocks. Of course money talks, and if there is demand, financial and popular, things might come together.