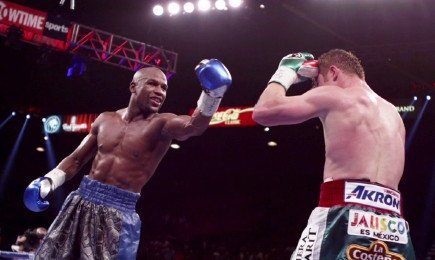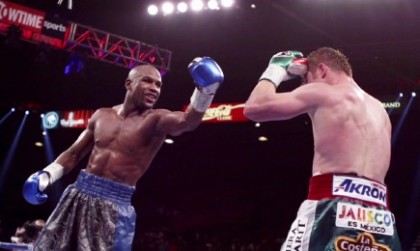 On Wednesday both Team Khan and Mayweather Promotions CEO Leonard Ellerbe said that a fight between former two division world champion Amir Khan and Floyd Mayweather Jr. isn't happening. According to Dan Rafael, Ellerbe calls it nothing more than rumors that Floyd will be fighting the struggling Khan, and Team Khan is saying that Khan will possibly be fighting IBF welterweight champion Devon Alexander on December 7th.
This leaves the question about who Mayweather Jr. will be fighting on May 3rd next year. He's selected the Cinco de Mayo holiday to fight, so it makes a lot of sense for him to fight a Mexican fighter or least a Hispanic fighter. Unfortunately, there's not too many names for Mayweather to fight at 140, 147 or 154 if he's looking to a top Hispanic fighter.
If that's what he's looking for on that date it's going to have to be from one of these names: Danny Garcia, Marcos Maidana, Lucas Matthysse, Carlos Molina, Miguel Cotto, Sergio Martinez, Alfredo Angulo, or Saul "Canelo" Alvarez.
Fighting Canelo again is probably not going to happen because of how one-sided Mayweather's their fight was last month with Mayweather easily dominating the 23-year-old Canelo by a 12 round decision. However, a rematch between them would still likely bring in more pay-per-view buys than Mayweather's other options. But it's really doubtful that Mayweather would choose to fight Canelo immediately because the boxing public would be critical of the idea.
Mayweather fighting Danny Garcia would interest fans on the East Coast of the U.S, but it's a huge, huge step down for Mayweather from the Canelo fight, and it would probably bring in less PPV buys than Mayweather's recent win over Robert Guerrero. Garcia isn't a highly popular fighter outside of the East Coast, and he's not coming off a crowd pleasing win in his last fight against Lucas Matthysse. Garcia fought Matthysse on the Mayweather-Canelo undercard last September, and instead of the fight being a brawl, Garcia chose to run and smother Matthysse with clinching and it turned out to be a pretty boring fight to watch.
There might be a little bit of interest if Mayweather were to fight IBF junior middleweight champion Carlos Molina, but it would likely be around the same amount of fan interest that we saw in Mayweather's victory over Guerrero. It's not an ideal fight for Mayweather because Molina would likely fight him on the inside and look to smother is offense the same way that Danny Garcia did to Matthysse. It wouldn't be a pretty fight to watch, and not really worth it for fans.
Mayweather vs. Sergio Martinez would be an excellent fight and it might even attract some interest. But it would require that Mayweather once again fight a heavier fighter and they would have to negotiate the weight unless Mayweather was okay with fighting Martinez at middleweight for his WBC 160 lb. title. Mayweather hasn't yet won a world title at 160, and it would be interesting to see if he could pull it off against Martinez. With Martinez's recent injures to his hands and knee there would be a chance that he might suffer another injury during training camp resulting in a postponement. Martinez is about to turn 39, and he might not make it through training camp unless he took it easy.
As far as Maidana or Angulo, there probably wouldn't be a whole lot of interest in Mayweather fighting either of those guys due to both of them having been beaten many times in the past. Mayweather could still expect about as PPV numbers as he got for his bout against Guerrero. If he's happy with that, then Angulo or Maidana would be good.