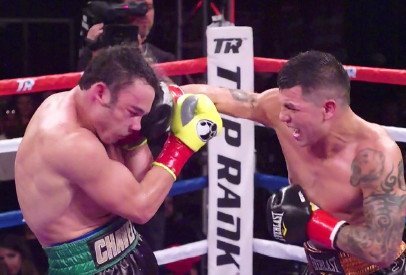 Boxing great Julio Cesar Chavez Sr. wasn't altogether pleased with what he saw from his son former WBC middleweight champion Julio Cesar Chavez Jr. (47-1-1, 32 KO's) in his controversial 10 round unanimous decision victory over Bryan Vera (23-7. 14 KO's) last Saturday night at the StubHub Center in Carson, California.
Chavez Jr. was throwing mainly one punch at a time, backing up much of the time, and getting nailed by the much smaller Vera each time would be cornered. It was a very strange sight to see a bigger fighter with more power running from a smaller fighter.
The judges gave Chavez Jr. the win by the scores 97-93, 98-92 and 96-94, but only a small handful of people agree with those scores.
Chavez Sr. told the WBC "We have to improve many things. Things are not ok. I wanted that fight concluded, to have complete control of my son. He must see boxing from another point of view. If not, he will not develop."
It might be asking a lot of the young Chavez Jr. to change what he is and become more devoted to boxing. Even if Chavez Jr. were to become a gym rat and train 24/7, his huge size will make it necessary to fight in the super middleweight and eventually the light heavyweight and cruiserweight divisions. He doesn't have the type of power and skills to compete against top fighters like Andre Ward, Carl Froch, Adonis Stevenson, Sergey Kovalev and Marco Huck.
It's certainly possible for Chavez Jr. to win a world title at 168, especially given that he'll be targeting WBC super middleweight champion Sakio Bika, who is arguably not in the same class as Ward and Froch. But Chavez Jr. won't be seen as a legit title holder in the minds of a lot of boxing fans if that's who he targets. For him to improve enough to beat the really top fighters at 168 and 175, he's going to have to improve by leaps and bounds. It doesn't look like it's going to happen though.
Chavez Jr's promoter Bob Arum wants to put him back in with Bryan Vera on HBO for a rematch that could take place on December 7th or 14th. This will give Chavez Jr. the opportunity to take weight off and get into the best possible shape to show boxing fans that his controversial win was just a situation where he wasn't in the best of shape. However, the fight brings a risk for him because if he doesn't prove that he's better than Vera next time around, then it's going to be difficult to take Chavez Jr. seriously.