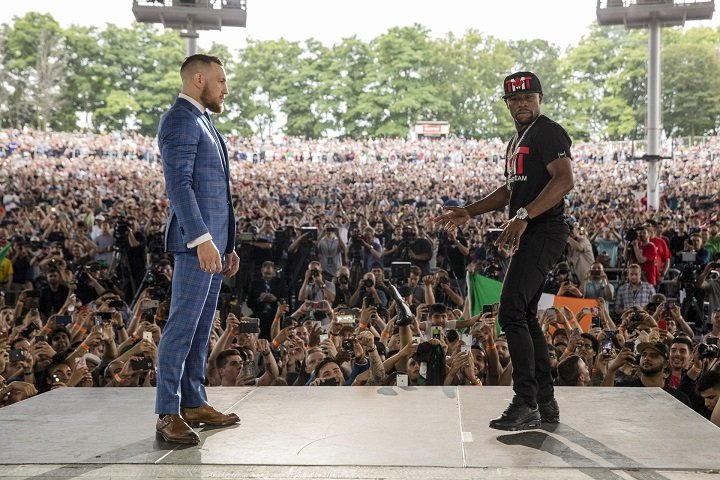 The tension between boxing legend Floyd Mayweather and UFC superstar Conor McGregor boiled over into Toronto on Wednesday as the global stars continued their blockbuster World Tour to announce their Aug. 26 showdown on SHOWTIME PPV from T-Mobile Arena in Las Vegas.
(Photo credit Esther Lin/SHOWTIME Sports)
Mayweather and McGregor met on Wednesday for just the second time, jarring toe-to-toe for more than three minutes in the initial faceoff in front of a largely pro-McGregor crowd at Toronto's Budweiser Stage.
Multi-platinum and GRAMMY Award-winning recording artist Drake made a special guest appearance in front of his hometown Toronto fans "to witness history" for an event to celebrate what he called "the biggest fight in the history of fighting."
https://www.youtube.com/watch?v=lDaGnQhwSHQ
After hearing McGregor once again promised to knock out a man that's never been beaten, Mayweather challenged McGregor to put his money where his mouth is.
"If you believe in yourself like you say you believe in yourself, bet your whole fight check," Mayweather said.
"One shot is all it takes," promise McGregor. "Check the facts – I bounce heads off the canvas."
To watch Wednesday's press conference in full, visit the SHOWTIME Sports YouTube channel:
The Mayweather vs. McGregor World Tour continues Thursday at Barclays Center in Brooklyn and concludes on Friday at Wembley Arena in London.
Below are flash quotes from today's event in Toronto:
FLOYD MAYWEATHER:
"We're not talking about being at the top for one year, two years, three years, four years. We're talking about 21 years.
"Turn the pressure up. I don't quit, I don't fold under pressure. I'm the best and I know I'm the best.
"If you believe in yourself like you say you believe in yourself, bet your whole fight check."
CONOR MCGREGOR:
"I thrive in uncomfortable positions. There is nothing these guys can do to phase me. Twenty-eight years of age, I'm getting fight checks and promoter checks. When Floyd was 28, he was on Oscar De La Hoya's undercard and that's just facts.
"Toronto, what a city. I was here one time, I was also on a world tour. I was also facing an unconquerable quest. I was facing the best pound-for-pound fighter on the planet, Jose Aldo. They said the same things then as they're saying now. They said I have no chance. They said I'm in over my head. They said [he] kicks too hard, too many weapons. The Irishman is going to fall short, he doesn't stand a hope. It took me 13 seconds.
"One shot is all it takes. Check the facts. I bounce heads off the canvas.
"He tip-tap-toes to a decision. He's never fought a day in his life, he's a runner."
Oddschecker: 44% of punters backing McGregor winning in four rounds
Bettors' money split evenly between Mayweather and McGregor
Conor McGregor promises to knock Floyd Mayweather out 'inside four rounds' but do punters agree?
The media tour has continued ahead of their record-breaking bout in Las Vegas on August 26 with both Floyd Mayweather and Conor McGregor trading insults and predictions. McGregor told viewers: "his little legs, little core, little head, I'm going to knock him out inside four rounds, mark my words".
The bookies have McGregor to win by knockout priced at best price 13/2. McGregor to win in the first round is 50/1, with rounds 2, 3 and 4 all 40/1. It appears bettors are keen on McGregor's bold claim as 44% of all round bets have backed the Irishman to win inside 4 rounds.
Mayweather however told McGregor: "I guarantee you're going out on your face or your back." Despite not knocking out an opponent since Victor Ortiz in 2011, the former five-weight world champion promised the UFC champion that he'd do just that. Mayweather admitted he was an "old man" but told McGregor he "still had enough" to beat him and even challenged him to bet his whole purse on their fight.
Of all bets on the fight, the most money has been staked on Mayweather to win in round 1 at 33/1, followed by Mayweather to win in rounds 2 and 3, priced at 25/1 and 20/1 respectively. In the last six months, McGregor has accounted for 62% of bets between the pair, but the money has been split almost exactly 50:50. Bettors clearly fancy the value in McGregor, with the confident punters backing Mayweather with bigger stakes.
Links: https://www.oddschecker.com/boxing/floyd-mayweather-jr-v-conor-mcgregor/ winner