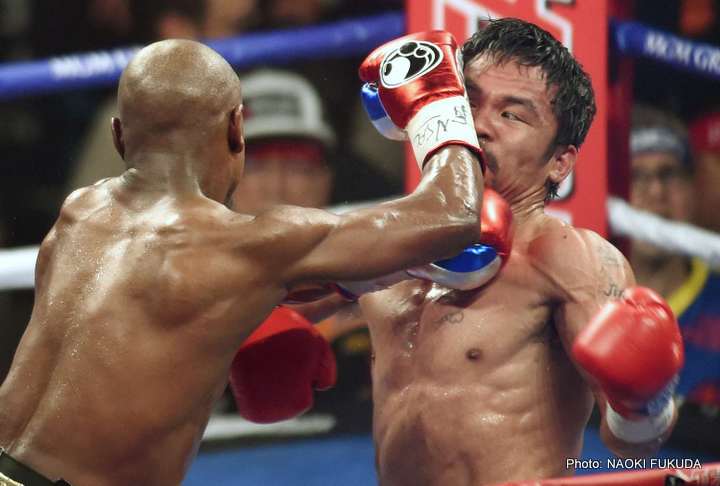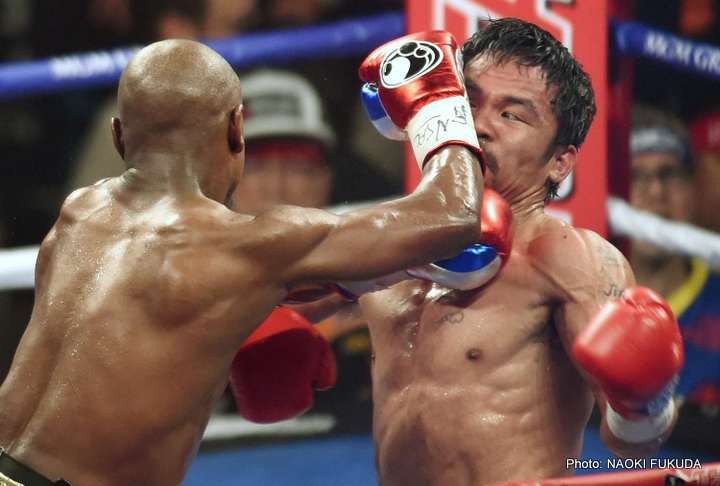 What an anti- climax. Like your poor marquee fights of the past that didn't quite live up to the hype (De La Hoya v Trinidad), Mayweather v Pacquiao and the pro-Manny house in Vegas left very disappointed tonight (or this morning here in the UK) when we witnessed a good guy vs bad guy fight where the better boxer – not the better human being – won out.
Floyd Mayweather put on a master-class in boxing tonight, much like he did against the last guy who we thought would "seriously" hurt him (Saul Alvarez) and the head won out over the heart in a fight that won't bring any new fans to the sport. Let's be honest. It's only us die-hards watching here from tonight. Blame whichever fighter you want for that. Like he did with Alvarez, Floyd took Manny to school.
Defensive, mobile boxing isn't pretty for casual fans. Staying safe is what boxing's hit and don't get hit philosophy is all about but the folk who paid for a PPV tonight who don't usually back the sport will be disappointed on the whole. How can boxing grow when the headline name fight's like this?
And that's not too mention a piss poor undercard that was lukewarm at best. With some potential stars and stars of the future fighting, I feel it was a missed opportunity.
Conor McGregor and the UFC are dangerously more alluring for the man in the street right now than boxing in my eyes.
Before the televised card for "Fight Of The Century" even began, the evening started with the naïve hope of the masses that we would witness something special. We didn't. And I for one, am pissed.
The TV card kicked off with 168lb prospect Jesse Hart, who is one of the budding starlets of Bob Arum's Top Rank stable.
Since making his debut on the Pacquiao-Bradley 1 undercard in 2012, the son of 70's middleweight Eugene Hart has stormed to (17-0, 14ko) including tonight's stoppage win of fellow undefeated fighter Mike Jiminez (17-1, 11ko)
The visibly smaller Jiminez was bullied by the American fighter en route to being stopped under the pressure of a barrage of hooks in the 6th round. It was a run-of-the mill display that won't concern the UK's fastest rising 168lb fighter – Callum Smith – who will have seen nothing to be worried about should their paths ever cross in future. The Brit would have his beating tomorrow in my eyes.
The much hyped 160lb Mayweather Promotions middleweight prospect, Christopher Pearson (12-0, 9ko) – who is looked after by Al Haymon- was also average and put on a disappointing performance against an awkward and inactive Said El Harrak (12-3-2, 7ko).
A man he was clearly meant to beat in style. Boy did he make extremely hard work of doing so. El Harrak had 5 fights in the last 4 years before tonight's contest.
Southpaw Pearson, 24, who has sparred the likes of Miguel Cotto and Saul Alvarez, put in an average shift that gave us no indication of what all the fuss is supposed to be about. After a snooze inducing start to the fight, the defensive minded American appeared unwilling to get involved with the game British-born Californian. A cut to his eye in the 4th round prompted some more urgency and effort, yet neither man was having much success.
The fight appeared to ignite in the 8th when El Harrak – the man given the call to turn up and get beat – rocked the American who was genuinely in trouble right at the start of the round. He did however regain his composure to grind out a visually un-appealing UD that will go down in the history books as a shut-out but honestly didn't look that way. More work is needed for the middleweight prospect who will no doubt be carefully matched for his next few contests.
WBO featherweight champion Vasyl Lomachenko – arguably the best amateur of all time – boxed in only his 5th professional contest in the next fight on the televised card. His meteoric rise to championship gold and switch to the professional game has been nothing short of remarkable, and he absolutely boxed the ears off his hopelessly out gunned opponent tonight. For me it was probably the FOTN and that's saying something!!
Having suffered a defeat at the hands of Orlando Salido in his 2nd fight and 1st world title challenge, the slick Ukranian, who boxed in his country's blue and yellow, has been on a fast-track ever since turning professional.
The 2x gold medal winning Olympian's cracking fight with American Gary Russell Jr a year ago captured him his title and his second defence tonight he put on an absolute master-class that is ultimately setting him on a collision course with WBA (sup) champion Nicholas Walters.
His precocious talent was on display for all the world to see tonight, yet sadly the crowd in the MGM only began to filter in halfway through. We all know stars like Sting and Jon Voight, jumping on the boxing bandwagon, couldn't give a s*** about the boxing anyway and their appearance only served to detract from the occasion for the real (and jealous) fans watching on TV who have been essentially excluded from the event, as is almost always the case with modern mega-fights.
Lomachenko's opponent, Gamalier Rodriguez (25-2-3), remarkably having never boxed a 12 rounder before, was hopelessly outgunned from the off. Lomachenko's fast, sharp combinations and footwork, moving in and out of range were a joy to behold. His variety and movement displayed a growing confidence, that come the 7th round, finally broke down Rodriguez when he was forced to take a knee. Having already lost a point earlier in the fight, the Puerto Rican looked a beaten and defeated man.
Having lost only one of only 400 amateur fights, Lomachenko was mature, composed and slick. His southpaw dissection of Rodriguez secured the ninth round stoppage that could have come sooner in my eyes had he put a little more spite in his punches. Constantly holding, Rodriguez was desperate for a way out and the classy head and body combo that put him away in the 9th gave him his wish.
I think we can expect massive things from Top Rank in terms of getting Lomachenko the biggest possible fights and the fight with Walters, promotionally,it should be easy to put together. Walters is also with American broadcaster HBO so I'm sure it's one we can look forward to in the future.
Following on from Vasyl, I don't know what to make of Leo Santa Cruz anymore. He was up next. Bare in mind this fight was CHIEF SUPPORT!!! To May- Pac!!! – Wow!
This guy has been cherry picking at 122lbs, fighting lower-tier opposition, avoiding the likes of Frampton, Quigg and Rigo, and on the biggest stage in boxing he suddenly moves to 126lb for a non-title bout.
Against the 117th best guy in the world. Let that sink in for a second.
The WBC super-bantamweight champion marked his featherweight debut with an absolute points shut-out against Jose Cayatano, yet whilst getting the unanimous nod – his career is going backwards.
As a writer I am supposed to be impartial but I am CONVINCED that Belfast's Carl Frampton hurts this kid badly, yet it seems neither he, nor Scott Quigg, are on Santa Cruz's radar. With a dominant, forgettable performance in a fight that isn't worth an in-depth description. Catamayor was game and tough and the Mexican-American's credibility is seriously in question for me after tonight. What a protected fighter.
Then we had our main event. And as boxing fans we are left a little underwhelmed. Give me Manny-Morales 1 or Manny- Marquez 1 any day of the week. I'd take a young Floyd knocking out Angel Manfredy over the fight we saw tonight! Well maybe not that…..but you get the idea!!
It wasn't exciting. A cautious start to the fight between two men who had 40 world title fights between them was punctuated by the odd Mayweather flashing jab. That's about it. While the pro-Pacquiao crowd prayed for the Filipino to be his more aggressive self, the God he so relies on seemed to have deserted him. The crowd in the MGM were all he had. Along with the prayers of a watching world that fell on deaf ears. God was obviously dealing with something else.
Al Haymon wasn't. The man oft thanked before the good lord would have been looking on with a big grin! Mayweather was firmly in control.
Rising to the occasion of the biggest fight of his career, Floyd took the first 3 rounds easily. His sharp, flashing jab was telling and when the heads came together occasionally, despite some Pacquiao success in the fourth round, he simply couldn't get his rhythm going and was not the busy, volume punching fighter we expected going in and have seen many times before.
As the fight wore on and Floyd became slightly more aggressive, true boxing people realised they were witnessing a master boxer, putting on a show.
Christ, I hate Floyd's arrogance and personality but this is about boxing. Not a nicest-guy contest, and that's what we saw tonight. A total asshole who is a master technician.
Despite occasional successes for Pacquiao (who I gave rounds 4 and 6) when he had Mayweather backed up on the ropes, Floyd was quick to come back and assert control, and the dominant, arrogant "Money" man can now celebrate his pre-booked victory party in style.
In my eyes that is the last we will see of Manny Pacquiao.
Mayweather has one fight left on his Showtime contract and maybe we will see Khan? Maybe Brook in September?
With Amir ruling himself out ostensibly through Ramadan who knows?
Maybe we will see a 2nd fight with Pacquiao in September for the final fight of Floyd's Showtime contract? Like the Maidana fight he may do it again but it's going to be a hard sell.
Floyd didn't make hard work of this tonight and justifying a rematch is tough in my eyes. I'm not sure how he tops this and at 147 there is nobody to touch him.
The only belt he doesn't own at 147 is Kell Brook's IBF.
After tonight I have no doubt he could claim it in September.
Will he go out the best ever as he so often claims?
I'm having a hard time with that one. But right now? Of this era? After that performance I have no doubt.
Twitter @Undilutedpoison