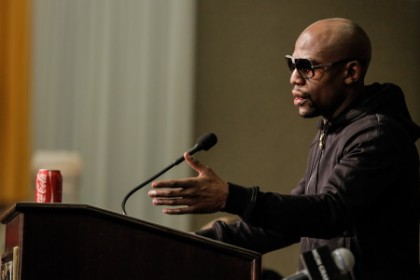 (Photo credit: Stephanie Trapp/Mayweather Promotions) WBA welterweight champion Floyd Mayweather Jr (47-0, 26 KOs) said before last night that Marcos Maidana (35-5, 31 KOs) would be his 47th victim and that's exactly what happened with Mayweather using superb footwork to box his way to a 12 round unanimous decision at the MGM Grand in Las Vegas, Nevada.
There may not have been as much toe-to-toe action as there was in their first fight in May of this year, but the fight was still quite exciting to watch from start to finish.
After the bout was over, Mayweather was asked repeatedly by media members whether he'll be fighting Manny Pacquiao or Amir Khan next, but Mayweather didn't have a clear answer at the time. He says he still needs to think about what direction he wants to go in for his fight in May of 2015.
"I'm gonna go and talk to my team and see what the future holds," Mayweather said. "I don't know who I'm fighting in May but I expect to fight in May. Manny Pacquiao needs to focus on the guy in front of him. Once he gets past him, he can look to the future. If the Pacquiao fight presents itself let's make it happen."
Pacquiao, 35, and his promoter Bob Arum of Top Rank would like nothing more than to get a fight against Mayweather. With Pacquiao's pay-per-view numbers not what they once were, a Mayweather fight could pump them back up for a while in the same way that Pacquiao's pay-per-view numbers skyrocketed after beating an over the hill Oscar De La Hoya in 2008. For a three year period, Pacquiao's fights brought in over 1 million PPV buys. His numbers didn't tank until 2012.
If Mayweather is going to fight in May of 2015 on the Cinco de Mayo holiday, he's going to need a fairly big name to persuade former WBA/WBC junior middleweight champion Saul "Canelo" Alvarez and WBC middleweight champion Miguel Cotto from taking that date.
Canelo has been talking about wanting to fight on Cinco de Mayo, and if he's fighting Cotto then it's going to be tough for Mayweather to compete against that unless he's fighting Pacquiao. Amir Khan isn't a big enough name for Mayweather and Khan to push Cotto and Canelo from fighting possibly in May.