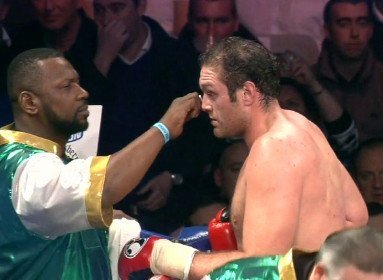 Heavyweight Tyson Fury (22-0, 16 KO's) isn't worried in the least about the new and improved Dereck Chisora (20-4, 13 KO's) now that he's shed 15-20 lbs of fat and is fighting at a leaner and meaner weight for him. Chisora and Fury are heading towards a Summer clash in the UK, which will likely be a WBO heavyweight eliminator bout. Fury feels that he's going to dominate Chisora just like he did three years ago when they fought in 2011. Fury won the fight by a lopsided 12 round decision over a much fatter 260 lb. Chisora.
Chisora and Fury fought on the same card last night at the Copper Box Arena in London, UK. A heavy-looking Fury dispatched Joey Abell in the 4th round, whereas Chisora battled to a 12 round unanimous over Kevin Johnson. Neither of them looked anywhere near the class of IBF/IBO/WBA/WBO heavyweight champion Wladimir Klitschko in the skills department. You can also make a good argument that both Chisora and Fury should have had a lot of points taken off for their various fouls that they committed in their fights. Chisora threw rabbit punches for most of the fight while Fury hit Abell twice while he was down in the 4th. Fury also hit Abell low on the break. It was that kind of a night for Fury and Chisora.
"If I got behind the jab and box him he's go no chance," Fury said via the Dailystar in talking about Chisora. "So I'm going straight to him to have a war with him…If you want me to, I'll box southpaw with one hand behind my back and I'm still confident I can beat Dereck Chisora. They say Chisora's improved; he looks the same one-paced fighter to me. He's getting knocked out next time."
Chisora is pretty much the same fighter he's always been. The difference is he's fighting weaker opposition now since he was beaten by David Haye, and his punches seem to be hitting the back of his recent opponent's heads a lot more than in the past. Other than that, Chisora is the same fighter he's always been. If Fury comes into the rematch with Chisora in shape, then he'll probably dominate him and make him look bad like he did in 2011. Fury has too much height and reach on Chisora, and it'll be difficult for Chisora's looping shots to hit Fury in the back of the head.