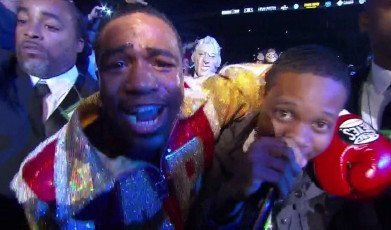 Floyd Mayweather Sr. says he saw Adrien Broner's fight last Saturday night against Marcos Maidana, and he doesn't believe Broner can go anywhere in the sport with the skill-set that he currently has. Mayweather Sr. sees too many flaws in his game for Broner to get to the next level, but he thinks he can fix the problems in his game and take him to the next level.
"I can train him to where no one will be able to hit him at all," Mayweather Sr. said to Hustleboss. "I'm very interested in [training him] it, but he's got to be interested. What I've seen, I know I can change. It's time for him to make a change [in trainers]. He's not going to get nowhere with what he's got right now. He's not going to climb with that at all."
Broner has been with his trainer Mike Stafford for many years, so it's going to be difficult for him to walk away from that relationship. But he needs to think about it because what we saw from Broner last Saturday night, he's not going to be able to compete against the top guys at 147. He gets hit too easily, and he doesn't move around the ring like Floyd Mayweather Jr. does. You can see where Broner is trying hard to copy the style of Floyd Jr., but he doesn't quite have it down as well as he needs to. With a trainer like Floyd Sr., it's definitely possible for him to fix the areas in Broner's game where he's not done a good job of completely copying Floyd Jr's style, especially in the defensive side of his game.
Unfortunately, Floyd Sr. won't be able to do much in terms of fixing Broner's lack of hand speed and getting him to focus more on the sport instead of running around and going to parties. The lack of hand speed is something Broner will be stuck with. It's doubtful that Mayweather Sr. would be able to control Broner's life outside of the ring, because he fancies himself to be a young rapper and he wants to party. It doesn't matter how good of a trainer Floyd Sr. is if Broner lets himself go in between fights and puts on weight like he did before the Maidana fight. Broner looked like he a pot belly before he started training for the Maidana fight, and that couldn't have been a good thing for him.