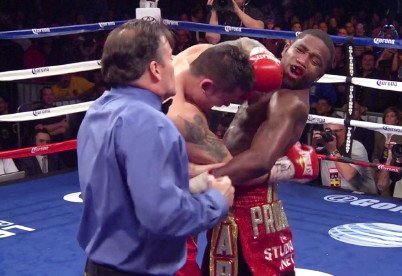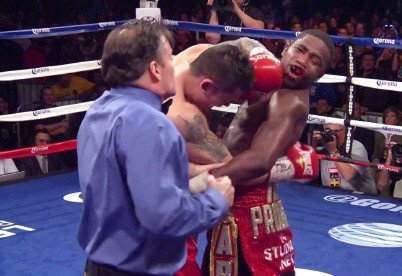 With the news of Floyd Mayweather Jr. adding WBA welterweight champion Marcos Maidana to the potential list of fighters he'll be choosing from for his next fight on May 3rd, Floyd Mayweather Sr., the trainer and father of Floyd Jr., thinks Maidana is too slow and hittable for his son. Floyd Sr. saw Maidana's win over Adrien Broner last Saturday night, and he feels the only reason Maidana won the fight was because Broner did everything wrong that you could think of.
Floyd Sr. was great disappointed in what he saw of Broner, and he thinks the only way he'll be able to turn around his career is if he personally takes over the training for him. Since that's probably not going to happen, Mayweather Sr. seems Broner as not being a factor. As far as Maidana being a potential opponent for Floyd Jr., Mayweather Sr. doesn't see him as being good enough go give his son a good fight.
"It's an easy fight, I'm telling you," Floyd Sr. said to On the Ropes Boxing Radio. "It ain't no different than Khan. He's [Maidana] easy to hit, Broner hit him easy. Believe me, he is easy to hit. He's a tough guy, but there's too much speed, too much trickery, too much mind over power. Broner was going everything wrong. I'm the one that who taught my son, so I know when I say he did a lot of things wrong."
Maidana won and looked good as he can against a stationary Broner, but it would be different if he were to face Mayweather Jr. All the mistakes that Broner made wouldn't be there for Maidana to take advantage of against Floyd Jr.
We should find out in the next couple of weeks who Mayweather's next opponent will be for May 3rd, as he can't sit and wait too long before he makes decision because they need to start promoting the fight to get people interested. If it's going to be Amir Khan that Mayweather Jr. fights in May, then Golden Boy promotions will need to start marketing that fight as soon as they can because it's going to be a tough sell to try and get fans interested in what would be a terrible mismatch.