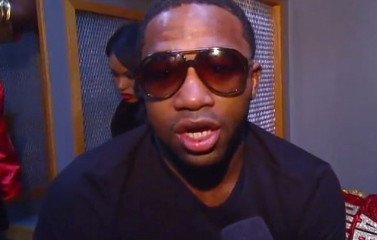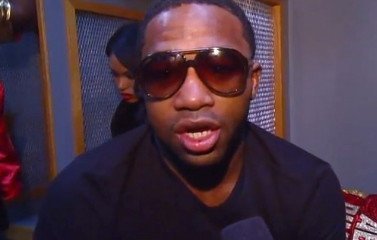 Bob Arum of Top Rank thinks Adrien Broner (27-1, 22 KO's) isn't the guy that many people in the boxing world thought he was before his recent loss to Marcos Maidana. Arum wasn't surprised in the least by Broner's loss because he had noted then kinds of opposition that he'd been fighting up until the Maidana fight, and he felt that he hadn't shown that he was anywhere near being a great fighter. Arum saw a lot of other fighters who he felt were better than Broner.
"I think we wasn't what they portrayed him to be," Arum said to Hustleboss. "He has to fight like a guy who is a normal fighter. He's not a great fighter. He's a good fighter. There are many fighters who are much better than he is."
Arum makes a good point. Broner's been trying to fight like he's a great fighter, but he hasn't shown the same kinds of skills that we see from the likes of Manny Pacquiao and Floyd Mayweather Jr., just to name a couple of great ones. One of the advantages that Broner had was with him fighting at super featherweight and lightweight, where he would then rehydrate up in weight and have a size advantage over his opposition. Now that he's moved up from the 135 lb. division to the 147 lb. division, he doesn't have a size advantage and he's not the same guy.
Broner's not saying what he'll do next for his next fight in terms of whether he'll stay at 147 or move back down in weight to either the 140 or 135 lb. division. But it would be awfully difficult for Broner to compete against the following welterweights if he were to stay at 147: Keith Thurman, Maidana [as we just saw], Kell Brook, Devon Alexander, Diego Chaves, Robert Guerrero, Shawn Porter, Amir Khan, Luis Carlos Abregu, Tim Bradley and Juan Manuel Marquez. It's safe to say that most if not all of those fighters would beat Broner if given the chance.
Things don't get much better for Broner even at 140. He'll have tough time against the likes Lucas Matthysse, Danny Garcia, Ruslan Provodnikov, Zab Judah, Dierry Jean, Mike Alvarado and Lamont Peterson. If he's smart, Broner will move back down to 135, because he doesn't have the hand speed, defense or the massive power to be a top dog at 140 and especially not at 147.