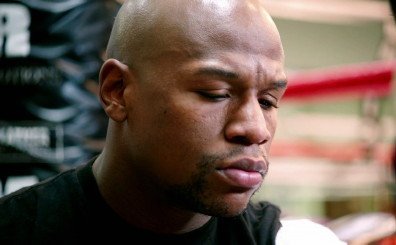 By Rob Smith: Floyd Mayweather Sr. believes that his son Floyd Mayweather Jr. would completely dominate if he were to move down to 140 lbs instead of trying to fight at 154lbs, which he's not really suited for. Mayweather Jr. recently defeated a heavier former WBA Super World junior middleweight champion Miguel Cotto last May in a fight that was shockingly closer than what many boxing fans expected it to be. Mayweather Jr. claimed that he purposely stood and trained with Cotto to make it a more exciting fight, but a lot of fans think the 35-year-old Mayweather Jr. simply has lost his ability to move around the ring due to his age.
Floyd Sr. told Fighthype.com "You know Floyd can still fight at 140 if he wanted to. He would be untouchable there."
Floyd Sr. is right. Mayweather Jr. would dominate at 140 lbs and his competition at that would be Danny Garcia, Amir Khan, Lucas Matthysse, Brandon Rios and Lamont Peterson. Those guys would probably get picked completely apart by Mayweather, and it would be a lot easier on Floyd for him to be fighting at that weight than it would for him to be taking on welterweights and junior middleweights.
Garcia might be the most trouble, because he's more like a middleweight than an actual welterweight. By the time Garcia steps inside the ring for his fights, he looks to be well over 160 and that's pretty heavy. Mayweather would still be able to deal with him by taking away his left hook. That's Garcia's main weapon, as his right hand is nothing special at all. Mayweather would the left away and give Garcia a real beating.
But Floyd should think about moving down in weight if only to put limit some of the hard blows he's taking. There's not a lot of interesting fights at 147 and 154, other than Saul Alvarez and Manny Pacquiao. It's doubtful that Mayweather will ever fight Pacquiao because of how difficult it is to try and out a fight together between them, and Saul Alvarez is simply too big for a fighter like Mayweather. I think Mayweather would beat him but I don't think it would be worth the punishment that Mayweather would have to take in order to earn the victory.