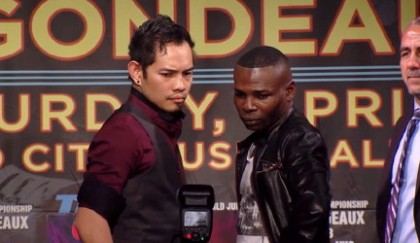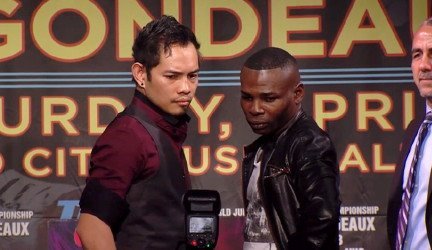 Floyd Mayweather Jr. is going with WBO super bantamweight champion Nonito Donaire (31-1, 20 KO's) to get past WBA super bantamweight champion Guillermo Rigondeaux (11-0, 8 KO's) next week in their fight on April 13th at the Radio City Music Hall in New York, New York. Mayweather is picking the 30-year-old Donaire to defeat by knockout.
Mayweather said on his twitter: "People won't like this but I'll put it out there @filipinoflash (Donaire) will win VIA KO (knockout)."
The pick makes sense because Donaire looks huge next to Rigondeaux. The size difference between the two of them is pretty substantial and not just in the height department. Donaire looks to be at least 15 to 20 pounds heavier with his walking around weight. In between fights, Rigondeaux walks around right at 122 lbs; whereas as Donaire appears to be closer to 140.
What this means is that Rigondeaux could be facing a guy that's 15 pounds heavier than him in addition to being three inches taller at 5'7". This is one of the reasons why Rigondeaux's team has had him sparring with lightweights [135] and light welterweights [140] instead of super bantamweights for this fight. They've skipped featherweights and super featherweights and gone straight to lightweights and light welterweights in sparring and that tells you that they're picturing Donaire rehydrating up to 135 or more for the fight.
Rigondeaux can still win because he recently defeated a huge 5'8" Robert Marroquin last March in beating him by a 12 round unanimous decision. If you saw that fight you'll have noticed that Marroquin looked like a light welterweight in size after rehydrating while Rigondeaux was still right at the 122 pound weight for the super bantamweight division. Rigondeaux ended up getting staggered a couple of times by the bigger Marroquin, but he still won the fight.
Rigondeaux should arguably be fighting at flyweight or super flyweight instead of at super bantamweight. He could then rehydrate up 10 pounds after making weight for these divisions and have the same advantage that guys like Donaire enjoy in fighting at super bantamweight. It would make a lot of sense, and you wouldn't have Rigondeaux outweighed like he will on April 13th by Donaire.