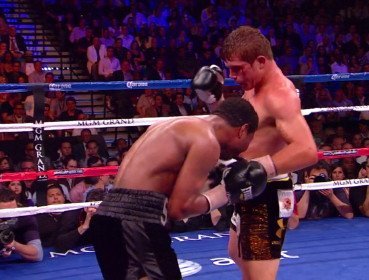 HBO broadcaster Harold Lederman doesn't see WBA light middleweight champion Austin Trout (26-0, 14 KO's) having much of any chance this month in his fight with WBC light middleweight champion Saul "Canelo" Alvarez (41-0-1, 32 KO's) on April 20th at the Alamodome in San Antonio, Texas. Lederman thinks the 22-year-old Canelo will overpower Trout and get an easy knockout win. I imagine Lederman is putting Trout in the same class as light welterweight Josesito Lopez, who Canelo just annihilated in five rounds last September.
Lederman said to Hustleboss.com "I hate to say this but I think Canelo's going to destroy him…Canelo's something special…Canelo is a star. He can box, he can move, he can punch…he fights like a veteran that's 35."
Aside from a few really bad mismatches where Golden Boy has pitted Canelo against light welterweights and welterweights, Canelo really hasn't been destroying too many fighters. He's not quick enough or explosive enough to smash guys out in one or two rounds unless Golden Boy is putting him with really small guys.
You can't blame Lederman for being impressed with Canelo after his win over 140 pound fighter Josesito Lopez, but you need to go back further than just one fight to get a real true picture of how good Canelo is. He didn't blow out Ryan Rhodes, and welterweights Shane Mosley, Carlos Baldomir, Lovemore N'dou, Jose Miguel Cotto, Matthew Hatton and Lanardo Tyner.
Where Lederman got this idea that Canelo is destroying his opponents is really unclear because he's not someone that destroys his opponents. He doesn't have the speed, and he's too one-paced and flat-footed to crush guys even smaller than him. We're talking fighters that stood directly in front of Canelo and still couldn't get them out of there in a real hurry. On April 20th, Trout is going to be using movement, a hard jab and counter punching to give Canelo fits.
Trout's not going to let Canelo get his offense set up to throw power shots the way he likes to. Canelo is a lot like Julio Cesar Chavez Jr. in terms of him needing to have a guy that's standing directly in front of him in order for him to plant his feet to throw with all of his power.
Canelo can't fight on the move, and when he tries to his power is very average. Canelo is basically a traditional Mexican fighter that will give you problems if you stand with your feet glued to the floor and rest against the ropes, but who will struggle if you use movement the way that Trout will on April 20th.
I have a strong feeling that Canelo is going to get badly exposed by Trout in this fight and the excuses are going to be flying afterwards for why Golden Boy made the mistake of putting Canelo in with Trout. Again, I don't blame Lederman for being so enamored by Canelo because a lot of people make the mistake of only remembering the last fight for certain fighters without having the recollection of going back to earlier fights where that fighter didn't look good. In this case, Lederman seems to be forgetting how average Canelo looked against Hatton, Gomez and Mosley, and instead he seems to be just focusing on his fight against the 140 pound fighter Josesito Lopez.
You can't say how good Canelo is because Golden Boy hasn't been matching him against quality fighters from his own division. They've been putting him in with over-the-hill welterweights up until this fight, and they didn't even want this fight against Trout.
It was Canelo that asked for it and he's probably get it in a big way by the slicker and much better moving Trout. If you've got a fighter like Wladimir Klitschko and he's being matched against over the hill cruiserweights instead heavyweights, of course he's going to look great but you need to put in that in perspective. You can't just say he's the greatest before he's actually fought someone good.