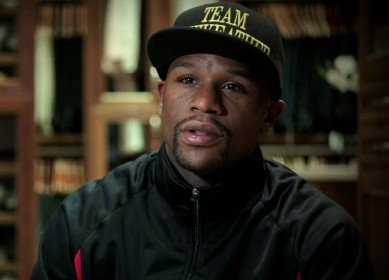 WBC interim welterweight champion Robert "The Ghost" Guerrero (31-1-1, 18 KO's) was recently able to WBC welterweight champ Floyd Mayweather Jr. (43-0, 26 KO's) to agree to go toe-to-toe with him in their fight on May 4th at the MGM Grand in Las Vegas, Nevada.
Mayweather Jr. asked Guerrero how he wanted the fight to take place and Guerrero responded with "Toe-to-toe." Mayweather immediately agreed to fight him that way, but it looks like Mayweather Jr. is having second thoughts about it due to his father, who will be training him for this fight, preferring that Mayweather Jr. fight in a more defensive manner.
Mayweather Jr. said to CBS Sports "We got to see what the game plan is. My dad totally believes that the less you get hit the longer you last in the sport, and I've been able to last 17 years, which is a great thing."
Floyd Sr. doesn't like his fighters to get hit and his main focus is always defense. He's not going to go along with Mayweather Jr. fighting a stupid fight like he did against Miguel Cotto last May when Mayweather Jr. stood in front of Cotto all night long and slugged with him to make the fight more fan friendly.
Mayweather's father wants him to extend his career and the best way to do that is to keep from getting hit by Guerrero. Mayweather has a six-fight contract with Showtime/CBS that he has 30 months to complete, so if Mayweather Jr. decides he's going to brawl with guys like Guerrero, he's going to increase the chance that he suffers an injury of some sorts and he's going to put himself in the position to where he could get badly worn down by the time he's nearing the end of his contract with Showtime/CBS.
Mayweather Jr. said he only wants to fight another 30 months, but you can bet that he'll want to continue fighting if he's still unbeaten at the end of the contract. Mayweather Jr. needs to make sure he's not getting hit because he wasn't built to take that kind of punishment that he took in his last fight with Cotto.