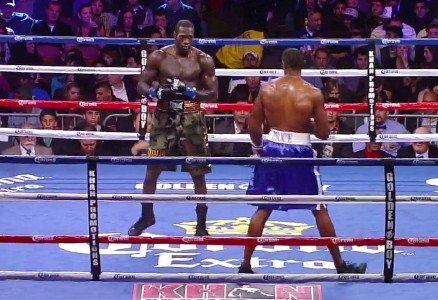 Top heavyweight prospect 6'7" Deontay Wilder (27-0, 27 KO's) says he's ready to put British heavyweight Audley Harrison (31-6, 23 KO's) out of his misery this month in ending the 41-year-old's career by knocking him out in front of his own British fans on April 27th on the Amir Khan – Julio Diaz card at the Motorpoint Arena in Sheffield, UK.
Deontay wants to KO Audley in such a way that it will convince him that it's pointless for him to continue on with yet another comeback and comeback slogan.
Speaking to RingTV, Wilder said: "I'm going to put his [Audley] career to rest because when I hit Audley Harrison the right way, that may be the best punch that ends his career."
Deontay usually isn't known for being a trash talker but he perhaps it a little annoyed at the vicious rumors that have been circulating about Audley having knocked him down twice in a sparring session late last year when Deontay was working as Audley's sparring partner to help him get ready for his title challenge against British and Commonwealth heavyweight champion David Price.
Audley eventually addressed the rumor after many months, saying it wasn't true and that in fact it was him that was knocked down by Deontay during one of their sparring sessions. Deontay confirmed that he had in fact knocked Audley to the canvas during one of their sparring sessions.
It's known if there's bad blood because of the rumors but it does seem like Deontay wants to prove to the boxing public who the better fighter is by making Audley his 28th consecutive knockout victim. To be sure, Deontay would want to KO Audley regardless of the rumors because he wants to continue his knockout streak and he always wants to keep moving forward for an eventual title shot. He's not going to take it easy on Audley just because he's a little old and because he worked as a sparring partner for him in the past. Audley is going to get the full Deontay treatment on April 27th.
For American boxing fans, they won't be getting the chance to see the Wilder-Harrison fight on Showtime because the network only has enough time to show highlights of the fight due to them already having three fights – Zab Judah vs. Danny Garcia, Peter Quillin vs. Fernando Guerrero and Amir Khan vs. Julio Diaz – that they'll be showing on that night. Apparently, Showtime considers those are being more worthy to show to the American boxing public than the Wilder-Audley fight.