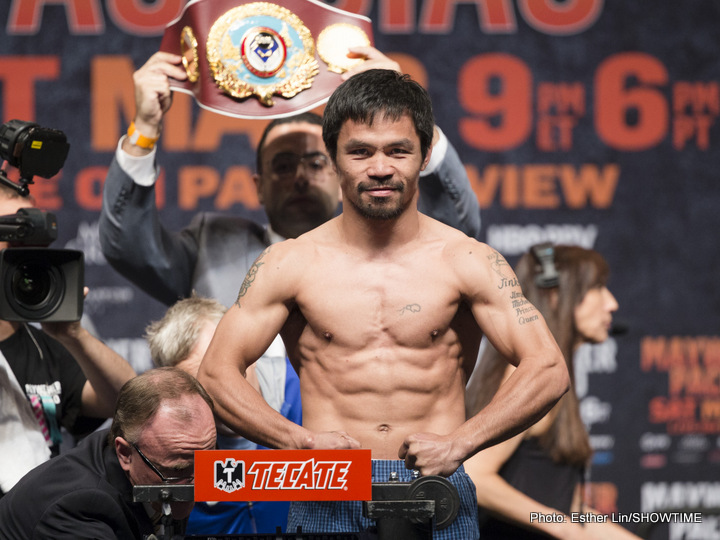 Whomever ends up in the opposite corner if/when he eventually returns from injury next year, Filipino superstar and multi-weight world champion Manny Pacquiao has given the clearest indication yet that he is ready to call time on his epic 20 year professional boxing career.
Pacquiao, who turns 37 in December, has been recovering from the shoulder surgery he underwent in the wake of May's disappointing fight with Floyd Mayweather, and is set to return in the first part of next year according to promoter Bob Arum, before re-emerging himself in his burgeoning political career in his native land.
"I think I'm ready [to retire]. I've been in boxing for more than 20 years. I prayed to God for guidance and I am happy about it," Pacquiao said to ABS-CBN about the future.
The Filipino has been linked to a fight with Britain's Amir Khan, who has recently been negotiating with Arum for a 2016 clash, although the British fighter recently went down the pecking order according to the veteran promoter, in favour of Argentina's Lucas Matthysse – who lost his WBC 140 lb title tilt at the weekend to Ukraine's Viktor Postol.
Since the fight with Mayweather, Pacquiao has been rehabbing at home, claiming that his rotator-cuff injury has healed with the assistance of divine intervention and that he is – in his own words – 'fine,' in terms of his physical condition, although he has been devoting more and more time to lobbying for various causes on behalf of the Filipino government.
These latest comments will do nothing to inspire those seeking a rematch clash with the newly retired Mayweather, or indeed any clash at all, given the increased demands on his time outside of the ring and the fact he intends to run for Senate in the Philippine's next May.
"I will have to give up the other things that require my attention," he continued, speaking about that decision. "If you are a senator, your focus should only be your job and your family."
Twitter @Undilutedpoison