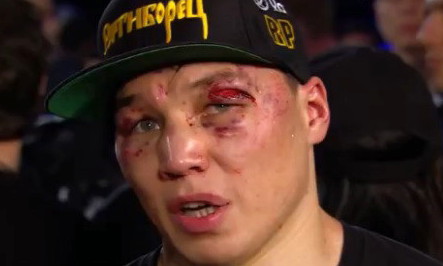 As he plots his next move following April's FOTY candidate loss to Lucas Matthysse, 'Siberian Rocky' Ruslan Provodnikov has parted ways with esteemed trainer Freddie Roach, and switched to ex-Tim Bradley cornerman Joel Diaz in a bid to freshen up his game.
Diaz recently split from WBO welterweight champion Tim Bradley – whom he had coached since day one in the pro ranks – and was in Desert Storm's corner when he faced Provodnikov in their 2013 slug-fest, thriller – a fight Provodnikov lost by decision despite both men being out on their feet at points.
Provodnikov's all action, aggressive style is often found wanting in terms of defence, and it is by seeking to prolong the 31 year old Russian's career for as long as possible that manager Vadim Kornilov has sought out a switch from Freddie Roach to Diaz, in hope of his man learning some tricks.
"Ruslan is a very strong fighter, a lot of heart, a lot of pressure, but he needs to work a little more on defense because he gets hit a lot," Diaz said to ESPN.com about his new assignment. "My point is not to change him but to improve him on defense, teach him how to cut off the ring a little more.
"I also want to teach him that Mexican style — go to the body. He's a headhunter. I want to teach him to work the body from the beginning of a fight and work his way up [to the head]."
Roach, who cornered new WBC 140 lb champion Viktor Postol for his title winning effort over the weekend is said to be understanding of the switch, according to Provodnikov's manager.
"Ruslan told Freddie before he started to look for anything else a couple of weeks ago," Kornilov said, also to ESPN.com. "Freddie is OK with it. It had to happen. Ruslan takes too much punishment in fights and his last chance to change is a big change in his training."
Provodnikov has been linked in recent weeks to bouts with Amir Khan and 43 year old veteran, Shane Mosley, although both remain nothing more than speculative for the time being.
Twitter @Undilutedpoison