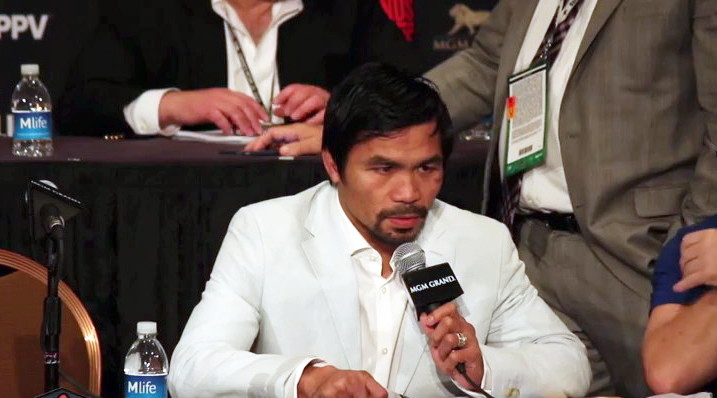 A few hours ago, superstar and reigning WBO welterweight king Manny Pacquiao touched down in Australia to begin hyping his July fight with Australian slugger Jeff Horn. Pac-Man, who is not yet ready to call it a day and retire his magnificent career, was not greeted by much fan-fair or fuss upon his arrival, and the 38 year old all-time great admitted he doesn't even know much about the unbeaten fighter he will be swapping leather with on July 2.
Pacquiao, who has faced just about every boxing style there is throughout his long and hugely successful career, doesn't get worried about much these days and he has not yet even looked at any footage of Horn in action in the ring; but he said he plans to do so ahead of the bout.
"I haven't watched his fights yet, but I'm going to get his last three fights and watch it," Pacquiao said as quoted by ABC. "My message for him is to work hard, and make sure you're 100 per cent conditioned on July 2 so we can give a good fight, we can entertain people."
Much has been said about how in this fight, Pac-Man will score a KO, thus ending the KO drought that has plagued him since 2009. Horn can punch hard himself, and together the two fighters should indeed put on an entertaining show. But in the opinion of nearly everyone, it will be Manny's show.
One man who disagrees is promoter Dean Lonergan, who says his fighter Horn will "come through."
"I think you will find this will be the biggest fight in Australian history and you'll see the underdog come through, and there's nothing like Australians supporting their own when they're underdogs," Lonergan said.
It would be one colossal boxing upset if Horn, 16-0-1(11) and a man who has been knocked down by Ali Funeka (in his last fight, am up-from-the-floor stoppage win in December) managed to defeat Pacquiao. Can we expect a short, explosive fight, or will Pacquiao, 59-6-2(38) once again be forced to go the distance?
Either way, right now, a Pacquiao win seems extremely likely.