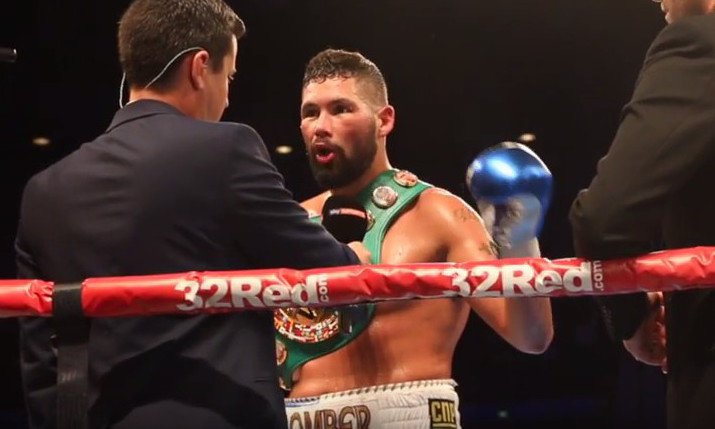 As fight fans may or may not have read, British heavyweight / cruiserweight Tony Bellew (who picked up a huge heavyweight win over David Haye in his last fight but has only been crowned a world champion as a 200 pounder) has decided he will fight on.
After the big upset win over an injured (Achilles-heel) Haye, Bellew, the WBC cruiserweight boss at the time, said he may well walk away, content and financially set. But the lure of becoming a heavyweight champ, of hearing the words, 'Tony Bellew, heavyweight champion of the world,' has enticed "Bomber" to march onward and roll the dice once more.
So, can Bellew – a fighter who was knocked out in attempting to win the WBC light-heavyweight title – possibly win a version (one of the four established straps: WBC, WBA, IBF, WBO) of the heavyweight crown? Six months ago, such a question would have been accompanied by nothing but laughter (and maybe still causes a titter or two), but now, who knows? Bellew is not the most talented heavyweight out there, he isn't the biggest puncher, and he isn't the toughest; but what he appears to be is one of those fighters you can never, ever write off.
The Adonis Stevenson stoppage loss aside (a fight that, upon entering, his promoter said Bellew "looked like a skeleton") Bellew has always come through; his unique blend of stuff getting the job done somehow.
Recently speaking with the superb iFLTV, Bellew said that WBC heavyweight king Deontay Wilder (who he will be in the studio with this Saturday night for the massive Joshua-Klitschko fight; with Haye also set to provide punditry duties) is "on the hit-list," as is WBO champ Joseph Parker.
Parker's team is of course working fast and hard to get a new opponent after Hughie Fury fell out of their May 6 fight, while Wilder's next fight opponent is unknown at time of writing. Let's just say for argument, Bellew – who told Kugan Cassius that his fighting twice more this year is not totally out of the question – got a crack at either champ – could Bellew beat Parker? You bet he could; in New Zealand or anywhere else.
Wilder? That would prove a whole lot tougher, as Wilder is, unlike Parker, a real heavyweight giant; one who carries frightening punching power. But for whatever reason – and his own odd logic has pretty much worked up until now – Bellew wants a go at Wilder. Can the self-proclaimed "Fat Scouser" finish off his quite remarkable career by scoring the biggest (in every sense if the word) upset of all?
Never bet against Bellew, for he will always have the last laugh. Whatever the result of his fight!