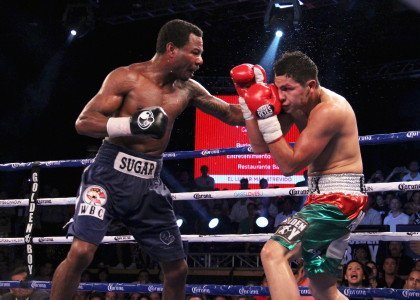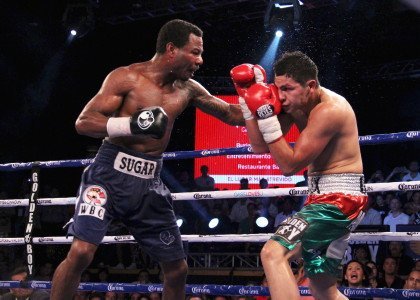 (Photo credit: Sumio Yamada) Shane Mosley (47-8-1, 39 KO's) found the fountain of youth on Saturday night in defeating the tough but limited Mexican fighter Pablo Cesar Cano (26-3-1, 20 KO's) in winning a 12 round unanimous decision by the scores of 115-113, 115-113 and 115-113 at the Grand Oasis Resort, in Cancun, Quintana Roo, Mexico.
Mosley was able to land a lot of his power shots tonight, and he gave Cano constant problems with shots as well as with his jabs. Cano was game and despite fighting poorly, he was able to come back late in the fight to stagger Mosley in the 9th round with a hard right hand. Three rounds earlier, Mosley had hurt Cano with a series of hard shots in the 6th.
The fight was up for grabs in the last four rounds of the fight, and Mosley took charge, pressuring the younger 23-year-old Cano constantly and nailing him with big shots. Cano was able to land a fair amount of punches in the last four rounds, but he looked weak on his feet as if he didn't have the stamina to fight as hard as the better conditioned Mosley.
Mosley looked the best he's looked since his win over Antonio Margarito back in January 2009. Incidentally that was the last time that Mosley had won a fight before tonight.