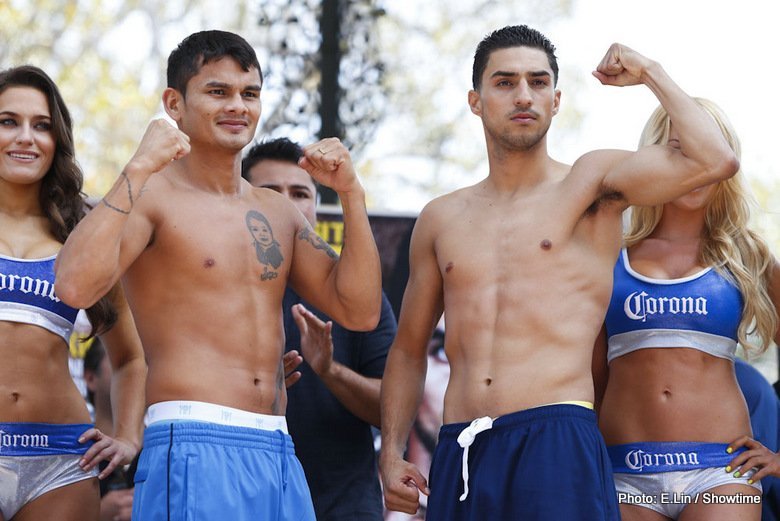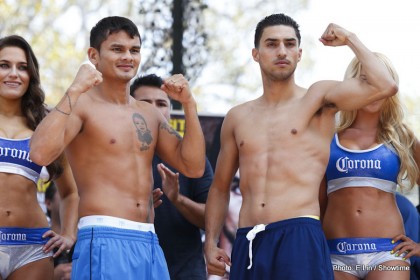 Welterweight Marcos Maidana (33-3, 30 KO's) will be giving away nearly three inches in height tonight against 5'9 ½" Josesito Lopez (30-5, 18 KO's) in their scheduled 12 round fight televised by Showtime at the Home Depot Center in Carson, California. Maidana, who turns 30 next month, will be defending his WBA Inter-Continental welterweight title.
Alfredo Angulo (22-2, 18 KO's) will be facing Erislandy Lara (17-1-2, 11 KO's) in the co-feature in their fight for the interim WBA World light middleweight title. The winner of that fight will be in the position to fight for the full title against Saul "Canelo" Alvarez.
Lara was beaten by Paul Williams by a controversial 12 round decision two years ago in a fight that few boxing fans thought Lara should have won. Lara's two draws with Vanes Martirosyan and Carlos Molina where fights that fans thought Lara should have won as well.
Angulo has got a lot of power, but he's going to have problems with Lara's boxing ability tonight and it's difficult to imagine seeing Angulo win this fight. He's just too slow of hand and foot to beat a guy like Lara.
Maidana has had problems in facing boxers during his career. He's lost fights to Amir Khan and Devon Alexander where he was out-boxed. Lopez will no doubt use those fights as the master plan to follow to try and beat Maidana. Alexander never even gave Maidana a chance in victory over him, as he spent most of the fight hitting him with quick shots and then immediately grabbing him in a clinch.
Maidana was helpless, and the referee working the fight never took points away from Alexander for his frequent clinching. Khan was able to beat Maidana by using movement, a stiff jab and fast combinations. It worked pretty well for him until he was caught with a big right from Maidana in the 10th. However, Khan was able to weather the storm and get through the next two rounds to preserve his victory.
For Lopez to beat Maidana, he's going to have to use a combination of tactics such as movement, constant jabbing and tying him up to keep him from getting his shots off. If Lopez reverts back to his normal slugging style of fighting, he'll likely get knocked out like he was in his last fight against Canelo last September. Lopez tried to punch with Canelo and got stopped in the 5th. Maidana doesn't have the same kind of power and weight behind him that the 170 lb. Canelo has, but he's close enough in the power department at least to give Lopez a lot of problems in a toe-to-toe battle.