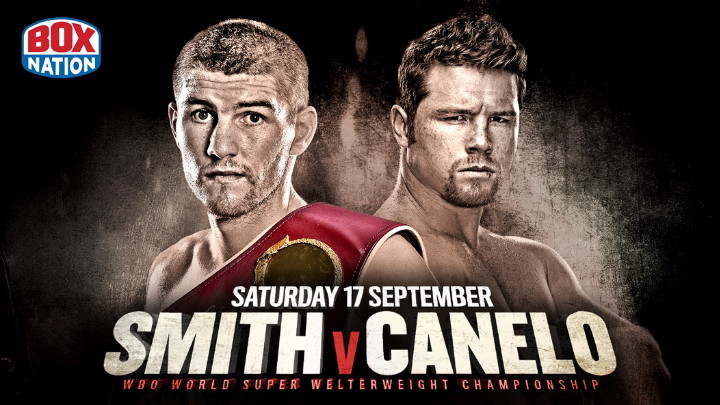 Britain's Joe Gallagher has proven his credentials as a world class trainer many times and he has trained, or is training, a number of world champions. A genuinely huge achievement in the Manchester trainer's career will come on September 17th, though – if his fighter Liam Smith can score the big upset over Mexican superstar Saul Canelo Alvarez. And Gallagher – a man who has shown time and again how he is a mastermind when it comes to planning the downfall of his fighters' rivals – is hugely confident going into the Las Vegas bout.
Gallagher's biggest concern, as he explained to Sky Sports, is that the three scoring judges might side with Canelo and fail to reward Smith, 23-0-1(13) and the WBO 154-pound champ, correctly.
"Liam's numbers have come in and he's hit the jackpot. He's ready to go to Las Vegas as a gambler, roll the dice and beat Saul Canelo Alvarez, one of the most feared fighters in the world," Gallagher said. "It's a huge opportunity. They're taking Liam Smith as a serious threat and they need to. Liam is going to be fully motivated. People are quick to write him off but they're not too quick to give him praise as one of Britain's best world champions. Liam can definitely win this fight. Whether they give it to him or not is another matter. You've got to win and win well to get the decision. Everybody thought Amir Khan won some of the early rounds against Canelo but the judges favoured Canelo and one judge I don't think even gave Khan a round."
It's true Canelo has been the recipient of some debatable scoring in past fights, May 7th's Khan fight included. Khan did indeed box well enough to have swept the opening four-rounds last month, yet he was not fully rewarded for his efforts. And the biggest win of Canelo's career to date, his November 2015, 12-round points win over Miguel Cotto, appeared much closer in the eyes of many fans and experts than how the judges had it. Cotto was convinced he had won the fight, yet he in fact won only one solitary round on one judge's card. It is controversial scoring like this that worries Gallagher.
Alvarez has everything going for him in this fight: he has boxed in Vegas so many times before, he will have the lion's share of the fans on his side and he will be the heavier man on the night. We all applaud Smith for taking this, a risky (if rewarding) fight, much as we applauded Khan – no-one wants to see Canelo win with the aid of biased scoring. Hopefully the right man's hand will be raised on September 17th. But will this fight go to the scorecards? The odds-makers say no.