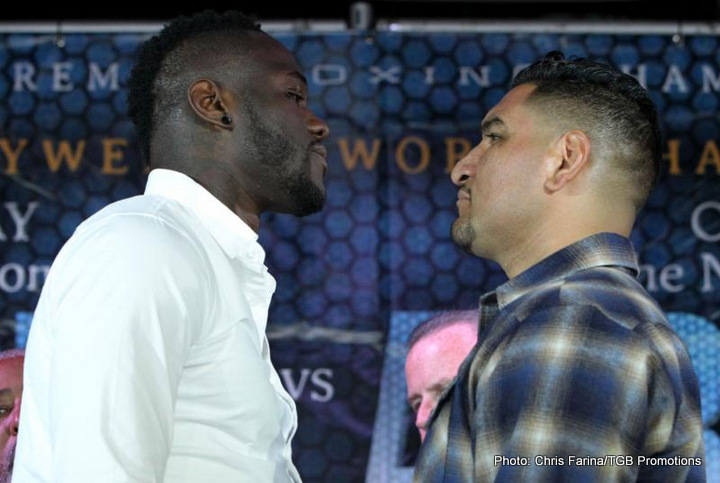 Some fans have complained about Deontay Wilder's next defence, a voluntary that was allowed him by the WBC in light of what happened with the Alexander Povetkin fight that was set for May. Unbeaten 36-0(35) puncher Wilder will, as fans know, face veteran, former two-time world heavyweight title challenger Chris Arreola in Alabama on July 16. Though the fight is, at the very least, a good match-up; especially given the relatively short amount of time all concerned had to put Wilder's next fight together, some fans have moaned.
The odds-makers have Arreola, 36-4-1(31) listed as a big outsider, but Wilder and his team insist they are not looking past the tough Mexican/American who knows he will likely be getting his third and final crack at the heavyweight division's ultimate prize (or at least one big slice of it). Kindly speaking with this writer via social media this week, Wilder's trainer Jay Deas said that, although there are some potentially massive fights out there for his exciting charge – against the likes of Anthony Joshua (who Wilder recently called out via Twitter) and Tyson Fury – none of these fights will happen if Arreola pulls off the upset two weeks on Saturday.
"AJ is a very talented and strong fighter. Of course, there is no AJ, or Fury, or [Wladimir] Klitschko, or anyone else for that matter, without beating Arreola. So we are 100 percent focused on that," Deas replied in answer to how soon he thought Wilder may fight IBF champ Joshua.
Fair enough, and we should expect no less from a professional outfit. Arreola is no fighter's patsy and, with Wilder's chin still largely untested, Arreola could prove to be a dangerous challenger next month. Arreola could be described as a man with nothing to lose, and that kind of fighter is always dangerous. Deas knows this and he assures there has been no taking things at all easy in training camp; even if Wilder is not getting the big Povetkin test he wanted.
Wilder has to beat Arreola to get the huge fights and Wilder against Joshua, Fury or Klitschko (depending on who wins the rematch, now tentatively set for October) is what fight fans want to see. But if Arreola manages to fight his fight, rough Wilder up and pull off the upset, he will be the warrior getting himself a further big fight or fights. Arreola is also reportedly leaving no stone unturned in training camp, and this fight promises to be explosive no matter who wins. It could be argued how Arreola is the hardest puncher Wilder has faced up to now (although Bermane Stiverne may get this distinction in the opinion of many fans).
If the odds and the formbook are to be obeyed, Wilder will remain on track for the career defining fights he wants. Arreola, though, can be expected to push Wilder hard. This is what the WBC champ and his team are working hard for.