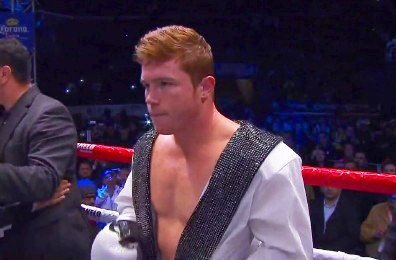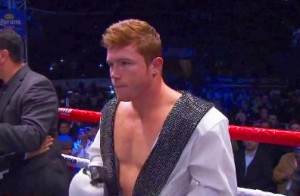 Jason N. (Manhattan, NYC): Canelo has made it clear in several interviews now that he plans to attack the body primarily against Floyd Mayweather. Considering that he's the most fierce puncher Mayweather has faced, do you see this being the ultimate gameplan for a Mayweather opponent like him?
Vivek W. (ESB): For starters, I'd like to commend both of these men for taking this fight. Mayweather has 4 more after this one and with Canelo being the biggest name on the radar (that fans actually want to see him face – Jr. Middleweight and below) I don't know where Floyd goes next if he does in fact win. That being said, I've said from day one that this is a nail-biter fight for Mayweather. Canelo has the youth, energy, and one thing few seem to credit him for, which is intelligence. He's a smarter fighter than we've seen Floyd against lately. Cotto was arguably one of the more overall intelligent fighters he has faced in recent times. When we revisit that fight, it wasn't exactly an easy night for Floyd. The difference here is that Canelo is very much able more clever in his adaptation.
Where Cotto was a bit more cagey and seasoned, Canelo isn't quite as predictable with his combination punches. That makes this a little different. He does good work to the body and head, and he mixes his assaults beautifully. Beyond that, he proved against Trout that he can do away with bad habits of the past and execute sound strategy to make things very interesting. Coming into the Trout bout, everyone felt he would be there all night for the jab. Trout learned within the first few seconds of the very first round that his biggest weapon wouldn't be effective. That's an element of Floyd…..and for the first time, Mayweather will be faced with a guy who also nullifies the best weapon an opponent has. This time his own.
Canelo kept his distance against Trout and intelligently closed the gap, but never without a planned exit strategy to use after mounting his own assault. Floyd doesn't use the jab nearly as much, based on his strengths, you can almost guarantee Canelo will attempt to force him to fight, rather than counter-punch and pick him apart. There are several angles relative to Canelo's perceived approach that I think makes this an interesting fight for Mayweather. Regarding the body punching, I think we must keep all things in true perspective. When we look at the respective resumes, Floyd Mayweather has faced several guys like Canelo. Although Mayweather owns the right to his own template, so there's no previous example that any fighter in the sport has faced that parallels him.
Cotto, Castillo, Hatton, Oscar, Corley, and many others entered the ring with this very same strategy. Canelo could be the one to make it work. Or he could very well join the ranks of those who started out that way, yet lost patience to a growing frustration of dealing with a very whodini like, 'now-you-see-me-now-you-don't' type opponent. It's a very frustrating thing when you have a man in front of you who you can't hit flush, yet he can connect almost at will on you! This will be Canelo's biggest challenge if the past is any indication. I do think he'll fare better than any we've seen of anyone in the past based on his attributes. I really give him a credible shot!
If Mayweather is able to make this another easy blowout fight, I will personally start a campaign to open debate on where he stands as an all-time great. Many said he wouldn't take this fight. Well….we're a few months away from seeing it. Stay tuned!
Craig H. (Little Rock, AR): The Garcia/Matthysse bout seems to be a done deal and ready to go! How do you see that fight playing out, being that Garcia is a good puncher as well?
Vivek W.: (ESB): Many have automatically jumped on the Matthyssee bandwagon because lately he's found a way to put everything he touches to sleep. All those dazzling KO's look and sound good in theory, but at the highest level, I think it takes a bit more. I love what I've seen in Matthysse and support his effort strongly, but when it comes to heavy-handed guys who are known to stop a fighter with one flush shot, I've always posed the question relative to what actually happens when they face a fighter they can't land that shot on – who also has the ability to keep the honest or potentially stop them as well?
Garcia potentially represents that particular challenge. Not only is he a heavy-fisted fighter, but Garcia is actually a thinking fighter. Combined with that, he's a very good counter-puncher, and the best element to his game is that he's one of the few rising stars in the game today that actually executes his gameplan with strong patience. Against both Khan and Judah, there were times when he was touched up with the kind of punches that force some to void a gameplan and go for broke. He waited until the precise moments and did his damage when able….not when desired. Against Khan, that patience paid major dividends because it led to a surprising KO!
I won't go on record and say that Garcia definitely wins this fight, but I'd be lying if I didn't say that he brings a double-edged sword into the ring with him on the evening of September 7th that could very well get him over this hump. We don't really know how Matthysse will handle this type of power. So much focus has been placed on his power that many forget Garcia can be just as dangerous. He's just doesn't make that his main plot, because he has other effective ways to pull the curtains on an opponent that would end the fight. Against the men he felt he could get out of there, we saw him use patience and execution to land precise shots at precise times. Against better boxers, we saw him simply box and try to win by doing better over the distance. Should be interesting to see how it all unfolds, but for the record, I don't have a 'horse' in this race. I just want to see a great fight and I'm fairly certain we will!
Allan B. (London, UK): Carl Froch has recently gone public with comments about Joe Calzaghe. Had the two met in their primes, who would have won and why?
Vivek W. (ESB): Personally, I don't think there's a ton to debate here. Froch should be given full credit for taking on all-comers (particularly if he takes on Hopkins – which is about the only name he hasn't faced). That dubious distinction aside, I don't think there's any feasible way to lay claim to him being the best boxer from the region of all-time, and definitely not a perceived winner against Calzaghe in his prime, all things remaining equal. I think Froch would have made his case and made the fight entertaining, but I can't see Calzaghe not having his hand raised at the end of the night. Dirrell is a decent fighter, but no where near the level of Calzaghe. One could argue he actually edged Froch in his own backyard – had scoring been more accurate.
Calzaghe didn't have the best style and he wasn't the most fan-friendly guy, but at the end of the day, he won and he knew how to get it done when it seemed he wouldn't. If for resiliency alone, I think he would get the nod against Froch. Calzaghe just knew how to get it done! Froch has been clearly defeated at the hands of men who couldn't do anything with Calzaghe. That doesn't certify that Calzaghe wins, but I think it bolsters the odds a bit if I'm a betting man. We hear these such claims suddenly because both Ward and Froch realize it's slim pickings after they square off in a potential rematch. There really is no true contender for either man to utilize in the legacy portion of their resume beyond one another.
I don't think either man will get Calzaghe out of retirement, and honestly, what would a victory prove if they did? If some withheld Calzaghes legacy credit for defeating an over the hill Jones and aging Hopkins….how in the world could we even discuss any benefit to defeating him 4 years after retirement? I think it's all a dead issue. And it's one I don't care to discuss much longer, to be quite frank.
(Vivek "Vito" Wallace can be heard every Monday evening on "Left-Hook Lounge Radio" at 9ET/6PT. He can also be reached at 954.300.5692, Twitter (@vivekwallace747), Instagram (viveksview), and Facebook).