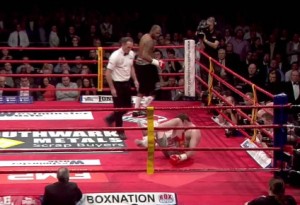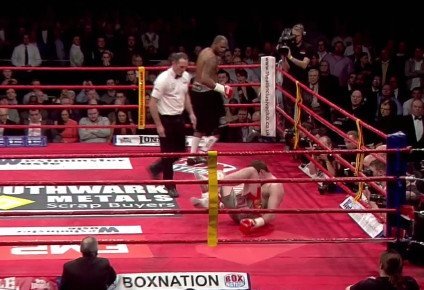 British heavyweight David Price (15-1, 13 KO's) is taking out all the stops in getting ready for his rematch next month against 41-year-old Tony Thompson (37-3, 25 KO's) on July 6th at the Echo Arena in Liverpool, UK. The soon to be 30-year-old Price will be bringing in some of Wladimir Klitschko's sparring partners from Europe to spar with him in Liverpool.
Price wants to spar as much 100 rounds, like former heavyweight champion Lennox Lewis used to do when he was still fighting. Price was getting training guidance with Lewis recently and he's got Price working out a lot harder than before in order to improve the 6'8" former Olympian.
Price was knocked out by the 6'5" Thompson in the 2nd round last February with a punch that landed around the ear area. Price was unable to get back up to his feet without staggering and the fight had to be halted to prevent him from getting really hurt by Thompson.
Price's promoter Franny Smith told the liverpoolecho.co.uk "We've got four weeks of sparring starting today and we've got two world class heavyweights who have come from the Klitschko camp for his fight with [Francesco] Pianeta…Lennox would do between 60-100 rounds of sparring when he was fighting, whereas David did 58."
What Franny isn't saying is that Lewis was always an exceptional heavyweight even when he was fighting the amateurs. I know it might seem smart to try and emulate what Lewis did in terms of sparring in order to try and improve Price's game, but I think it's not really going to help.
Price already knows how to fight, but it's his chin that is the problem. He had problems in the amateur ranks when he fought guys with power like Bermane Stiverne and Roberto Cammarelle, and in his first real fight against a heavyweight with decent power, Price blown out by Tony Thompson. Doubling up Price's sparring won't help his chin.
What Price needs is to start fighting in a pure defensive posture where he clinches a lot, uses his jab frequently and rarely opens up with his power shots in order to avoid getting countered.
Price needs to stand further back when jabbing because he gets too close when he jabs and his shorter opponents are still able to reach him. I'm not sure if it's a flexibility issue with Price or what, but he needs to stand further back when jabbing.