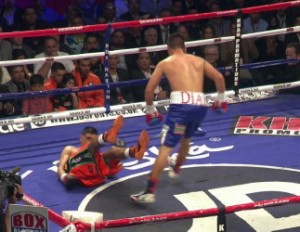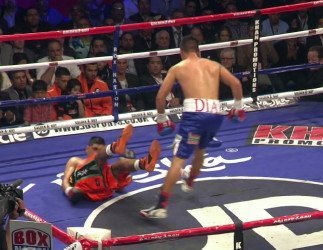 Former IBF/WBA light welterweight champion Amir Khan (28-3, 19 KO's) will be battling IBF welterweight champion Devon Alexander (25-1, 14 KO's) on December 7th in a fight that could take place in Dubai. If Khan wins the fight, Golden Boy Promotions will look to match him up with WBC welterweight champion Floyd Mayweather Jr. in early 2014.
Richard Schaefer, the CEO for Golden Boy, told the dailymail.co.uk "Amir needs one fight at welterweight along with a title to set up the match with Floyd…[Alexander] has agreed to the fight. We will be finalizing and signing the contract in the next couple of weeks…if he defeats Devon…the next step for him would be against Floyd."
Schaefer doesn't say what'll happen if Alexander is the winner. Will HE also have the opportunity to get a fight with Mayweather if he wins or is this just a Khan thing? It doesn't seem hardly fair if Alexander doesn't get the chance to fight Mayweather as well if comes out on top.
Khan has lost two out of his last four fights and not beaten a top tier fighter since his victory over Zab Judah two years ago in 2011. Since then, Khan has lost to Lamont Peterson and Danny Garcia. Khan's only two victories in the past two years have come against 2nd tier fighter Julio Diaz and Carlos Molina.
Schaefer shouldn't make any assumptions about Khan getting past Alexander. As shaky as Khan looked in his last fight against Julio Diaz, I'm thinking Alexander is going to beat Khan badly. There's no way I wouldn't be thinking Khan is going to get past Alexander if I were Schaefer.
Schaefer needs to be thinking of an alternative opponent for Mayweather instead of Khan, unless he wants to put a beaten Khan in with Mayweather. I bet that'll go over real big with Showtime pay per view with Khan having lost three out of his last five fights. How would Golden Boy and Showtime market that fight?
Alexander isn't a big puncher but he hits hard enough to get Khan out of there, and he's got excellent hand speed. I can't see Khan getting through this fight without getting knocked out again.