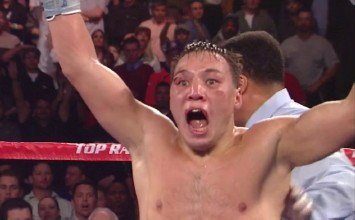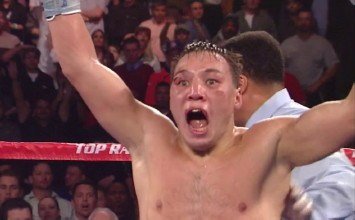 Andrei S. (Miami Lakes, FL): Provodnikov is a countryman of mine and I was very excited to see him get the victory over Alvarado. How did you rate his performance and what do you see happening next for him?
Vivek W. (ESB): Coming into the fight I had Provodnikov winning, and the failed weight attempt by Alvarado made me feel even more comfortable with that choice. It should be duly noted that Alvarado is an absolute warrior and a couple losses will not define his legacy. That being said, Provodnikov was viewed by most coming in as the hungrier fighter, and it was clear that he would not be denied. A week ago I pointed out a very similar subplot that existed in the Bradley/Marquez showdown. In that fight, we had Bradley coming in with something to prove, following a victory where most felt he could have lost and didn't perform well. To his opposite, we had Marquez, riding the high of a stunning KO victory. In this fight we had Provodnikov coming off a loss with something to prove, and Alvarado, who was also riding the wave of a great victory.

When these type of subplots loom, I always lean towards the guy with something to prove, because hunger is a key component to any fight, and that's the one element that shines the most when a fighter knows his back is against the wall. My only question was whether or not Provodnikov could effectively cut the ring off and force Alvarado to actually fight. Provodnikov answered that question within the first 30 seconds of the fight by taking it to Alvarado and giving him very little room to roam. When he took his comfort zone from him and continued to hold his ground, I knew Alvarado – as the much heavier fighter who had already shown a weight related issue – would not be able to sustain that pace for 12rds.
I think you have to tip your hat to Provodnikov. He was a man who few gave a chance coming in. Some even going as far as saying he's an "ESPN fighter". What he did was effectively prove that he is intelligent enough to not only arrive with a plan, but stick to it through adversity, and even adjust it if necessary during the course of battle. His patience was outstanding, but what I found even more credible was his ability to recognize that Alvarado was fighting at a reckless pace, and rather than staying there with him, he kept his aggression up, but did it in a far more measured way. He studied the rhythms of Alvarado and slowly dissected him. I was very impressed with him. I don't know who he'll face next, but my money says this guy could give anyone at 140 pure hell. It'll be interesting to see how it all unfolds.
Darius G. (Covina, CA): Andre Ward recently declined Edwin Rodriguez's request to do VADA style testing. You felt strongly about Pacqiuao's decline for testing. What are your thoughts on this?
Vivek W. (ESB): I think it's pretty comical how this topic has gained so much steam. Bernard Hopkins was faced with the identical situation, and his response was the same. When Jean Pascal asked for Hopkins to take a test, Hopkins' response was that negotiations take place before contracts are signed. Once contracts are signed, there's no more negotiations. This situation between Ward and Rodriguez is identical. Not only had negotiations been completed, but according to Ward, they were very "grueling" negotiations. If the constant back and forth between the two camps never encompassed testing talks, I think bringing it up now is a very flawed reaction, but I'm not quite sure who to blame.
I've heard this issue raised only by the media. Not once by Rodriguez's camp. I think it's a bit of a non-issue when you see it that way, but for the sake of killing a few myths, I'll dig further. What people have to remember is that Ward had a very well chronicled amateur career that involved testing at great lengths. Some have attempted to use this situation as a means to open debate relative to whether or not the testing should be carried out by USADA or VADA? We must remember that USADA is what the Olympic athletes of this country are exposed to, and that's the organization that he's most used to. If it's good enough for the Olympic games and was good enough for him for all of these years, there's no intelligent logic in changing that now.
Some will point out that the VADA style testing is more refined than the USADA form, but sometimes, more isn't quite better. The biggest difference in the testing is that the USADA parameters (allegedly) allow a 4:1 CIR (Carbon Isotope Ratio), and the standard Nevada based testing allows a 6:1 ratio; wherein the VADA testing allows none. To quantify this on a deeper level to make more sense, this means that under standard USADA and Nevada state based testing, the fighter can have either 4% or 6% – respectively – of a banned substance with deeper testing only being administered if they go beyond those ratios; wherein' VADA has no allowance. Again, that sounds good in theory, but in a sense, it may not be.
The logic behind the USADA angle is that these athletes are at times (depending on the injury) prescribed meds or substances that could interfere with normal testing parameters. But if the level in the bloodline during testing is below the given percentile, it is not strong enough to actually enhance performance. With VADA, it basically has such stringent testing that it wouldn't matter. So, no matter what the reason, if it's found in your system, you're guilty. Nice theory, but the retort to that would be why has the other system worked with great success for the world renowned Olympic committees that are basically small aggregates of the whole – which is WADA. WADA (World Anti-Doping Agency) is the head of the body that oversees all testing to take place on a country level. (In example, USADA is the U.S. division, like CHINADA is the China division, etc.)
At the end of the day, better testing is always welcomed. But if that "better testing" is going to have guys popping for things that are present, yet unable to enhance performance, Is it a step up or a step down? In the case of Lamont Peterson, he asked for better testing. He requested VADA and due to remnants of a substance his doctor prescribed, he failed. Under traditional USADA rules, this would be viewed as a medical related occurrence, and a non-issue, as it would complete the medical need without enhancing performance (as evidenced in the "B" sample which actually came back clean). As long as it can be confirmed that this level doesn't enhance performance, I can live with that.
Many remember Matthysse popping amino acid before fights. In collegiate sports, that's a banned substance (collegiate banned substances). So is heavy doses of caffeine. But anything under 300mg (caffeine) is safe. That's the logic behind the 4% CIR allowance. Non-enhancement amounts vs enhancement amounts. If it's non-enhancing, there's no advantage. Which makes the playing field even. Again, I'm fine with that. And I think you should be, too.
Kerry N. (Charleston, SC): On your Facebook page you spoke of Top Rank's option to co-promote one more of Provodnikov's fights. What are the odds of Goldenboy Promotions getting in the mix to have him face one of their jr. welterweight studs?
Vivek W. (ESB): I think the possibility of that right now is very good. Although Top Rank has an option, that option is to co-promote one more fight with Provodnikov's current promotional team. I can see an immediate fight against either the Pacquiao/Rios winner, or Timothy Bradley. Arum will realize that he pretty much has one fight left with both Bradley and 'Provo', so he probably won't pin them against one another. Instead, he'll use them both against a credible name and get two (paydays) for the cost of one! Provodnikov is viewed (in the mind of Arum) as a better draw because of his fighting style; so he'll probably get the Rios/Pacquiao winner before Bradley does.
If Pacquiao loses, the lust will be permanently tainted, and we can expect Arum to toss him in with Bradley for a decent money fight to cash in on Pacquiao before he cashes out of the sport. If Pacqiao wins, I can see Arum considering a Pacquiao/Provodnikov fight (if a rematch with Rios isn't desired by the fans); and placing Bradley in with Rios in his final Top Rank fight. Arum has somewhat proven that he has no strong affinity to Bradley and clearly he'll cash in that chip the best way he can. By this time next year, Bradley and Provodnikov will have moved on, and both will be eager to work with Goldenboy Promotions, because the stable is far deeper and the money is more plentiful.
I can see Provodnikov taking his next fight with Arum, and win, lose, or draw, landing in the ring with a Danny Garcia, or even a Lucas Matthyssee. I could see Bradley completing the final months of his commitment with Top Rank and landing in the ring with a Mayweather, or a Broner. It's simple logic at this point. If Cotto – as a seasoned veteran with name credibility – only got $2M in his last fight, there's no way either of these men sniff out anywhere close under Top Rank against anyone else. At Goldenboy Promotions, however, Provodnikov – as a relatively unknown commodity – could get half that amount (if not more) to face someone like Khan. And Bradley would net a career best against Mayweather or Broner (providing he defeats Maidana).
In the end, I see GBP being respectful enough to let both agreements expire, knowing that just like Provodnikov, Bradley will realize the other side of the fence actually is greener! These men fight between 140-147lbs, which happens to be the deepest weight range in the sport. Garcia, Matthyssee, Broner, Alexander, Judah, Malignaggi, Thurman, Maidana, Guerrero, and even Ortiz all have a spot at the table. Which one of these men will ultimately fall across from Bradley and Provodnikov is any one's guess. But no one thing: It will be one of these men, as there's no reason to question at this stage that they will both be doing business on this side of the fence real soon. Stay tuned!
(Vivek "Vito" Wallace can be heard every Tuesday evening on "Left-Hook Lounge Radio". Also, he can be reached at vivekwallace@ymail.com, Twitter (@vivekwallace747), Instagram (ViveksView), and Facebook).