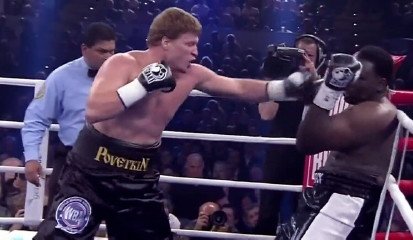 Alexander Povetkin's trainer Alexandr Zimin has recently suggested that he doesn't like the idea of having international boxing trainers helping out.
"Overall I think that that future training camp will not change much, but the help of American specialists will be slimmed down; there is no effect from it. They ruined our entire effort. Trainers along with Stacey McKinley arrived three weeks prior to the fight against Klitschko and started assigning exercises, that should be done three months before a fight," said Zimin to gorodokboxing.com.
As expected, the blame game starts to formulate. Losing such a high profile fight is not easy for anyone. It's hard for the fighter, and is also unpleasant for the entire team. But who is responsible? Did the fighter not follow the plan? Or was the trainer formulated plan simply the wrong one?
Povetkin is a good fighter with a bright future. His one loss to Klitschko was a learning experience, and can now help Alexander focus on the things that he might want to change or improve. But Povetkin's trainers seem to believe that everything they did was correct, and their loss could potentially be attributed to the help from United States.
Every fighter as well as trainer have their own technique of preparation. With so many variations, there is bound to be controversy. McKinley has considerable experience with fighters, thus his approach cannot be disqualified as wrong or amateur. It might be that every boxer absorbs different training in their own way or to their own certain potential. For Povetin, the plan seemed to be the wrong one from the beginning. Puncher's chance does not provide the best odds in boxing, especially against a tall fighter with a phenomenal overused jab. Maybe, if Povetkin gets another shot at Wladimir, he will enter the ring with a different, more successful plan in mind. As for Zimin, the blame game needs to be put aside, and the time taken to reconsider their method when facing a bigger fighter like Klitschko.
More @ http://cgboxing.blogspot.com/
https://www.facebook.com/VitaliFightPress