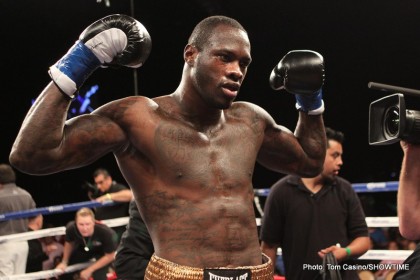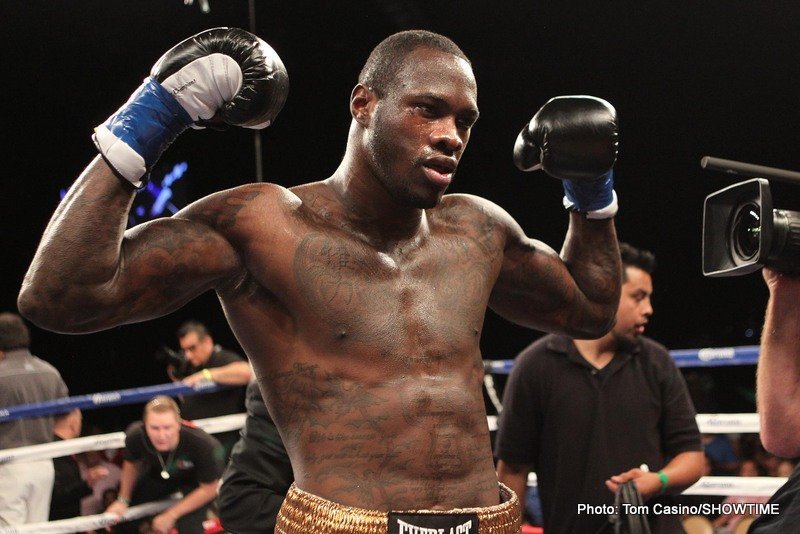 Undefeated #3 WBC heavyweight contender Deontay Wilder (29-0, 29 KO's) will be looking for knockout #30 this Saturday night at the Boardwalk Hall in Atlantic City, New Jersey. The 6'7" Deontay has started off his career with 29 straight knockouts since capturing a bronze medal in the 2008 Olympics for the United States.
The 6'7" Deontay was still pretty raw when he first turned pro in 2008, but he's steadily improved to the point where he's starting to look very polished. Deontay's recent string of early knockouts over the likes of Siarhei Liakhovich, Audley Harrison and Kelvin Price shows the kind of improvement that Deontay has made in his game.
These same opponents would have likely extended Deontay a little if he had fought them in 2009 when he was still finding his way in the division. But Deontay has really made a ton of progress of late, and this Saturday boxing fans will get a chance to see if he's ready to start taking on tougher challenges in the division.
Firtha has the size and the power to make this an interesting fight if he can stand up to Deontay's initial power shots in the 1st round. It's going to be difficult for Firtha to make it out of the 1st if Deontay starts opening up with his power shots.
Deontay is ready to take on the likes of Chris Arreola, Bermane Stiverne, Bryant Jennings and Magomed Abdusalmov to get ready for a potential fight against one of the Klitschkos in 2014 or 2015. Deontay against anyone of those fighters should be the proving ground for him to show whether he's ready to make the jump up against one of the Klitschkos.
For the Klitshkos, they'd be better off trying to face Deontay as soon as possible because if they wait too much longer, he might improve to a point where they'll have major problems in trying to handle him.
It's no secret that the Klitschkos are getting older. Vitali is 42, and Wladimir is 37. Wladimir didn't look good in his last fight against Alexander Povetkin, and it's doubtful that Wladimir's clinching strategies would work against Deontay because Wladimir would have to walk through some viscous right hands in order to get close enough to grab him in clinch. We could see a repeat of Wladimir's fight against Corrie Sanders where Wladimir is dropped again and again after tasting some hard shots.