Share the post "Left-Hook Lounge Mailbag: Broner/Malignaggi, Khan, Maidana, Rios & More!"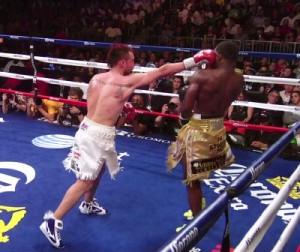 Jamison G. (Hollywood, FL): I thought Adrien Broner's performance was pretty average. I don't see the hype in him at all. How did you rate his performance overall last Saturday night?
Vivek W. (ESB): Seems fight fans around the globe are pretty quick to swing on that proverbial 'pendulum' for a fighter, be it for the positive or the negative. When a fighter knocks someone out, that person instantly becomes the "new" KO artist. When a fighter is knocked out, that person instantly becomes an "exposed" fighter. Many compare Broner to Mayweather. Others say Mayweather's the last person in the world he needs to be compared to, as he simply isn't that good in their mind. Those two widely contrasting perspectives would symbolize precisely why I don't like to get caught up in the hype, as the truth is always somewhere in between…..not to the extremes that supporters, as well as haters pursue.
When it comes to the Mayweather comparisons, I actually think they're valid, yet not in the same breath many would suggest. Mayweather once found himself in the midst of an onslaught of verbal jabs, dealing with fans who wanted to see more, when he knew it was simply too easy to find victory doing less. Broner is more offensive minded, but 2+2=4 all day long. Similar to Mayweather, the proof is in the numbers as it relates to Broner. Pound for pound, talent for talent, there's absolutely NO WAY Broner should be paralleled with Mayweather at this stage, because he simply isn't there yet. But here are a few reasons to support the argument of those who feel Broner reminds them of Floyd.
Broner took on the challenge of coming up two weight divisions to take on a Champion. Some talk down on Malignaggi, but remember, this is a man who has faced the best, has rarely been hurt by any of them, and has only touched the deck a couple times in his career. As Broner went up (in weight), the expectation surrounding him went up even higher. Here's where the true Mayweather comparisons begin. He has talked himself up so much that the expectation of him is so grand, they can almost never be met. Yet in the end, the victory itself, be it strong or weak, carries the same weight in the record books. Few seemed to like Broner's performance against Malignaggi, but look at the numbers closely:
Malignaggi threw 467 jabs. He landed 120, to equal a poor 26% connect rate, which is 19% fewer than his career average. Broner threw only 106, but he landed 32 at a connection rate of 30%, which is 14% higher than his career average. Malignaggi threw 376 power shots and landed a shallow 25% (11% lower than his career average) with 94 finding their mark. Broner threw 418, connecting on a staggering 214 for a connection rate of 51% (which is on par with his career average of 52%). Defensively, he blunted everything his opponent has ever found success with in the past, with numbers to prove. If that isn't the Mayweather blueprint, I don't know what is. The cleaner, more effective punches typically earn judges respect. And in that department, Broner clearly shined! One fighter elevated career averages, while one plummeted in historical comparison to his own.
Malignaggi threw 843 total punches and landed 214 for a connection rate of 25% (3% lower than his career average). Broner threw only 524, but he landed 246 for a connection rate of 47%, (1% above his career average), which is damn good, considering the welterweight average historically is 32.2%! Again, if this isn't the Mayweather blueprint, I don't know what is. The irony here is that people saw Malignaggi as the busier fighter because he threw the jab all night; but few give thought to the fact that Broner landed as many powershots alone (214) as the total amount of jabs and powershots landed by Malignaggi combined (214). Broner's punctuating punches made a mark in the judges minds. Here's a few more numbers to ponder:
Statistically, the average number of powershots landed by a welterweight, per round, historically, is 13. Broner landed at a rate of 17 per. All across the board, Broner statistically elevated his career numbers and dominated Malignaggi, yet fans never really felt he broke a sweat! Again, if this isn't cut from the Mayweather blueprint, I don't know what is. So, in the final analysis, no, Broner may not be nearly as good as Mayweather was at this stage in his career; but yes, he is similar. These numbers tell us this in a major way. The fact that people are beginning to despise him so early in his career tell us so in a major way.
The fact that he uses that despising disposition to motivate himself and build viewership momentum (even if those viewers are just watching to see him lose) also proves this in a major way. In the end analysis…..no….he isn't Mayweather. But after looking at elevated statistics that dominate, as much as many would hate to say, he apparently does have a little bit more in common with Floyd than a "Philly shell" defense and a big mouth! These numbers add proof. Think about it!
Jesus U. (Dallas, TX): Adrien Broner is expected to decide who he wants to face next and which division he will fight in. Who are the top three fighters you would like to see him face?
Vivek W. (ESB): Top of my list would be Matthysse, Berto, and/or Amir Khan. I know those names aren't exactly at the top of most list, but there's a reason I think those three fighters would be an interesting pick. Matthysse, for obvious reasons, I think would be a great fight. Everyone is saying Maidana, but Maidana isn't as good as Matthysse in my humble opinion. They have similar styles, yet without a doubt, Matthysse is easily the consensus guy to beat at 140. I think the Matthysse fight would tell us all we need to know about Broner and Matthysse. Berto is an interesting pick, because it would pin Broner against a guy with comparable speed, no devastating pop, but enough to cause damage, and a velocity that would make it much more difficult to defend.
Khan is a similar proposition, but this particular speedy fighter would also come with a certain level of skills. Each are winnable fights for Broner, but each would present something we haven't quite seen him handle. I think the fights would all make sense, although I can think of a few others I feel would help his cause. One name no one is calling that I think would be perfect is Shane Mosley. Age isn't on his side, but I think his durable chin would guarantee a full 12 rounder, and his speed and body work would definitely test Broner. Some mention Garcia as a possibility. I don't like that match much. I think Broner wins that one relatively easily. Garcia doesn't possess enough attributes to really defeat Broner, in my estimation.
I won't say Broner is a complete fighter yet, but I do think he can avoid the big left. When you get beyond that, Broner runs the table in head-to-head comparison. He's much faster. A much better defender, which means he'd be hit less. Across the board, I just think he has more options to defeat Garcia than Garcia has to defeat him. Judah? Good veteran, southpaw stance….a few new subplots….but at the end of the night, I think we'd get the same old results. Rios won't happen for obvious reasons. The only other fight I can think of is the Bradley/Marquez winner. Bradley could be ruled out for promotional reasons. Marquez? That would be a great fight. I'd love that one. Stay tuned, as one of the names on this list will be next.
Jason M. (Atlanta, GA): What do you think of Seth Mitchell?
Vivek W. (ESB): Honestly, I like the guy as a person. I love his story. But the boxing experiment has a limited shelf life. I don't know what's going on in training camp, but the last few fights he's just appeared very, very, bad. Poor footwork punctuated by heavy feet, poor stamina, poor direction, and practically no confidence. We've seen him take shots before. Suddenly now, the first one that lands flush seems to place him in a spot where mentally, he just can't recover. I use the term "mentally" because I truly feel this is a performance anxiety at play. The guy is defeated before he enters the ring. No matter how confident he may appear and feel within, the moment the bell rings, I just think he's pressing so hard to impress that any slight adversity and mentally he clams up.
I don't know where Mitchell goes from here. I really don't. I think he's on very weak footing right now. I really do, and I'm not impressed with anything. I don't want to taint the victory story, but it seemed very much like Banks carried him. Had Banks actually fought a lick after he initially buzzed him, the fight would have been over. It was a very poor outing. I won't say that he can't rebuild, but looking at the components involved, his age, and a few other contributing factors……I just really think the writing is on the wall. I'm just not impressed. I wish him well. But I'm not impressed. If he has the heart I think he does, this type of criticism will be used as fuel to get it right. I hope he can prove me wrong. I'm just not sure he will. Sad but true.
(Vivek "Vito" Wallace can be heard tonight on Left-Hook Lounge Radio. He can also be reached at 954.300.5692, FaceBook, Twitter (@vivekwallace747), and Instagram (ViveksView).
Share the post "Left-Hook Lounge Mailbag: Broner/Malignaggi, Khan, Maidana, Rios & More!"