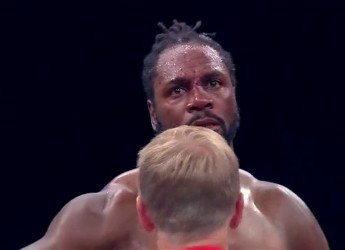 Heavyweight Audley Harrison (31-6, 23 KO's) says it'll be over for him if he loses to the 27-year-old Deontay Wilder (27-0, 27 KO's) on April 27th on the undercard of the Amir Khan vs. Julio Diaz fight at the Motorpoint Arena, Sheffield, Yorkshire, United Kingdom. Audley, 41, has talked about retiring in the past but he always sticks with it after he gets knocked out.
Audley said to Sky Sports "Deontay is fast, dangerous puncher, but he has not been tested as a pro. Lose and it's over, win and I'm in the top 10 for sure, eligible to challenge for the world title. Biggest risk for the biggest reward. It can't get any bigger than that."
Audley should really think about keeping the retirement aspect to himself because he's used that line one too many times and I don't think boxing fans are going to believe it anymore. He does well in the Prizefighter tournament against 2nd and 3rd tier opposition but each time he steps it up against world class fighters like David Haye and David Price, Audley freezes up and gets knocked out.
Unless Wilder isn't as good as some boxing fans think he is, Audley should freeze up again and get knocked out within the first two rounds. It's possible that Audley could last longer than that if he boxes smart and stays on the outside. He'll have to get Deontay's respect early for that to happen because if he feels there's nothing to worry about he'll go right after Audley and KO him.
Deontay looked nervous in the first two rounds of his fight against Kelvin Price last year in December, but once he got hit by Price in the 3rd round, Wilder responded by hitting him with a hard right hand that finished the fight.
It might take something like that for Wilder to get the courage to hit Audley hard because he's likely going to be cautious of Audley's better overall boxing skills. Audley has a huge advantage in skillset for this fight, but the combination of Wilder's power and Audley's weak chin could negate the advantages he has in this fight in the skill department.