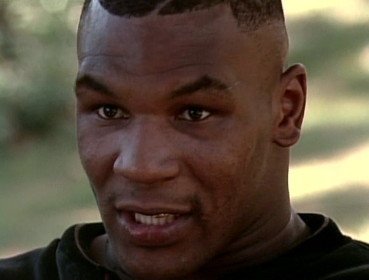 Arguably one of the most fascinating Dream Fights ever, fans still love to debate what would have happened had former heavyweight champions George Foreman and Mike Tyson clashed in the ultimate battle of punchers. The two almost did fight; in late 1990, when George was on the comeback trail following his 1977 to 1987 layoff, and Mike was trying to rebuild after his stunning loss to Buster Douglas in February of 1990.
The two greats even shared a card, the big plan being for the two to then share another card – Foreman would fight Francesco Damiani, Tyson would fight Alex Stewart – and then fight each other in December of that year. And what a fight, what an explosion it really would have been.
In the summer of 1990, Tyson was 23 (he would turn 24 later that same month) and Foreman was 41. Both all-time greats were running a race to regain the world crown. "The Road Back," a promotion that saw the two former rulers share top billing – Foreman against fringe contender Adilson Rodrigues, Tyson against amateur nemesis Henry Tillman – proved to be a teaser, a short glimpse into the raw power both men carried and, it was thought, a prelude to their mega-fight.
Foreman clamoured into the ring at Caesars Palace first. Despatching the Angelo Dundee-trained Brazilian puncher in neat and tidy fashion in just two-rounds (Foreman's precise handy-work catching the eye of current heavyweight boss Douglas: "I saw Foreman take out the guy from South America and I have to nip this in the bud," Douglas said), the veteran was all smiles afterwards.
"What's next in this great campaign?" Larry Merchant asked George. Foreman explained the sought end result of his campaign: that of regaining the crown Muhammad Ali had ripped from him in 1974.
Next up in the same squared circle was Tyson. Taking on Tillman, a man who had, incredibly, twice bested him as an amateur, the one-time "Baddest Man On The Planet" got the job done even faster than Foreman had, wiping a reluctant Tillman out inside three-minutes
The next step for both former kings would be asecond shared doubleheader in September, and then, in December, the two ex-champs would meet each other in what promised to be an absolutely incredible fight: 'The Irresistible Force Vs. The Immovable Object,' as one publication put it at the time.
Which would win?
Unfortunately, though the fight seemed a dead-cert to take place, it didn't. And so, to this day, the fan debate continues: did Tyson want no part of Foreman, or vice-versa? The money the fight fight would have generated would have been huge, of that there is no doubt, but this money-spinner proved to be one that got away.
Would Tyson's remaining speed and power have been too much for Foreman, or would Foreman's remaining power and seemingly everlasting ability to take a great shot have seen to it that Tyson would have grown discouraged, that he would have got frustrated, that he would have eventually been stopped himself? Or would this fight have shocked us all and gone the full 12 rounds?
We'll never know and for many it's the biggest disappointment in modern day heavyweight boxing that these two giants did not fight.