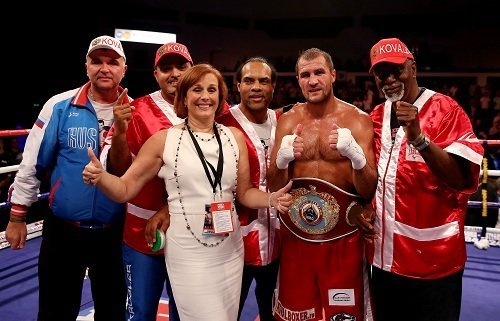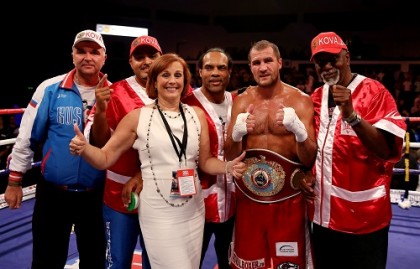 Big-hitting WBA/WBO/IBF light-heavyweight champion Sergey Kovalev, has again turned up the heat on WBC champion, Adonis Stevenson, in an attempt to force 'Superman' into a fight, releasing 2 short videos, accompanied by the hashtag #paperchamp.
The 1st clip of Kovalev punching a heavy bag, with a piece of paper stuck to it bearing Stevenson's name and the above hashtag, was released in response to a tweet from Adonis, who criticised the Russian's promoter Kathy Duva, for suggesting that he should fight the winner of the mooted January Kovalev/Pascal rematch, writing; 'I am the champ and I am my own boss.'
A series of exchanges followed in which the lineal champ – who is an Al Haymon fighter but officially promoted by Canadian stalwart, Yvon Michel – ended by writing in apparent frustration.
"My fight is in the ring. I say this one last time. Kathy @MainEvents call @yvonmichelGYM and Al [Haymon]. Get this going. Get me @KrusherKovalev!"
The major sticking point for this fight taking place remains the fact that Kovalev has an exclusive broadcasting contract with US giant, HBO, with Stevenson fighting on Showtime and Haymon's PBC platform, where he had his last [maligned] fight against Tommy Karpency in September [PBC on Spike].
It is extremely difficult to see how much more accommodating Duva and Kovalev can be, given that they are offering to travel to Stevenson's Canadian backyard, for a 50/50 purse split, with the only stipulation that the fight must be on HBO PPV. This despite Kovalev owning 3 of the 4 belts at 175 and Adonis owning the WBC and mythical, 'lineal' title and not being exclusively bound to Showtime.
Stevenson continues to claim he has always wanted the fight, yet wishes to go where he can make the most money.
Sadly for him, most right-thinking fans made up their minds long ago just who was avoiding who….
Twitter @Undilutedpoison