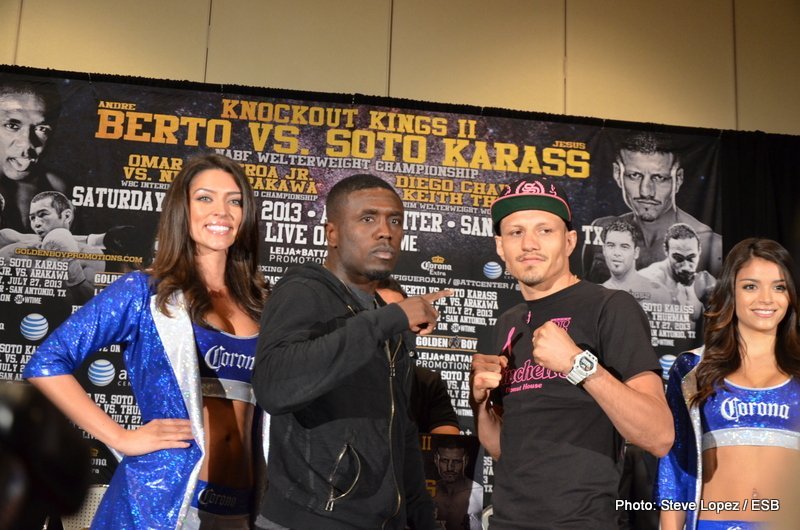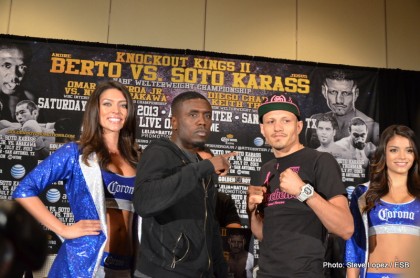 Knockout Kings are back in San Antonio, TX!
Showtime Championship Boxing returns to the culturally-rich city of San Antonio, TX to host a tripleheader that is sure to produce fireworks. "Knockout Kings II" will feature Keith Thurman VS. Diego Chaves, Omar Figueroa, Jr., VS Nihito Arakawa and Andre Berto VS. Soto Karass as the headliner.
The final press conference for the event was held on 07/27/13. The title for this card has the word "knockout" in it for a reason: all the fighters in the televised tripleheader have the ability and desire to end it via KO rather than going to the scorecards. One reason is perhaps the fact that Oscar De La Hoya will indeed grant a bonus to the fighter who will score the most spectacular knockout of the evening. This can only be a good thing for fight fans attending and watching the fight nationwide. With every fighter looking at scoring that extra bonus, it's hard to pick which fight will steal the show.
The opening bout could be that fight. Lucas Matthyse of Argentina is tabbing Diego Chaves to defeat Thurman in impressive passion. Does Matthyse know something we don't? Is there something in the meat that they're eating in Argentina?
Rising welterweight Keith Thurman of Florida will open up the tripleheader telecast against the relatively unknown Diego Chaves of Buenos Aires, Argentina. Thurman boasts a record of 20-0 (18KO's) and his Argentina counterpart sports an almost exact record of 22-0 (18 KO's). Keith Thurman has steadily been increasing in competition in recent bouts and remains unbeaten. However, Diego Chaves, on paper, is no pushover.
Knowing that Argentina is carrying lots of momentum in the sport right now with Maidana, Matthyse, Martinez and even Carlos Abregu, the Thurman-Chaves bout is intriguing. On Saturday, Argentina will come out swinging to show the world once again that soccer is not the only sport where Argentina shines.
The co-main event of the evening will feature the return of Omar "Panterita" Figueroa, Jr. against Nihito Arakawa of Japan for the vacant WBC Interim Lightweight Title. Figueroa's last outing in San Antonio was impressive as he disposed of Abner Cotto in less than a round. Though Figueroa made it seem easy back in April 2013, fans may have left wanting to see more from Figueroa. Perhaps Saturday could be that time with Arakawa of Japan.
Relatively unknown here in the States as well, Arakawa is sure to bring his grit and discipline that is seen with most Asian fighters. Arakawa may be the toughest test yet for the young Figueroa. If Figueroa makes it look easy again, then we know Figueroa is the real deal at a tender age in his early 20's in the Lightweight division.
To finish off the night, Berto and Soto Karass will lock horns in somewhat of a crossroads fight for both. Berto is coming off a war with Robert "The Ghost" Guerrero in 2012. Although he was on the losing end of the stick, Berto showed heart and resistance once again similar to his Victor Ortiz fight. That's one thing that Berto has shown time and time again: heart. Leading up to fight week, Berto has been shown to be in tremendous shape. This may be a sign that Berto knows that it's a high stakes fight for him as far as getting other opportunities in the division, if victorious.
Soto Karass is in a similar position as well. His bout with Marcos Maidana showed similar qualities as Berto: a "go get 'em " attitude and heart until the very end. Maidana was victorious via KO in that fight, but Soto Karass still has his fans. Put both Berto and Soto Karass in the ring and the fans have a great idea of what to expect.
Here are some notable quotes and visuals from the conference as fight fans in Texas get ready for a Saturday Knockout Kings! Who will score that bonus?
Keith "One Time" Thurman
Clearwater, FL
20-0 (18 KO's)
"I'm the kind of fighter, like you said, I'm knocking on everybody's door. Everybody in the Welterweight division is soon to know about Keith "One Time" Thurman."
"We're moving up one step at a time. We're going to step OVER Diego Saturday night. Guaranteed, baby."
"If you're a boxing fan, if you're not a boxing fan. I don't you don't want to stay at home. It's a Saturday night. It's Saturday night, man. Come out and enjoy the show. I guarantee you: you will get your money's worth."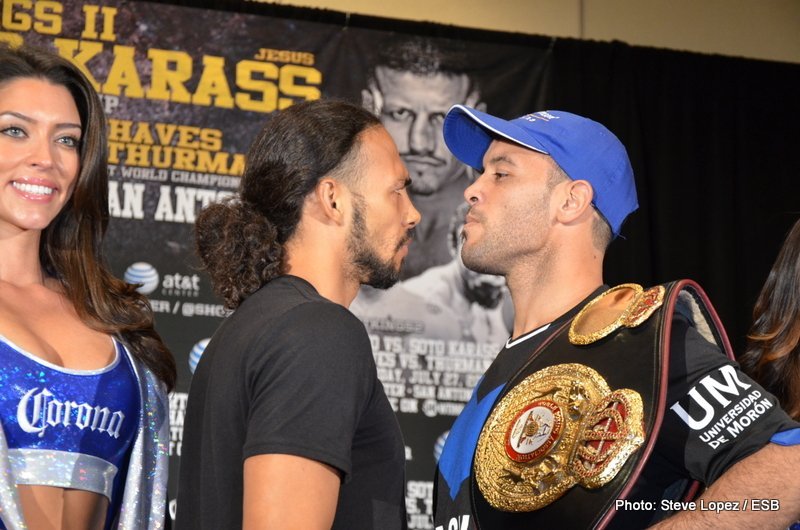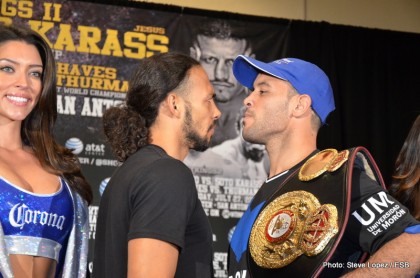 Diego "La Joya" Chaves
Buenos Aires, Argentina
22-0 (18 KO's)
"We know the type of opponent that we have. We both have power on both hands. Neither of us can let our guards down at any moment because either one can go down."
"I'm going to show everyone why I am champion and return the title back to Argentina."
Nihito Arakawa
Musashino, Japan
24-2-1 (16 KO's)
"I call myself the 'Baby-faced Sniper.' After looking at Figueroa, he's more baby-faced than me. Maybe I will give him my nickname."
Omar "Panterita" Figueroa, Jr.
Welasco, TX
21-0-1 (17 KO's)
"This is IT. This is seventeen years of work. It's what every boxer starts off their dream with."
"It's for the green belt. That's the best belt. That's the one we all want."
"It's one thing to be considered a fighter. It's another thing to be considered a knockout artist."
"We're ready and we hope Arakawa is ready. This is the opportunity we've been waiting for and I'm not going to let it slip."
Jesus Soto Karass
Los Mochis, Mexico
27-8-3 (17 KO's)
"The thing about my record, it's all because I was a clown. That's why my record is like that. (smirking)" (referring to the losses on his record)
"Not only have I matured personally, I've matured in the ring."
"I'm within 1.5 pounds of the weight, so after the weigh-in, it'll be time to eat well."
"Please register for a raffle to win the shorts and gloves for Susan G. Kommen Foundation."
Andre Berto
Winter Haven, FL
28-2 (22 KO's)
"These guys said it all. You hear the passion in their voices. It's time to go."
"I'm in tremendous shape. I'm focused. I'm ready to put on a helluva performance."
"San Antonio, get ready. It's definitely going to be a barn burner."