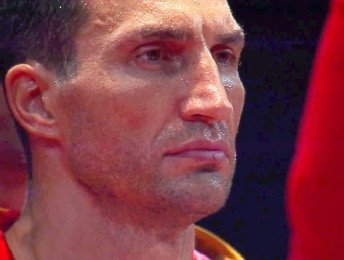 IBF/IBO/WBA/WBO heavyweight champion Wladimir Klitschko (61-3, 51 KO's) should consider himself lucky that he wasn't disqualified tonight for the clinching and pushing he did en route to beating WBA heavyweight champion Alexander Povetkin (26-1, 18 KO's) by a boring 12 round unanimous decision at the Olimpiyskiy, in Moscow, Russia. Wladimir held more than he usually does for his fights, which is hard to believe and he was shoving Povetkin to the canvas and getting away with it until the 11th round when referee Luis Pabon took 1 point away from Wladimir.
Wladimir put Povetkin down 4 times during the fight and seemingly had him ready to be stopped in the 7th after he knocked him down 3 times in the round, but unfortunately spent the remainder of the jabbing and clinching rather than looking to finish off a tired Povetkin. Wladimir's first knockdown of Povetkin came in the 2nd when he hit him with a left hook to the head that sent him stumbling backwards to the canvas.
The judges scored it 119-104, 119-104 and 119-104.
Povetkin could only land 59 punches in the entire fight according to CompuBox, and that's pretty sad. The 6'2″ Povetkin didn't have the size to get to Wladimir, and when he was in position to land a shot, Povetkin would get held by Wladimir. Povetkin could have kept firing punches in the clinch but he just seed content to wait until the referee Luis Pabon would break them apart. Wladimir had a dirty trick where he would nail Povetkin with uppercuts while leaning on his neck to cause him to bend over at the waist. It's surprising that the referee let Wladimir get away with this move because it was pretty blatant. A lot of fighters would have retaliated with some kind of cheap shot of their own to keep Wladimir from thinking twice before he pulled that move, but Povetkin was totally passive.
—
Other action on the card:
Grigory Drozd TKO 11 Mateusz Masternak
Rakhim Chakhkiev KO 10 Giulian Ilie
Ruslan Chagaev UD 12 Jovo Pudar