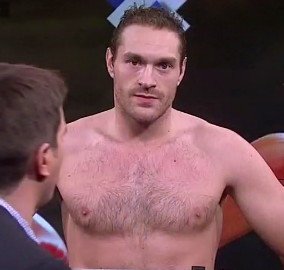 Unbeaten heavyweight sensation and former British, Commonwealth and Irish heavyweight champion Tyson Fury has announced that his fight with former undisputed cruiserweight and former WBA world heavyweight champion David Haye is "signed and sealed" for February 8th.
"This is a message to all my fans and haters, for all those wanting to see me knock out David Haye on behalf of the nation and all those who want to see me put out of my misery," Tyson said.
"The fight for February 8th is completely signed and sealed from both of us.
"I'm pleased that the fight is on again for February 8th – it's going to be bigger this time, better, more people watching and I'm going to take pleasure in smashing his face in a bit more.
"He shunned me in Sheffield when I was just a kid and then this, it definitely adds to my desire of knocking him out.
"It's been a long time coming, but it will definitely be worth waiting for – good things come to those who wait – and I've been waiting so long."
David Haye and Dereck Chisora are allegedly both set to be sitting ringside tonight as Wladimir Klitschko, 37, defends his IBF, WBO and WBA 'super' titles against undefeated Russian and WBA 'regular' belt holder Alexander Povetkin, 34, but Tyson is not interested in any speculation that Haye may be looking to face the winner.
"I don't want Mr Excuse-maker Haye coming out with any other reason than he chickened out, if he tries to fight a ready-to-go Klitschko instead of me," Tyson said.
"Let them all go over there, cap-in-hand and watch Klitschko and give him all their credit.
"It's very possible he chases the winner of Klitschko and Povetkin because he doesn't want my fight and he's terrified of me – so he could try and escape by going after one of these, but if he pulls out injured again, it would be laughable and he wouldn't have the credibility to get in the ring with either of them.
"I really don't know what's going to happen in the Klitschko fight, they're both boring – Povetkin could land that overhand right on his jaw, if not then I can see Povetkin getting beaten on points.
"If they both fight me, I'll knock them both out, if they ever dare to step in the ring with me – but I really doubt that that's going to happen.
"I'm confident that Haye will take my fight now as there's too much public demand for him not to take this fight – after all the pulling out saga he's got nowhere to go really.
"He'll have to emigrate – he won't be able to show his face around this neck of the woods anymore and I'm looking forward to getting in there and doing a job on him.
"Big fights need to happen and it doesn't come any bigger than the fight we've signed up for – over to you Excuse-maker."
@Tyson_Fury if wladimir would ever take Tyson fury I'd 10000000% ko him! I couldn't tell if Wladimir Wanted to fight or Get a blow job???

— Tyson Fury (@Tyson_Fury) October 5, 2013
Tickets previously purchased for the original date of September 28 are automatically valid for this new date of February 8. Alternatively, fans looking for a refund are advised to go back to their point of purchase before October 31.