The Heavyweight division was once the most coveted division in the sport. After the exit of legendary greats such as Tyson, Lewis, Holyfield and Vitali Klitschko, the division has seen questions raised, yet not all questions answered. The one mainstay with any true legitimacy over that span has been Wladimir Klitschko. An awkward style, heavy on hugs, light on the type of rage and aggression that Heavyweight fans love has left many questioning his true greatness. As Klitschko reaches the latter phase of his career, he faces perhaps the most dynamic force he has ever faced in his illustrious career. As we prepare for this showdown, we take a look at Keys to Victory, Four to Explore, and an Official Prediction.
KEYS TO VICTORY – ANTHONY JOSHUA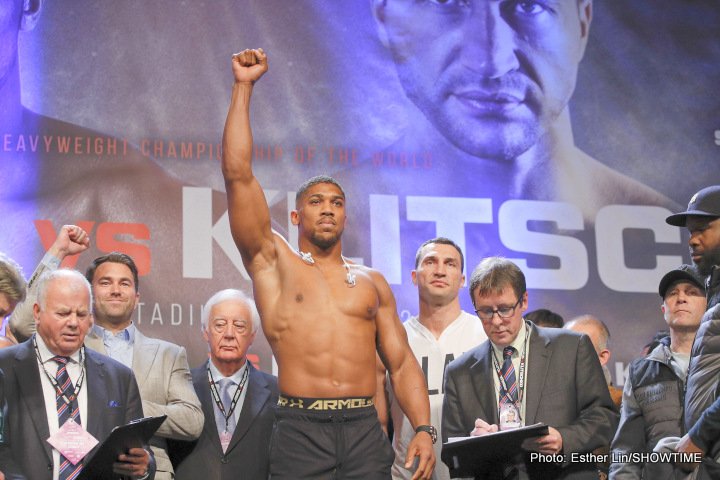 As great as he has looked thus far in his ever-evolving career, Joshua has never faced a test like the one that awaits tonight. Even in older age, Wladimir presents more challenges than most acknowledge. Although offense is Joshua's claim to fame, defense will be his only chance to win this 'game'! Head movement and counter-punching could be his most powerful calling card, and without them, his chances decline immensely. Aside from an elevated defense, Joshua will need to set up his punches carefully, execute solid foot work to avoid clinching and return fire, and pace himself to be strong late. If he can do this in tandem with his typical offensive prowess, he will get the job done.
KEYS TO VICTORY – WLADIMIR KLITSCHKO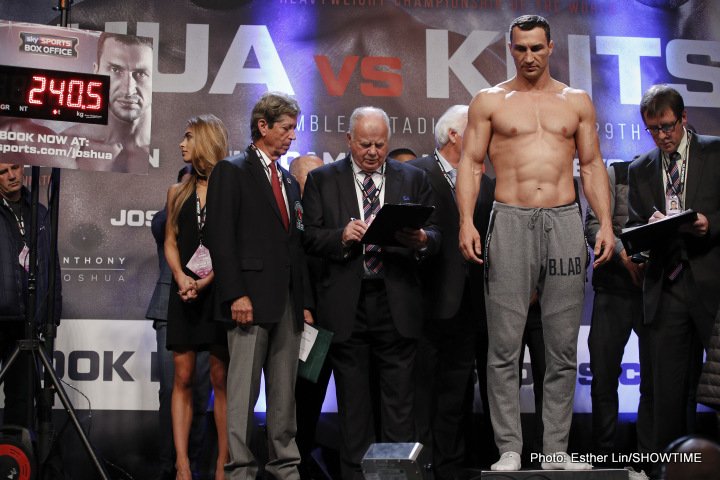 For Klitschko, a lengthy layoff will add an element of rust that could make for a long night. Unfortunately for him, rust isn't something you can shake off during a bout of this caliber, but if he was able to during camp, there's a few other things he'll need to get the "W". It all starts and ends with his jab. Wladimir's thunderous, long-reaching jab is a threat to anyone within reach. Joshua has never dealt with a threat of this caliber. Wladimir can help his cause greatly by starting strong and fast, following the jab up with a cross or a few dangerous hooks. If he can pause Joshua early and land often, this could be an easier victory for him than anyone saw coming.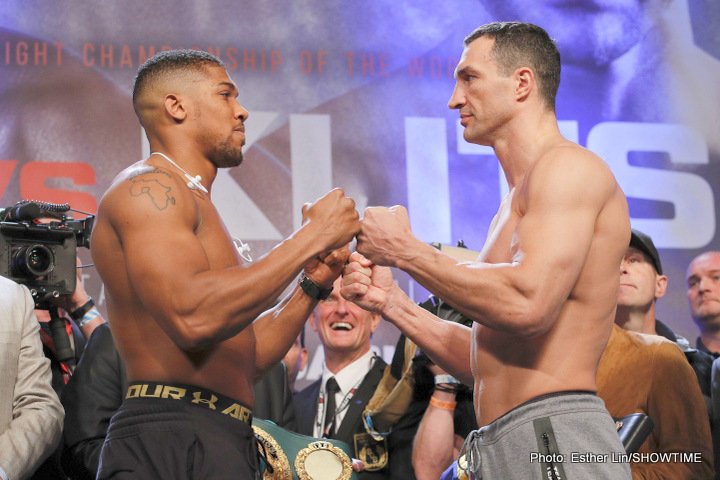 FOUR TO EXPLORE – (CRITICAL GAME CHANGERS TO WATCH)
ROSE or THORN?: Anthony Joshua has garnered the world's attention like a blazing meteor that crashed into the atmosphere from outer space. But as amazing as he looks, we've seen this movie before. Mike Tyson was a raging bull with two hands of dynamite. When he met someone who with the will to outlast him and the power to hurt him, nothing in his past mattered. Tonight, the stage is set for Joshua to prove he can conquer this same terrain. Is he the 'rose' or the 'thorn'? Roses get all the attention based on cosmetics because they look great; but they're known to wilt under pressure and heat. Thorns keep form and remain on point at all times. Is Joshua the rose or the thorn?
A.G.E. or YOUTH?: The youthful edge of Anthony Joshua exemplifies his prowess and power. The rare combination of speed, power, and aggression contains all the things the average fight fan craves. Across from him is a man whose youth has abandoned him, leaving behind thunderous power and a dangerous mind. Which of the two is more beneficial? Youth and energetic ability? Or a mind with the know-how to execute far greater without it? The ignorance of youth is often blissful, leading us to believe we have no limits. The beauty of experience is that it teaches us how to produce better results with those same limits. Could Wladimir once again prove that age is nothing more than a deceitful myth?
HISTORY or 'HIS' STORY?: Both Wladimir Klitschko and Anthony Joshua have the type of power that can pull the curtains on the opponent in a moments notice. Wladimir Klitschko has given a short night to more than 50 opponents; Joshua has pulled the curtains on 18. With comparable reach and height, everything on paper tells us this is a pretty even matchup. Unfortunately for both, paper burns! For Joshua, there's everything to lose and little to gain. For Klitschko, this is a chance to solidify his name. In the end, only one can win.
FADED PICTURE, BROKEN GLASS? Wladimir Klitschko has been a staple of the Heavyweight division for quite some time now. Despite all the accolades and accomplishments we've seen him notch on his belt, the biggest concern with him centers around a chin that some view as paper thin! Only a precious few have been able to conquer his greater attributes in the ring. But of the four that have, three did it by stoppage. None as dangerous as Joshua. A month ago Wladimir turned 41. Will Joshua make that Forty-One and Done? Stay tuned.
OFFICIAL PREDICATION/UPSET BAROMETER: (RATING 1 OF 5)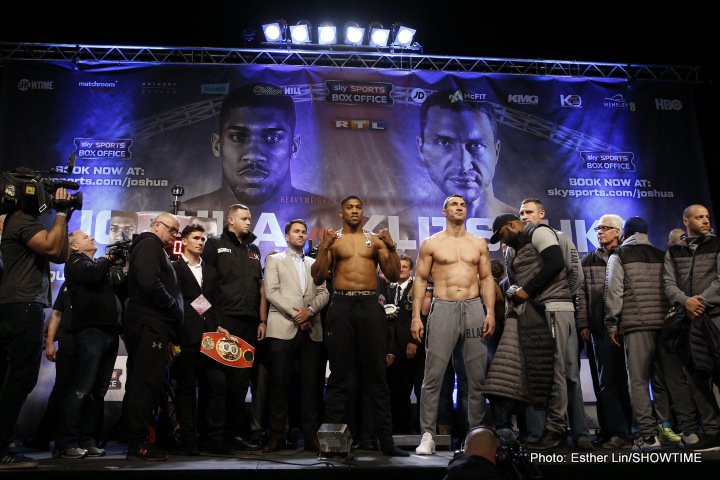 When the bell rings tonight, fight fans can expect a slightly different beginning than the norm. The typically brash and blazing Joshua will probably start slow, eager to feel out the reach and power of Klitschko. This feeling out process could last as long as two to three rounds. As Joshua feels more urgency at the hand of a high-paying crowd, the urgency of his approach will continue, and at this very moment the true battle will start. As great as Joshua looks, it's hard to overlook the fact that this talent has only fought in 44 (mostly uncontested) rounds in his entire pro career. The fact that those few fought rounds were largely uncontested could be his greatest challenge tonight. While Wladimir has appeared lethargic at times and somewhat unnerved, none of us can discount the fact that he has weathered many storms enroute to victory.
The long layoff will hurt Klitschko, but the inexperience of Joshua is equally detrimental. If we had to quantify success based on past results, we've seen more to show and prove Klitschko's ability to survive troubling moments compared to Joshua's. All indications point to the younger, stronger Champion emerging once the final bell sounds. But if your life depends on it, the smart choice tonight is actually the least popular choice. Joshua isn't as herky-jerky as Fury. He's there to hit, but he's equally there to be hit. If Klitschko can weather the early rust that stains him after such a long layoff, he'll coast to an easier than expected victory.
KLITSCHKO – KO8 (UPSET BAROMETER PEAKS AT 5 of 5 – Joshua has every tool necessary to win, but chin strength and defense remain present)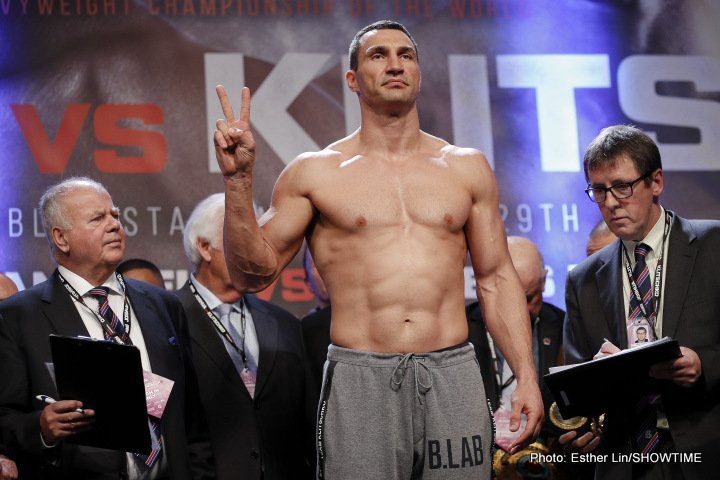 (Vivek "Vito" Wallace can be reached at 754.307.7747. He can also be reached on FaceBook, Instagram, and once in a bluemoon, even Twitter)!